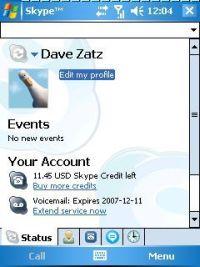 Skype has released a beta of version 2.2 for Windows Mobile. The biggest news is that you can now run Skype on Windows Mobile Smartphones. Other new features include enhancements for the home screen such as status and notice of missed calls, chat messages and voicemails. There's support for Proxy servers, and for a number of Pocket PC devices that had previously been unable to run Skype for Windows Mobile.
And of course, you also get all the basic features available in Skype's other mobile clients, including Skype to Skype calling, SkypeOut VoIP calling from your mobile device to telephone lines, Skypein (telephone to Skype) calling, voicemail and call forwarding.
The photo is courtesy of Dave Zatz, who installed the beta on his PPC-6700.