You Can Listen to This Article Here
DoCoMo announces Bluetooth headset for audiophiles.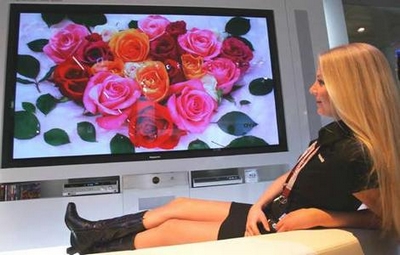 In the constant jostle to develop the world's biggest plasma television, Matsushita Electric, owner of the Panasonic brand has announced that it hopes to start selling the world's most massive 103-inch plasma television by early 2007. And the statistics of this new entrant.
Weighing under 475 pounds and measuring approximately 8-by-4.5 feet, this latest monster is set to beat the existing 102-inch model developed by Samsung by a mere one inch.
And by way of comparison, "the panel is bigger than a double-sized mattress and almost as heavy as an upright piano." The plasma panel is capable of producing images at a high definition resolution of 1920-by-1080 pixels. Now Matsushita competitors such as LG and Samsung will have to grease up their machines and announce something even better and "bigger" to stay in the race.
The device is slated to be launched at a price of – hold your breath – $50,000 in Japan this September. The 103-inch panels are already available for order by business users in the United States and will ship this autumn.
[Via Popgadget, The Sidney Morning Herald]