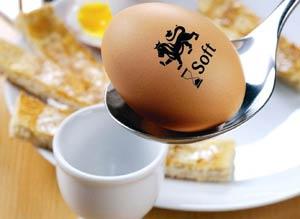 DESPITE the best efforts of Delia Smith, millions of Britons will readily admit that they cannot boil an egg.
The experts at the British Egg Information Service have been inundated with queries ? so much so that they have decided to eliminate the guesswork once and for all.
Their solution? A self-timing egg imbued with the powers of heat-sensitive invisible ink that turns black the minute that it is ready. All you need to do is decide whether you prefer your eggs soft, medium or hard-boiled, and buy accordingly.
A spokeswoman for Lion Quality Eggs, the service?s quality assurance scheme, said: ?We had a lot of inquiries. We said OK, this is a big issue ? people can?t even boil an egg.?
The self-timing eggs will go on sale this autumn. But whether the aficionados will agree that the result is a perfectly boiled egg is far from certain.
Delia Smith prompted a national debate in 1998 when she demonstrated before a television audience of five million her own precise technique for boiling an egg as part of her television series How to Cook.
Gary Rhodes, the television chef and restaurateur, dismissed the programme at the time as ?offensive and insulting to people?s intelligence?.
He said: ?I don?t need to be shown what boiling water looks like, and I think that the rest of the population don?t need to be shown it either.
?I do not agree with needing to teach people the most obvious, fundamental things in cooking. I really don?t believe that the majority of people cannot boil an egg.?
Egg sales increased by 54 million during the series. But her method (place the egg in cold water, bring to the boil and cook for four minutes) is not universally accepted.
A survey last year by the magazine Waitrose Food Illustrated asked five chefs how to boil an egg and received five different answers.
Giorgio Locatelli, the chef- patron of Locanda Locatelli in Central London, said to stir the egg constantly in boiling water for six minutes. ?This keeps the egg yolk exactly in the middle of the boiled egg,? he said.
Michel Roux, of the Waterside Inn at Bray, Berkshire, maintained that the egg should sit in the water as it is heated, and then be cooked in the boiling water for 60 seconds.
Neither had the benefit of a second new invention designed to produce perfect boiled eggs.
The ?PerfEGG? device, designed by a student at Brunel University, keeps the water temperature constant for 8.5 minutes without reaching boiling point. The aim is to let the egg white coagulate but keep the yolk runny. Its creator, Ben Harris, 22, said: ?I get so frustrated if I get the timing wrong and the egg is too hard to dip my toasted soldiers in. My design solves this problem.?
[ via Times Online ]