Sharp developed a new 5-megapixel CCD camera module featuring a 3x optical linear zoom for mobile phones.
The module features a 3x optical linear zoom, which the company claims as is the first of that sort among camera modules featuring an inner zoom for mobile phones. Sharp said the module also offers an auto focus function, smear-reduction mechanical shutter and other functionalities comparable to those met in digital cameras.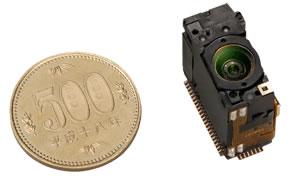 The module employs hybrid lens, which combines glass and plastic to boost refraction. Using its know-how of high-density packaging along with the lens, the company achieved a module height of only 21.7 mm.
Pricing for the sample is 20,000 Yen. Volume production is slated to start in January 2007. Sharp plans an initial output of 50,000 units per month.
[CDRInfo]