Envelope Mailbox for Geeks
Announce your geek status to the rest of the neighborhood proudly with this wall-mounted Envelope Mailbox from Chiasso. It boasts an envelope design that we so often see in our e-mail inboxes at the front in frosted glass glory. Since it is semi-transparent, you will be able to see whether there is any mail residing inside without going through the hassle of opening the mailbox.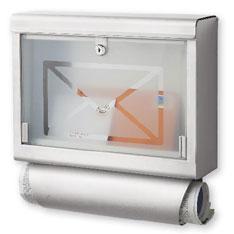 The Envelope Mailbox comes with a lock to keep its contents safe and dry. If you're an avid subscriber of newspapers and magazines, the presence of a dedicated tube at the bottom is there to serve its purpose. The $30 Envelope Mailbox is made from a stainless steel body, so you won't have to worry about it rusting being exposed to the elements.
What do you think?