The Most Profitable Niches With Low Competition
We have all been made to believe that profitable niches come with cut-throat competition. But the truth is that there are a plethora of businesses out there that pay handsomely, yet their competition is relatively low. Are you eager to learn the most profitable niches with low competition? Don't worry, sit back, relax, and learn what to do to profitably in 2020.
The list of Most Profitable Niches With Low Competition
A lot of business success depends on niche selection. Although niche selection is not a new word today, it might be challenging to choose a low niche competition because several companies already have a more significant market share. As many continue to wonder if profitable niches with low competition really exist, here is the list you can choose from.
Solar energy products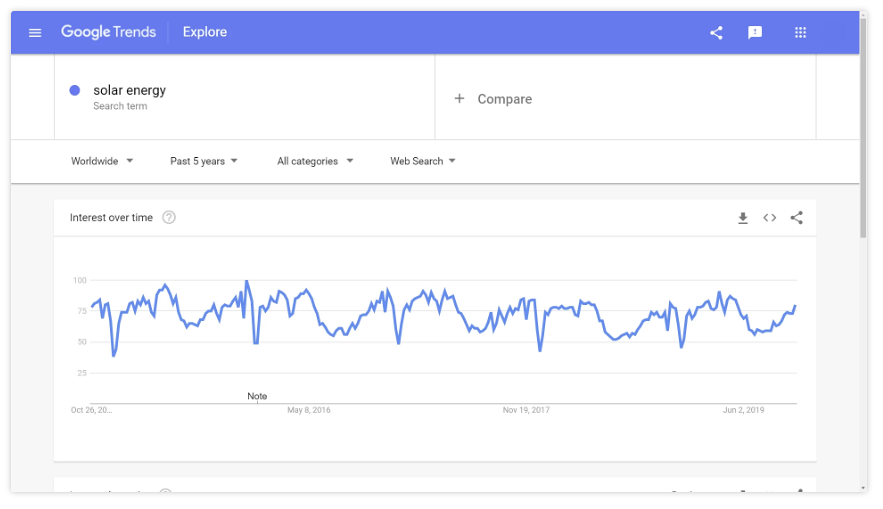 Firstly, modern products include lots of renewable energy products. Today, there is extreme popularity of products powered by renewable energy resources, including solar energy products.
However, the number of such products in the market is not high. However, these products help people conserve nature as well as saving money. According to Google trends, solar products are in extreme demand over several years.
If we check the competition for solar products through Ahrefs, it gets clear that the solar product's niche is not as competitive and has a low global search volume. If you launch a dropshipping business, therefore, you can sell solar products and make huge profits there.
Eco-friendly products
The most significant world agenda today is to save nature. This is only achievable through renewable resources. To check the demand for such products, Google trends show that that eco-friendly product's popularity is gaining momentum.
This makes these products fit well into our list.
Baby clothes
Baby clothes are trendy and expensive at the same time. According to Google Trends, the baby clothes niche is most likely to continue in popularity in the future.
This is an essential insight for an e-commerce business owner.
Checking on Ahrefs for competition, there is a vast global search volume of baby clothes with medium keyword difficulty. If you need a decent income now, start selling or dropshipping baby clothes.
Health and beauty
Everyone has a particular liking for some health and beauty products. That's why those who dropship such products make a kill while others are asleep! According to statistics for its competition, Ahrefs reveal a low keyword difficulty and over 10k global search volume.
For a dropshipping owner, this means excellent content marketing skills will make you succeed here.
Pet products
With pets becoming part of our lives today, pet products are becoming extremely popular nowadays. According to Google trends, its popularity is growing steadily and has been high for some time now.
The 21st century is booming with new lifestyle and health ideas, and that's where sports products come in so strongly–Several people are embracing sports as a way to maintain a healthy living. Starting a supplement drop ship business could be a smart move as, not only will you cater to sports enthusiasts, you will also find that all sorts of people who want to maintain good health will want to purchase supplements.
Sports equipment
The 21st century is booming with new lifestyle and health ideas, and that's where sports products come in so strongly–Several people are embracing sports as a way to maintain a healthy living.
According to Google Trends, sports equipment is in high demand. To check the competition level, Ahrefs shows a high global search volume of sports bags, for instance, with relatively low keyword difficulty.
Reselling sports bags can be a great e-commerce business idea due to their low level of competition and many potential customers in this niche.
Minimalist watches
Although people today use smartphones to check the time, many people still wear watches anyway.
Positively, the watch industry leaders don't manufacture cheap watches, and not many people can afford them. What if you suggest a way out for potential customers?
Well, minimalist watches are in the market today, and they don't cost much. Since the products have a considerable number of potential customers already, the level of competition, according to Ahrefs, tends towards zero.
And this is excellent news if you want to start dropshipping watches.
LED
With LED, people can get a brighter beam of light while saving energy. This comes without health hazards and poisonous emissions. Google Trends reveals a strong demand for LED lamps.
Checking the competition, the keyword difficulty for LED strip is medium and over 60k global search volume. This means with a good content marketing strategy, and you can command an enormous number of potential buyers.
Bluetooth gadgets
Bluetooth technology tends to make life more comfortable and convenient.
According to Ahrefs, the level of competition for Bluetooth products is relatively low. It's incredible to note that the niche has over 71K potential customers are at stake. It's no doubt that this niche is worth investing in.
Bathroom accessories
Homeowners are now going for products that make homes more modern and fashionable. Among them are bathroom accessories. According to Google trends, there is a rapid increase in bathroom accessories demand. For example, the toothbrush holder has a global search volume amounting close to 30K with low keyword difficulty.
This places bathroom accessories in the list of profitable products with little competition.
Final words
It doesn't matter your level of experience with dropshipping; you can profitably engage in e-commerce. However, you need to make a careful selection of a niche. That's why we have prepared a list of the ten most profitable niches with low competition to make it easy for you to kick off.
Resours: AliDropship Blog