Marketing

Strategies Competitors Don't Even Know About

Figuring out the best marketing strategies for your business isn't an easy task.

You have to grab consumer attention away from your competitors, but you're also vying against other distractions.

The average person works, has a family, tries to stay in touch with friends and might have hobbies.

Then, social media, funny cat videos and current world affairs also draw their attention away.

According to Facebook, the average ad is viewed for only 2.5 seconds on desktops — and even less time on mobile devices.

People have thousands of marketing campaigns thrown at them in any given week. Being heard above the noise requires a bit of insight and a lot of originality.

Here are six marketing strategies your competitors probably aren't using.

Grab attention, engage your target audience and keep them in your stratosphere so they never even look around for an alternative in marketing strategies.
Improve Your Customer Service
No matter what you sell, you likely have a competitor or two.
All other things being equal, if you don't have stellar customer service, the consumer has no reason to choose you over another brand.
Think about the stores you frequent. Why do you go there over similar retailers? Likely, they greet you — perhaps even by name.
They smile, go out of their way to help you and appreciate your business.
Customer service comes from many different angles, but some of the things you can focus on within marketing to improve your image include:
Share your satisfaction guarantee. If you stand behind your work or product, there is no risk to the consumer.
Highlight testimonials of happy customers. Choose selections that show you went out of your way to solve a client's problem.
Be proactive on social media. If someone complains about your brand or has a problem, jump in, and solve it immediately online. Responding to complaints shows you're proactive and care about your image.
In addition to showing people how great you are at customer service, make sure you change internal policies and train employees to put the customer first.
The experience should match the marketing efforts.
Reach Out to Current Customers
Don't place all your marketing efforts on acquiring new customers. Your current customers are more likely to buy from you and spend more overall.
Researchers found about 93% of companies felt customer retention was just as necessary as initial conversion.
What are some ways you can market to clients? Investigate your options:
Send an email and let them know about a new inventory that matches their interests.
Phone your top clients and ask what you can do for them.
Host a contest only for customers or send everyone a small promotional gift.
You have many ways to keep your audience happy. Think outside the box and figure out what is most beneficial in your industry.
Then, provide it to your user base to keep your customers coming back for more.
Strengthen Corporate Branding
Marketing shouldn't be only about selling a particular product. You should also focus on building a name for your corporation that stands the test of time.
How can you promote your image over a specific item?
Here are a couple of ways:
Use your logo everywhere — online, offline, on ads, and on your packaging.
Have a style guide that includes what colors to use related to your brand. Include fonts, logo placement, and even tone — or personality — for content.
Know who you are as a brand and what you stand for. Once you have this down, spreading your message will be easier.
Know Your Audience
Understanding who your target audience is will help you create campaigns that tap into user emotions.
Nearly every marketer does this, but you can take things a few steps further to make sure you're outwitting your competitors. Try these ideas for getting to know your users:
Review your buyer personas every three to six months. Your audience might change, and if you aren't aware of the shift, your messages won't hit home.
Study your competitors' audiences. Are there any gaps they aren't filling or people they aren't reaching? Find a niche and fill it first.
Send out surveys. The more you know about your buyers' preferences, the better you can serve them.
Tapping into the core of your customers' identities isn't easy, but it's doable. It requires a lot of ongoing effort but will pay off in satisfied clients.
Find Your Difference
What sets your company apart from all the others? Highlighting your unique qualities helps you create a strong brand presence with your pool of buyers.
Make yourself unforgettable in your audience's mind:
Study the competition. What do these brands claim to do? Can you do it differently or better?
What are your core values as a corporation? How can you turn your passion into a message?
Sometimes you have to decide to become different. Perhaps your competitors have a no-refunds or exchange policy.
You could set yourself apart by offering a satisfaction guarantee to your customers.
Find a difference and promote it.
Create a Free Resource
Have you ever noticed the way the best-known companies also offer something of value to their fans? Fidelity offers discounts every year if you link your account on their site to a tax preparation program.
How can you develop your own perk? Consider some ideas:
Look at the needs of your base. What tasks would be helpful to them that you could automate in some way?
Write a free guide. People love free information, and it only costs you the effort of making it once. You can then deliver it online in exchange for an email — while collecting leads at the same time.
Add value to orders by giving a free benefit people want. An example of this would be a local gym that offers free tanning with a premier membership plan.
Think about what your core audience cares about and gift them with something that matches these values.
Marketing Strategies: Test Everything
If you're like most businesses, you'll try multiple promotional strategies. Tap into the power of tracking and figure out what marketing efforts do and don't work.
Repeat the ones that give results and lose the ones that don't. Get creative and try new things, but always with the understanding that they might not work. If one endeavor doesn't pan out, you can try something different later.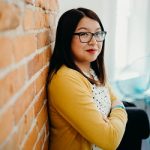 Lexie is a digital nomad and graphic designer.
If she's not traveling to various parts of the country, you can find her at the local flea markets or hiking with her Goldendoodle.
Check out her design blog, Design Roast, and connect with her on Twitter @lexieludesigner.