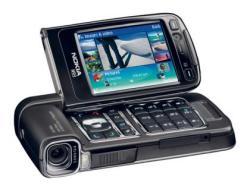 Good review is posted at mobile metalism
The Nokia N93 reviews prove the N93 isn't just good on paper – it's good in real life too. This amazing mobile phone features 3.2 megapixel camera, 30 fps video recording, a great twisting form factor, MP3 player, FM radio, WiFi, UPnP – the list just goes on and on!
Aimed at those who want to show off their mobile phone and who absolutely must have the best features on their phone, the Nokia N93 will not disappoint. Indeed, many reviews have claimed the N93 delivers the best camer anad best video of any mobile phone they've reviewed – and you can see just why with the pictures and videos contained in our review.
The Nokia N93 must be the most feature packed mobile phone for 2006 outside of South Korea. If it's features you want from your phone, the Nokia N93's the one to get.