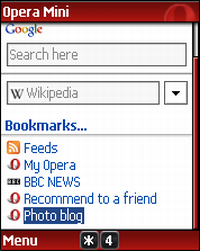 Opera Mini has a reputation as one of the fastest web browsers for java-enabled cell phones. Opera Mini does a great job of rendering web pages in no time flat. Opera Mini 3 adds a few new features to speed up your mobile web browsing even further.
Probably the biggest new feature in Opera Mini 3 is RSS support. You can subscribe through the browser and get updates every time you connect. You can sort articles by source or date.
Other new features:
Support for photo sharing. You can snap a picture on your camera phone from within the browser, and then upload your photo to a blog or forum. This feature does not work with all camera phones.
Support for secure connections such as banks or online stores.
There's a new "content folding" feature which automatically shrinks long menus. That means they take less time to load, and take up less room on your small screen. You can expand a menu by hitting the "+" button next to it.
Opera Mini does have some limitations, since it's a Java based web browser. You can't set it as your default browser, and you can't copy and paste from within the browser to other applications.
[via downloadsquad, jkOnTheRun]