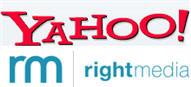 Yahoo has acquired online ad exchange company, Right Media, for $680 million, a move that shows Yahoo is not resting in the wake of Google's purchase of banner ad company Doubleclick earlier this month.
Right Media is notable because it is an ad exchange, where buyers of Internet ads (publishers) and sellers (advertisers) can find each other and negotiate prices with the efficiency created by a large marketplace. This is significant because it is more transparent than Google's platform for publishers, Adsense — and could therefore give Yahoo a small advantage in its battle against the Google juggernaut. See coverage of Right Media, when it got a $45 million cash infusion from Yahoo and Redpoint Ventures in October. Right Media had previously raised an additional $7.5 million from Redpoint (see the coverage).
It is growing quickly, and in October boasted two billion ad impressions a day being bought on it. Chief executive Mike Walrath told us at the time it is the largest such marketplace. It takes "less than 10 percent cut" as middleman from each transaction, which is not enough to scare customers away, but still enough to generate a healthy income. Walrath said at the time his biggest competitors are Microsoft and Google.
The $680 million acquisition represents a major home-run for Walrath, who started Right Media in 2003. It is also a relief for venture capital firm Redpoint Ventures, which has been searching for its first major win ever since the young firm opened its doors at the height of the boom in late 1999.
The deal lets Google purchase the remaining 80% of New York-based Right Media Inc doesn't already own.