Choosing the Grooms Ring: The Ultimate Guide
Picking the grooms ring can sometimes be a little tricky. Before coming to any final decisions you should take the following advice into consideration, to make sure you get a wedding band you love!
Planning weddings always sound like fun, but turn out to be more stressful and involved than originally thought. Who knew there were so many decisions to make?
One of the biggest decisions you and your fiance will have to make is wedding bands. While the groom already chose the perfect ring for his bride-to-be, it's time to choose his wedding band.
Whether you decide to make this decision together or leave it up to the bride, it's a big decision to make.
Below is the ultimate guide to choosing the grooms ring. Continue reading to learn about tips, advice, and other things to keep in mind before the big day.
Budget
When planning a wedding, it's smart to have a budget for every major purchase you'll be making… catering, DJ, the wedding dress, and the wedding bands just to name a few.
Talk with your significant other to determine how much you want to spend on a wedding band for each other. Some simple styles can be found for under $100, while others with diamonds or harder metals can cost upwards of $1,000.
Save yourself the sticker shock and shop around to get an idea of what styles you like and how much they cost. This will give you a general idea of what current prices are for different types of rings and how far your budget can take you. It will also save you the frustration of falling in love with a ring you can't afford.
Ring Type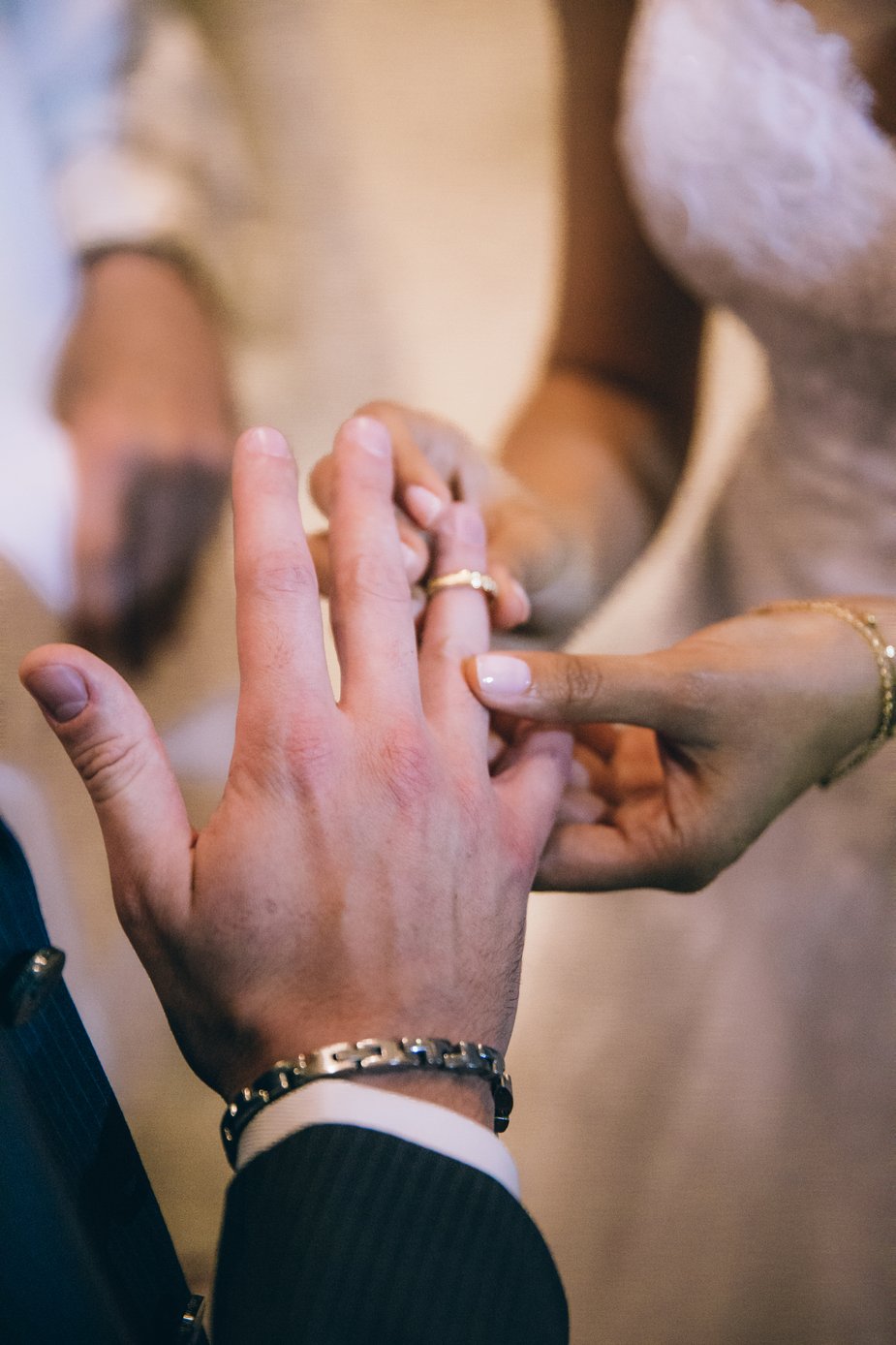 Compared to twenty or even ten years ago, men's wedding bands have come a long way from traditional gold. Now, men have a variety of choices to choose from when it comes to the metal of their wedding band.
When choosing a metal, you'll have to consider your groom's lifestyle and hobbies. Is he rough with his hands or have a physically demanding job? Best to go with a tough metal that's durable and will last.
Unlike men's promise rings, your groom will wear this every day until death do you part. Below is a list of descriptions of each metal to help you narrow down which is best for you and your groom.
Silver
If you're looking for a less expensive, yet popular wedding band, silver is your metal. Be aware it isn't that durable and won't be a good pick for someone who is rough with their hands.
Gold
A traditional choice with a choice between low and high carat is gold with low carat being more durable. A gold band for a groom is recommended with 14-karat.
Platinum
A more expensive option is platinum. This metal is heavier and is known to be rather uncomfortable to wear, but it is fairly durable.
Titanium
Titanium is another sturdy metal that is lighter than gold or platinum. It's lightweight and 100% hypoallergenic.
Tungsten
Tungsten is becoming increasingly popular among groom wedding bands due to its light weight and affordability. Though it is durable, we recommend choosing a tungsten carbide alloy to help resist scratches along the band.
Serinium
Serinium metal is a newer popular metal that is known as the "Precious Contemporary Metal." The metal is an ultra-hard and bright white that works great for both men and women's wedding bands. It claims to never tarnish, oxidize, change shape or change color.
Style and Personality
After you've figured out the budget and the type of metal, you'll have to take your groom's style and personality into consideration. This is a ring meant to be worn for years, so it's important to get one the groom will like and that matches him.
Men's personalities vary from simple to outgoing and strong. With that being said, there are multiple ways you can spice up or tone down the grooms wedding band.
Adding a simple diamond or ruby in the middle to complement his wife-to-be's engagement and wedding band is one option. Another option is to add a design on the edge or outside the ring. Don't forget, bands don't have to be the traditional circular shape, either; some bands can be more cubed or squared off if that's more your man's style.
Recently, couples are looking at how to make their bands more unique and personalized. While some couples decide to engrave the inside of the bands with a personal word or saying, other couples are starting new trends.
With laser technology, engraving your significant other's heartbeat or even their fingerprint on the inside or outside of the band is a unique and personal touch to add to your wedding bands.
Sizing
This is a must-do for not just the groom, but the bride as well. Get your ring finger professional sized to ensure the ring fits before the big day.
Most jewelers will do this for free, and if you and your significant other are keeping the wedding bands a surprise, just secretly borrow one of their other rings to get a matching size.
Purchasing the Band
Hooray! You've picked out the metal, style, added any engravements or stones and got the right ring size. Now it's time to purchase the groom's band.
To ensure there it's finished in time and to fix any potential issues with sizing or engravements, you should purchase the ring at least two months prior to the wedding.
Choosing the Grooms Ring
Choosing the grooms ring is a big step when planning your wedding, and certainly an important one. Just like he took the time to choose your engagement ring to match your style and personality, you should do the same.
Being on a tight budget shouldn't harbor your efforts when there are so many types of metals, styles, and ways to personalize your bands to fit who you and your fiance are.
Following this guide in your research of metals, styles, and sizing will ensure you are happy with your purchase and ready for the big day.
For other information on the internet searching, check out our website or contact us for more information!