A Neighborhood-by-Neighborhood Guide to Food in Rome
Ice cream sales in Italy may amount to more than $2,037 million per annum, but there's more to Italian cuisine than gelato or pizza for that matter. Rome is one of the world's top culinary destinations, with numerous traditional dishes, new food trends that you simply have to try during your visit. Here's where to find the best food in Rome.
Testaccio
As one of the oldest ports in the country, Testaccio has a long association with food. It's touted as the original foodie neighborhood of the city and considered the birthplace of Roman cuisine. It's the location of the country's first abattoir, where traditional foods like sweetbreads, coratella, oxtail, and tripe were first perfected.
While you're in the area, try some of the following:
Cornetti – Italian croissant with chocolate, jam, or crema;
Rosette Soffiate – rose-shaped bread rolls;
Scrocchiarella – soft almond biscuits;
Meter-long Pizza Bianca;
Salami, cheese, and prosciutto;
Cortado – espresso-based drink with steamed mink.
Don't miss the chance to pop into the local market for fish, cheese, and cured meat or fish.
Jewish Ghetto for Kosher Food in Rome
Believe it or not, Roman food is largely based on kosher cuisine and it's mainly thanks to this thriving foodie hub that's been around since 1555.
Here you'll find some of the most popular food in Rome, like:
Carciofi Alla Giudia – deep-fried artichokes
Homemade kosher cheeses and Roman-style pizza
Carrot cake and parve cookies
Cinnamon rolls
Remember, the stores in this district close on Fridays and Saturdays because of the Sabbath.
Monti
You'll find this sleepy neighborhood just north of the Colosseum. It's a hub of international cuisine, from Japanese to Indian and has one restaurant devoted entirely to hummus. Some of the Roman delights up for grabs here include:
Cacio e Pepe – spaghetti with black pepper, Pecorino Romano cheese, and truffles
Carbonara pizza
Gourmet sandwiches with stracciatella cheese, anchovies, and grilled zucchini
Whatever you do, don't miss the chance to enjoy a drink with the locals on the marble steps of the fountain in the Piazza Della Madonna Dei Monti.
Trastevere
For the best taste of Trastevere's traditional dishes, stay clear of the tourist hotspots that are so prevalent in this area. Rather opt for a food tour with an Italian-based operator, who'll show you all the best spots.
Some of the treats you can look forward to here include:
Fresh seafood in all its forms
Tarts, choux pastries, and macarons
Fried zucchini flowers with mozzarella and anchovy
Perfect gelato
Sliced pumpkin pizza
Apart from delicious food, Trastevere's known as one of the city's most charming neighborhoods. You'll find plenty of narrow alleys and cobblestone streets for exploring and charming shops to browse in.
Pigneto
This is one of Rome's most funky, hip neighborhoods, overflowing with trendy bars and bistros. Light meals, sandwiches, and salads are the order of the day here, but you should also try some more traditional eats like:
Tonnarelli Alla Gricia con Carciofi – pasta with pork-cheek, artichokes, and pecorino
Pasta Alla Mafiosa – fried aubergine, ricotta, and basil with tomato sauce
Insalata di bollito – boiled meat salad
A huge variety of bruschettas
Gnocchi
Pigneto is a great place to get to grips with the multi-cultural side of Rome, and you'll find cuisine from all over the world here.
Centro Storico
You're more likely to spend time exploring the sights in this historic hub of Rome, than eating. The Colosseum, the Pantheon, Piazza Navona, Trevi Fountain, and St Peter's Basilica are all here, as well a numerous other famous attractions.
Make time to try some of the following while you're in the area:
Suppli – risotto balls
Margherita pizza
Tiramisu
Dolci – sweet pastries
Slow-cooked beef in Nebbiolo wine
Bottarga -mullet roe
Aside from the historic attractions, Centro Storico is also home to dozens of cafes, boutiques, trattorias, and stylish bars.
Prati
Prati is another top destination in Rome, close to the Vatican and the Tiber. Once a soggy marshland, today, Prati is a hive of high-end shopping and great restaurants. It's the perfect place to try out some of Rome's classic dishes, like:
Bucatini Amatriciana
Cacio e Pepe with shrimp and lime
Cornetto and ungherese pastries
Taglieri of cheeses and salumi
Pappardelle pasta
You can also pick up a really great hamburger or a succulent black Angus steak if you're craving a taste of home.
Portuense
Portuense is one of Rome's lesser-known districts but it's filled with interesting murals, book stores, and has a buzzing nightlife to boot. Some of the delicacies you can sample here include:
Vignarola – a stew made of fava beans, peas, lettuce, and artichokes
Maritozzo – sweet cream buns
Saltimbocca – rolled veal with herbs and bacon
One of the best ways to explore Portuense is on a vintage bike which allows you to immerse yourself in this vibey suburb.
Monteverde
Monteverde is a residential neighborhood in Rome that boasts a delightful vintage charm. Here, you'll find quaint shops and restaurants galore serving a host of awesome Roman eats, like:
Stewed meatballs
Homemade tonnarelli, fettuccine, and dumplings
Breaded lamb ribs
Spaghetti a la Vongole with clams
Buffalo mozzarella
Baccala a la Romana – Roman-style cod
You won't find many tourist attractions, or tourists here, which makes it a great place to experience Rome as the Romans do. A walk to the top of the Gianicolo near piazza Garibaldi reveals stunning views over the city and the fountain at Fontana dell Ácqua Paola is a tranquil place to spend some time. That is. until the cannon fires its daily reminder to commemorate the unification of the city.
Travel More in 2020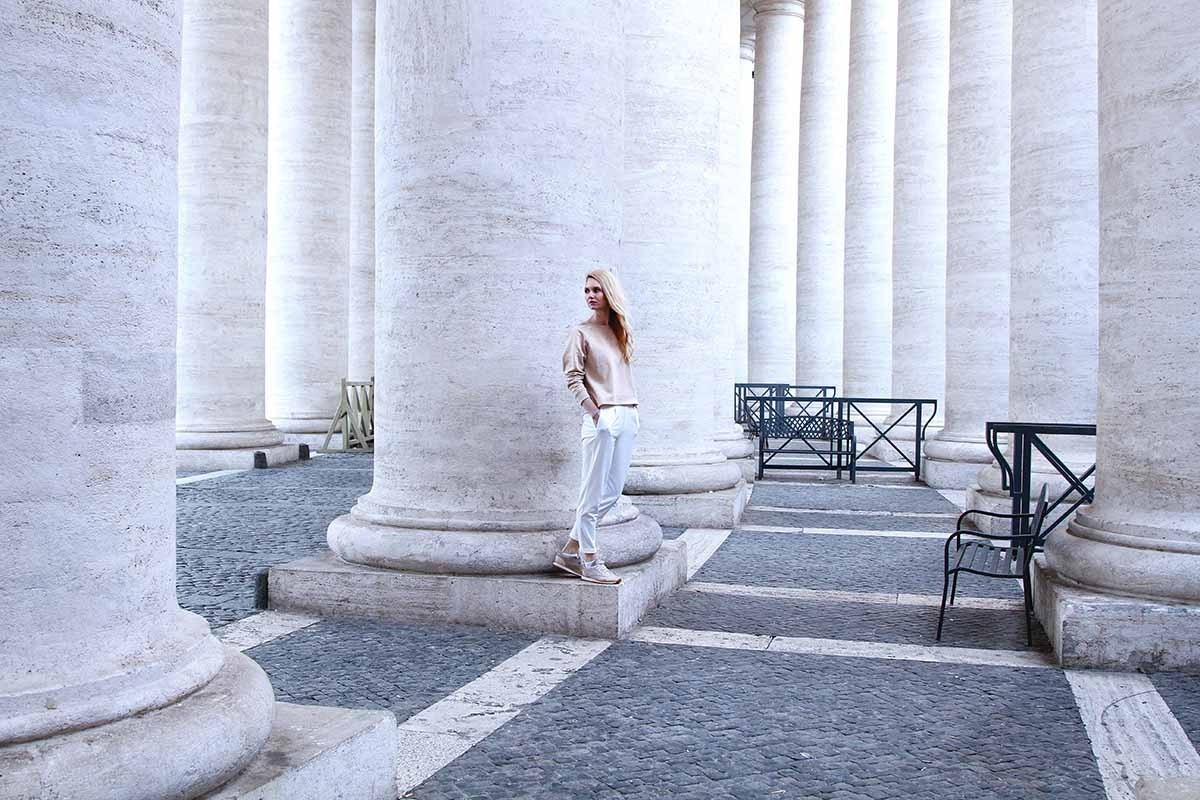 If you enjoyed this article on food in Rome, you might find our other snippets on European destinations interesting too. Keep reading through my travel section for more about what to get up to in London, Amsterdam, Spain, and more great European destinations.