Inexpensive But Creative Decorating Tips for Office
Have you ever experienced entering an office, and you can't help but notice how awesome it is?  You may have seen several offices where you feel like everything there correctly belongs. If you have your own office, you might have even thought of decorating your office the same way but were having second thoughts since everything looks expensive.
The good thing, though is, that is just your assumption. There may be instances wherein the office furniture, design and decorations were indeed, but most of the time, the best offices are the inexpensively decorated ones. It is just a matter of perspective and composition.
Boring offices are all the in the past!
In the past decades, when you say office, a particular picture immediately comes to mind — a cubicle, chair, and a desk stacked with tons of documents to work. And when you are an office worker, you expect to go to work every morning, spend your day sitting, doing your tasks for the day, then packing up and going home. It is a very formal setup.
However, a lot of companies these days are switching to a modern type of office. And when we say modern, it doesn't only mean the fixtures and furniture; it also means the setup. A lot of research proved that a cozy and comfortable office makes employees more productive than a dull or traditional one. With this in mind, a lot of establishments are redecorating and redesigning their office setup. If you are one of them, here are some things you can do in decorating your office for better employee productivity.
If you plan on redecorating or decorating your office, you can always check online for some creative office decorating ideas. Or better yet, get some ideas and innovate them. If you have your own ideas, you can mix them up with your employee's plans to come up with the best design. Anyway, here are some creative ideas we have to help you out.
Use Baskets
Baskets will never go old. It has been used in the past for many different purposes, and it is being used now. One good tip to make things organized and reduce clutter is to ensure that everything has its place. One of the best places to keep things is in a basket. It is practical as there are many designs you can find in different shops that are affordable. It is also very discreet, and it is part of your decoration while being useful.
Use Rugs
Don't you feel cozy and more comfortable whenever you see rugs? Indeed, mats always give off a welcoming perception. While it is true that you want to keep the office as formal as possible, making everyone feel welcome is not bad. You can choose a somehow classy design so as not to attract too much attention and will just perfectly fit with your interiors. Check out Ben's Rugs & Furniture online store for some chic and modern design rugs and furniture.
Allow Natural Light to Penetrate
While artificial lighting is part of the decoration, natural lighting is not. But letting the sun rays peep into your office can make a huge difference in your employees' mood. It can make everyone feel lighter and happier. Additionally, you do not have to turn on all your lights during the daytime, so in a way, you are also conserving energy.
Creative Decorating Tips: Choose Your Desk Properly
Since you will be entertaining most of your visitors on your desk, it is an excellent way to make a statement. Try to choose a bold color for your office so it would stand out. While neutral colors are just beautiful, putting something a little different is also ideal. As long as you do not put on a rainbow shade, plain bold colors are excellent. If you need help choosing the perfect office desk for you, please feel free to visit Ben's Rugs & Furniture store.
Keep Everything Organized
Most of the time, offices are filled with stacks of papers, and most desks look like a mess. One good way to create an impression is to make sure that your files are organized. There are many ways to hold them, and you can buy dividers or make them yourself. The bottom line is, every file should be in the right place at all times. A messy office says a lot about the business itself.
Highlight Your Company's Mission Statement
Every company has its mission and vision statements with which they live. It is like the signature trait of the brand as a whole. Therefore, every employee needs to know it by heart and get reminded every time. Try to think of creative ways to display it. Please put it in a common area where employees often see it. Doing so will continuously remind them of the values they should embody and carry out in representing the company.
Creative Decorating Tips: Incorporate Your Company Colors
One of the things you should do is integrate your brand colors. If you are planning on repainting, choose a color scheme that incorporates your business. It is not just for the benefit of those working in the office but for your visitors. Being consistent even with colors is a meaningful way to show how consistent your establishment is. It should be a reflection of what your business is. Using the right colors often has a substantial psychological impact on people.
Add Unique and Useful Furniture
As much as possible, do not get for the ordinary and familiar. Try to go for something unique and unusual. Although, make sure the design you choose fits in the interior design of your office. You can hunt the internet for excellent pieces you can purchase concerning design and price. You can also opt to add mirrors in some corners of the work area. Mirrors have the impact of making the office look professional, more full, and inviting.
Use Dividers to Break Spaces
Traditional offices often have separate rooms for different divisions. The modern office promotes an open environment. Instead of using walls, cut them down and use dividers instead. Doing so makes the official welcoming to every employee, and it also allows better communication and collaboration among your staff.
Creative Decorating Tips: Allow Employees to Personalize Their Cubicles
Everyone is unique in their way, and for most people, they can think and work better when they feel comfortable. It is best to allow your employees to personalize their own space to function better and be more productive.
---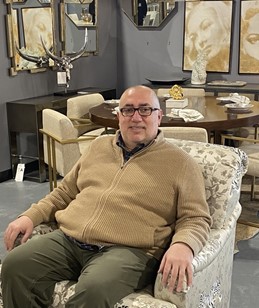 What started as a rug business in 1986 by owner Benjamin Aziz has flourished into a 40,000 square foot showroom. Shoppers will find 150,000 home furnishings and accessories in a range of styles, from contemporary to transitional.
Today this family-run business represents over 150,000 home furnishing products, all with a unique sense of style. Connect with him on socials, Facebook, Instagram, and check his designs.