Hair Care Profession: All You Should Know
Some people choose a profession because they can get a high-paying job. And others choose a profession because they want to pursue their passion. If you're part of the latter, you can consider getting a job in the hair care industry.
However, like most professions, you don't just enroll in a cosmetology school and study hair care techniques. Maybe you're not fond of styling hair and want to become a hairdresser instead. Or maybe your passion is more on the skincare side and want to be an esthetician.
The bottom line is you should understand more about the profession first before you jump right into it. Jobs in hair care are one of the many careers you can get into in the beauty industry. For that reason, here are some of the things you need to know about being a hair care specialist.
Hair Care Profession: How to Become a Hair Specialist
As a hair care specialist, you can choose whether to become a hairdresser, a hairstylist, or a barber. And these three professions have their respective licensure examination. While that is the case, all of these have oral, written, and practical exams. You'll also be asked to demonstrate your knowledge of some cosmetology practices.
But before you can take the state board exam, there are some qualifications that you need to have. The steps to getting a license are different in every state. Whatever the case is, here are the basic steps to getting a license in the hair care industry.
Finish a Formal Education Program
To get a license, first, you need to attend a cosmetology school. Some beauty schools provide hair care-related courses and some don't. That's why you need to do your research before you enroll in one. Choosing the best cosmetology school for you will make and break your career in the hair care industry. 
On the other hand, you can also get a certificate from a Registered Training Organization.
Hair Care Profession:
Obtain Work-Related Experience
After getting an associate's degree or certificate, you need to obtain as much experience as you can. Some schools provide internships and apprenticeships. They also allow students to market their services to the general public. This is in addition to the hands-on instruction provided by a cosmetology curriculum. This is helpful to get through your state board exam. 
Prepare for and Pass the State Board Exam
Once you're acquired relevant work-related experience, you can take the state board exam. However, if you feel unprepared, as do most people feel, you can test your knowledge of the discipline first. For example, before taking your barber licensing exam, you can indulge yourself in a barber practice test.
The test mostly covers every important area you need to focus on. It includes scientific concepts, hair (including facial hair), and skin care services. Additionally, the questions are based on previous state board barbering exams. This way, you'll be taking the licensing exam with confidence. And the best part of it is that the test is free and available online.
Passing the state board exam means you can now get your license as a hair specialist. A word of caution, though. You need to make sure if your state provides licensing for hair design, cosmetology, or both. 
In a cosmetology state licensing exam, you'll be tested in all aspects of cosmetology. On the other hand, in a hairdressing or barber state board exam, the focus will be on hair cutting and styling. 
In case your state only has licensure for cosmetology, you can easily find a free cosmetology practice exam online. Much like the barbering state board test, this will help you study focus areas in the state board exam.
Hair Care Profession:
Open Your Own Hair Salon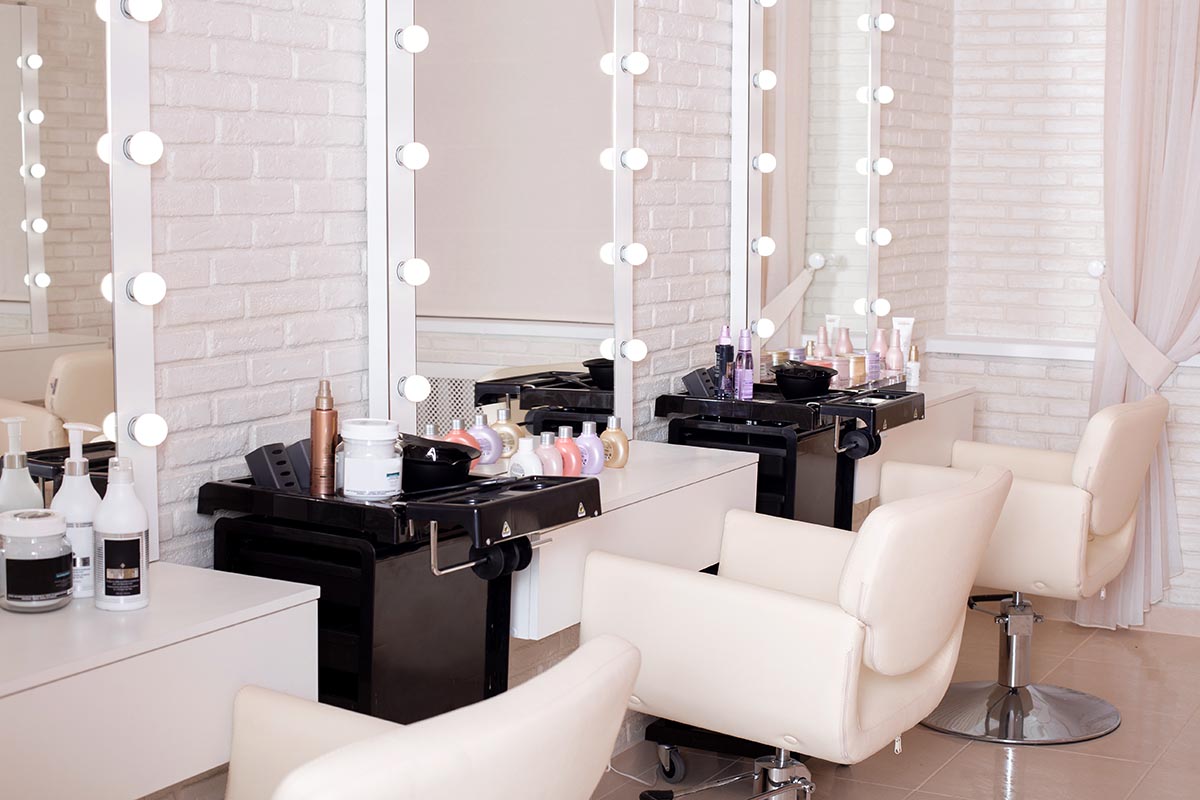 When you have a license, you can now work as a hair specialist. You can choose to work for others in an already-established salon. Or, you can start your own hair salon. Usually, hair specialists gain enough experience working for others before starting their salon.
This way, they have already built a reputation around their name and created their portfolio. Working for yourself means you'll have more freedom and earn more money. However, this is not the last step to becoming a hair specialist. You also need to maintain your professional license to continue practicing in your field.
Undergo Continuing Education Training and Seminars
Some states require you to attend continuing education courses to maintain your licensure. These seminars will allow you to learn new methods and refresh your expertise.
State rules govern the frequency of continuing education courses and the number of hours necessary. For example, in Texas, you only need to finish a total of 4 hours of continuing education courses. In other states like Washington, you only need to pay a fee to renew your hair specialist license.
Careers in the Hair Care Industry
For hair care enthusiasts who enjoy styling and coloring hair, the hair care industry offers different career paths. Here is a list of potential jobs you can get in the hair care business.
Hairdresser or Hairstylist
A hairstylist is a modern term used to describe a hairdresser. In general, hairdressers and hairstylists relate to the same profession. This includes cutting or styling hair to alter or maintain someone's appearance.
Sometimes, hairstylists recommend products to help customers maintain their hairstyle and color. It is also a part of their job to use hair care treatments like oil and masks.
While that is the case, some high-end salons have both hairdressers and hairstylists. Hairdressers shampoo, trim, and color hair in these establishments. On the other hand, hairstylists work on styles such as curls, perms, and updos.
Barber
Barbers are experts at sculpting their customers' hair. They usually assist customers to attain their desired appearance by cutting, trimming, and tapering their hair. They also shampoo and administer scalp treatments as needed. Barbers are also in charge of determining which haircut or facial hair option is ideal for their clients.
Salon Manager
A salon manager is in charge of the day-to-day operations of their business. This is done to guarantee that customers receive the best possible service. A salon manager can work at a hair salon, a nail salon, or a spa. They are mainly tasked to do admin work such as scheduling and arranging shifts.   
What Are the Skills Needed as a Hair Care Specialist?
Aside from your knowledge and expertise in the field, you also need to have the right skills. You won't be cutting, styling, and coloring hair. You'll also be facing different people throughout your career. Being a successful hair care specialist means you can converse with different people and understand their needs. Here are some of the skills you need to provide the best customer service to your clients.
Creativity
Most people come to the salon to have a professional trim or style their hair. Hair specialists who are creative will be able to come up with the ideal hairdo for their clients. It can be a bit tedious to cut hair, in the same way, every time. However, having unique talents will keep the work interesting. You should also want to stay updated with trends. This way, you'll be able to understand what a customer wants and what is ideal for them.
Customer Service Skills
As a hair specialist, you'll be interacting with clients regularly. If you're happy, your customer is, too. And if you're grumpy, they'll also feel angry as well. Being attentive, friendly, and engaging is what every customer wants. Having a cheery mood helps you provide them with the best possible client service. Customers who are satisfied will surely return and even refer their friends.
Time Management Skills
Hair specialists should effectively manage their time. You should devote effort to setting up appointments and delivering services. Having too many clients than you can normally manage can result in a decrease in your service quality. It also means that your clients will have to wait for so many hours to get their hair done. 
As a result, they will leave unsatisfied, and worse, give a poor rating on your salon. If you want to be a successful hair specialist, you must manage your time well.
Good Listening Skills
While good conversation skill is important, an effective hair specialist should also have good listening skills. No one wants to have an argument while they're getting their hair done. To ensure that the customer is satisfied with the end product, you should pay close attention to what they want. In other words, you'll be using your ears more than your mouth.
Self-Confidence
As the professional one, you should be able to make quick judgments quickly and avoid second-guessing yourself. If you're attempting a new style or cut, do it with confidence so that the customer feels comfortable as well. Otherwise, you shouldn't try something you're not comfortable doing. 
Clean, Organized, and Presentable
Hair specialists will want to portray success by maintaining a clean and hygienic work environment. This is required for their clients' health and safety, as well as to fulfill state rules and regulations. 
You should also maintain a stylish hairdo and dress properly. Hair specialists, among others, should set an example for their customers. You'll want to look presentable to your clients as a way of showcasing your stylish talent.
Being organized is also an important aspect of cleanliness. Having the proper salon supplies and tools helps you provide better service. Knowing where to fetch your supplies makes the process easier, allowing you to serve more clients and earn more money.
Marketing Skills
Lastly, as a business owner, you also need to improve your marketing skills. Selling salon items is one of the duties that you will have and need to master. You need to be convincing to sell customers your hair care products. 
Additionally, you need to know how to set your products apart from rival salons. Most of the competition, including grocery stores, have lower prices for their hair care products. With a good marketing strategy, you'll be able to sell yours even at a higher price.
Conclusion
A career in the hair care industry is not like most careers in other industries. However, you still need to have a license to practice hair cutting and styling. Not to worry, though, as you only need to undergo three steps to getting a license. 
It's also important to know which specific hair care profession you want to pursue. Understanding the different careers in the hair care industry will help you determine which you want to focus on. Whichever it is, you'll want to build some skills to become a successful hair specialist.