4 Things to Consider Before Embarking on Pigeon Forge Vacation
In Eastern Tennessee, you will find a hidden gem called Pigeon Forge. It's famous in Tennessee, but if you don't live in the Volunteer State, you might not know much about it. It's an excellent vacation destination, though, and it's not likely to cost you anywhere near as much as some other resort locales.
If you're thinking about heading to Pigeon Forge and checking it out in 2022, you should consider a few things. We've got a checklist you ought to go down in the following article.
What Will You Do There?
You can look into some Pigeon Forge attractions before heading there with the family. You can always get there and start wandering around to see what catches your eye, but doing a little research in advance probably makes more sense. Pigeon Forge is right next to Gatlinburg, famous for Dolly Parton's Dollywood theme park and surrounding attractions. The country music legend came up with an idea for a country-themed amusement park and resort, and she saw her vision through.
While you're there, you can go to one of the many dinner shows, like the Dolly Parton's Stampede event that runs there every day. It takes a couple of hours, and it comes with a full dinner for everyone at your party. Your kids will probably like the live animal acts, including horses and daring feats taking place right before your eyes.
You might want to check out the many shopping opportunities. You'll find many outlet malls and souvenir shops. If someone you know has a birthday or anniversary coming up, you might find something nice for them there. You may also get something for yourself that can occupy a place of honor in your living room for years to come.
Pigeon Forge Vacation:
Where Will You Stay?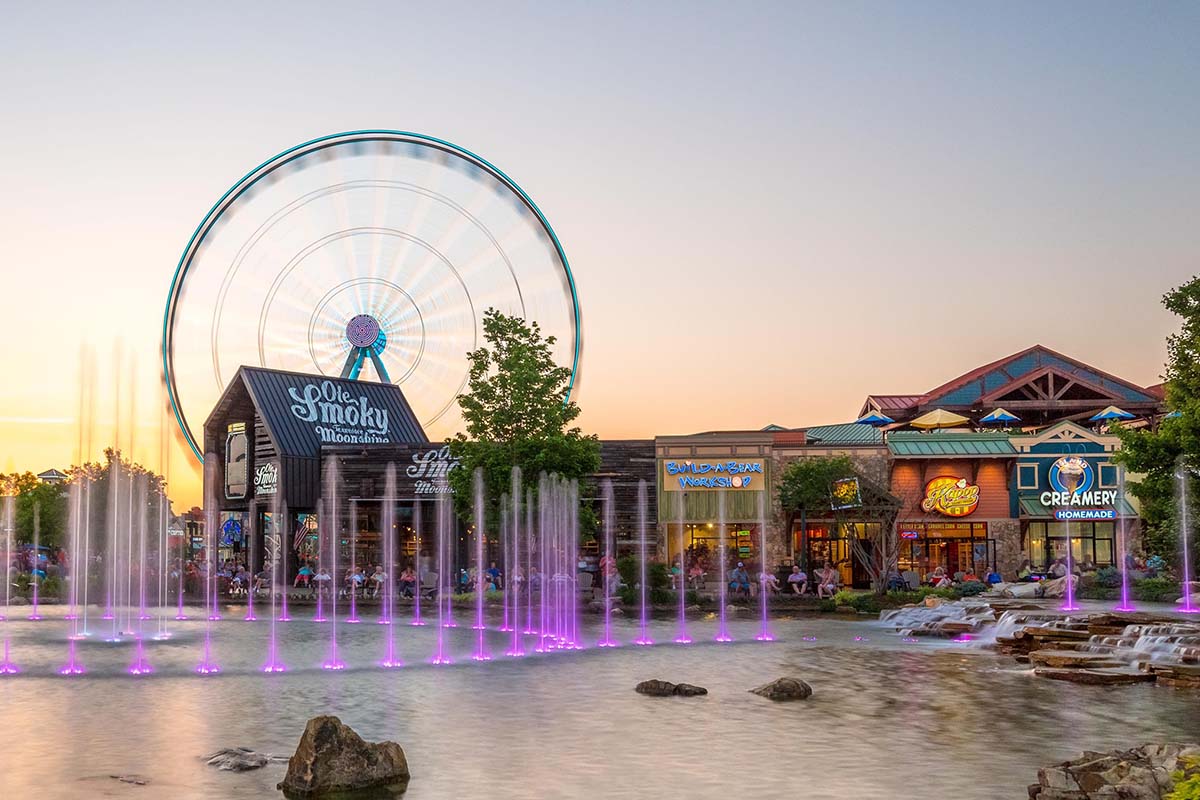 You will definitely want to find a place to stay before you arrive. If you go during the summer, the hotels can fill up fast, and you probably want to grab a place not far from the town's center. The Clarion Inn Dollywood Pigeon Forge is a popular favorite. They do have free Wi-Fi so that you can keep up with your email if you can't quite manage to break away from work entirely. 
They also have a gym and a very nice swimming pool, so make sure everyone brings their trunks. Tennessee can get quite hot in the summer months. The pool even has a waterslide.
The Wild Bear Inn by Westgate Resorts is another option. They're pet-friendly, so if you brought your dog or cat along, that's not an issue. It's just a couple of miles from the Great Smoky Mountain Park, and they have some hearty German-style cuisine. You might also look into the Rodeway Inn Pigeon Forge for its cheap prices or the Americana Inn and Suites.
Do You Want to Check Out Some Nature While You're There?
You can spend all your time in air-conditioned luxury while visiting Pigeon Forge and nearby Gatlinburg, but you might also want to get out in nature on this trip. If so, it's hard to resist venturing into the Great Smoky Mountains, arguably the finest thing about the Volunteer State.
The Smokies loom over the city, and they're brimming with mystery and enchantment. Mist rises over them at night, and it burns off in the morning when the sun comes out.
You can enter the park with your family for a day trip and walk along some of the popular trails. Watch out for black bears, white-tailed deer, skunks, possums, foxes, gray squirrels, and many more woodland denizens. You should also bring bug repellant. The mosquitos tend to welcome guests just as much as the locals.
Pigeon Forge Vacation: Can You Find Any BOGO Offers?
If you really want to make the most of your time there and hit some of the best-reviewed shows, you may want to grab tickets for the Country Tonite Theater with their country revue, the Steven's Best Unbelievable Magic Show, or the Sounds of Soul in the Smokies Motown-themed revue.
You can snag buy-one, get-one ticket offers online sometimes if you check out the show websites. You can also sometimes get that same deal for the Elvis and Superstars Pigeon Forge show or the Rowdy Bear Smoky Alpine Coasters, a pair of roller coasters not for the fainthearted.
Once you've planned out your trip, just get the time off from work and count down the days till the fun starts.