How to Start a Blog in 2022?
Blogs are among the most talked-about content marketing tools businesses need to communicate with potential clients. The internet is filled with millions of blogs and bloggers looking for opportunities to get more traffic and revenue. 
If you are wondering why you should become a blogger, you'll find plenty of reasons in this article. For businesses, blogs are a part of search engine marketing and play a vital role in deciding the SEO ROI generated. So, without further ado, explore this informative guide to start effective blogging in 2022. 
A Guide on How to Start a Blog in 2022
To start a blog, you need to follow some basic guidelines and rules. It seems like blogging is difficult, but as you improve your knowledge about blogging, you can ace developing informative, engaging, and creative blogs. You can start blogging now by understanding what the reader wants to read and how the company wants you to express your thoughts to promote their product or services. 
What is a Blog?
A blog is a written form of content marketing that a new writer regularly updates. The structure and style of a blog are pretty simple. But you need to ensure that the information is accurate, error-free, high-quality, and engaging. You can read a few blogs online to see how they are structured and written. Also, blogs are a brilliant way to generate quality backlinks for any website that intends to rank higher on search engines. 
Is a blogging career a good idea to start in 2022?
Are you thinking of creating a career in blogging? You are going in the right direction. Blogging can enrich your career if you know how to do it and write. All digital businesses require bloggers to create quality content for their marketing or websites. As a blogger, you have the freedom to express your thoughts that will be read by millions of readers over the internet. 
You can work as a dedicated blogger for a content marketing company. Or you can also become a freelance blogger who works on multiple projects at the same time. 
Steps to follow to do blogging
Step 1

:

An essential step to begin blogging is to find your niche. It would be best to have a blog name because it is the first thing a reader will see when they visit your webpage. Choosing a niche is always better for narrowing down the type of content you create. For example, if you like traveling, lifestyle, and beauty blogs, then it should be your niche. 
Step 2

:

Choose a blogging platform

to get your blogs online.

WordPress

is an excellent example of a blog

hosting platform

that allows bloggers to register and start their journey. 

Step 3

:

Choose a plan and create a domain name. Creating a domain name increases security and privacy

on your blogs. You can take legal action if anyone else is copying your content for their domain name. The investment in creating blogs is minimal, and it gives you stable results over time. The

SEO ROI

one gets through blogging is beyond your imagination. 
Even if you are inexperienced, you can start blogging with the help of several tools that make blogging easy. Millions of people earn from blogging, and you can do it too. It requires minimum investment with great ROI, which explains that it is a good career opportunity. So, choose whether you want to be an in-house blogger for a company or freelance to earn more significant. 
---
About the Author: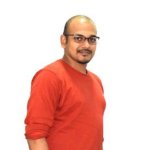 Dileep Thekkethil
Dileep Thekkethil, a Journalism Postgraduate, was formerly with a US-based online magazine and is the Associate Director, Digital Content at Stan Ventures. He is a frequent blogger who keeps a tab on the latest updates in the SEO and technology arena.