Traverse City: The Perfect Getaway for All Seasons
Tucked away in the northern part of Michigan's Lower Peninsula, Traverse City is a picturesque destination awaiting your discovery. This destination should be on every traveler's bucket list, offering a unique blend of scenic beauty, outdoor activities, and mouth-watering culinary delights.
Getting to Traverse City  Navigating Your Journey
Reaching Traverse City has never been easier, thanks to the Cherry Capital Airport. This regional airport welcomes thousands of tourists year-round with regular flights from major U.S. cities. Driving? Traverse City is accessible via major highways, ensuring a scenic and convenient drive.
Excursions to Remember: Adventure Awaits!
The Magic of Lake Michigan: Lake Michigan's vast, shimmering waters aren't just for looking at. Hop aboard a charter boat for fishing excursions and test your angling skills. If fishing isn't your thing, don't worry! Scenic boat tours provide picturesque views of the sunset, shoreline, and even some local wildlife.
Cherry Orchards: Traverse City takes immense pride in its cherry produce. Embark on a journey that takes you through blooming cherry orchards. Witness the transformation from delicate blossoms to succulent cherries. Some orchards offer 'Pick-Your-Own' experiences, allowing you to savor the fruits of your labor.
Haunted Traverse Ghost Tours: Dare to dive deep into the spooky side of Traverse City? Guided ghost tours will walk you through the most haunted spots and narrate eerie tales of the city's past. Whether you believe in the supernatural or not, these tours provide a thrilling experience and a different perspective on the city.
Biking Through the TART Trails: The TART (Traverse Area Recreation and Transportation) Trails are perfect for those who want to blend adventure with exercise. Spread across several miles, these trails take you through forests, meadows, and alongside sparkling waters. Rent a bike or bring your own, and let the adventure begin!
Kayaking the Crystal River: Experience tranquility and excitement as you kayak down the Crystal River. The clear, winding waters offer a peaceful retreat and occasional challenges, making it suitable for beginners and experts.
Must-Visit Spots in Traverse City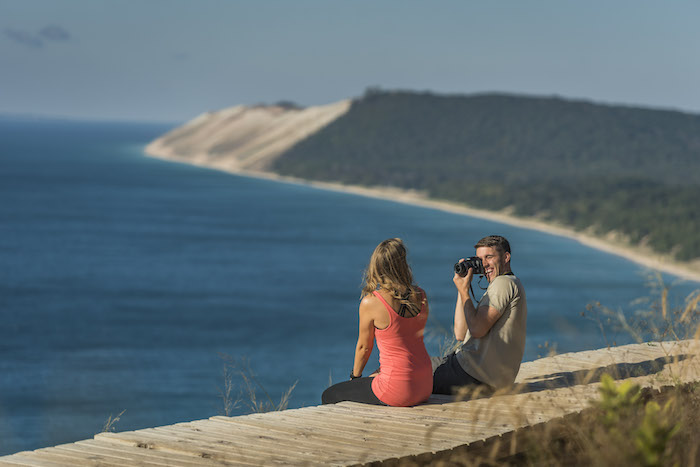 Boardman River Nature Center
Nestled within the city's heart, the Boardman River Nature Center is a haven for nature lovers. Offering educational programs and tranquil walking trails, visitors can delve into the local ecosystem while spotting diverse wildlife. It's the perfect spot to reconnect with nature without venturing too far from urban amenities.
Clinch Park Beach
The most popular beach in Traverse City, Clinch Park Beach, stretches over 1,500 feet along the shimmering West Grand Traverse Bay. With its soft sands, clear waters, and convenient amenities like picnic spots and a marina, it's a must-visit for sunbathers, swimmers, and families.
Dennos Museum Center
For art and culture aficionados, the Dennos Museum Center is a treasure trove. Housing an impressive collection of Inuit art, interactive science exhibits, and ever-rotating contemporary art exhibitions, the museum offers a delightful blend of education and entertainment.
Mission Peninsula Wineries
One can't speak of Traverse City without mentioning its flourishing wine scene. The Mission Peninsula, with its sloping hills and lakeside views, is home to numerous vineyards and wineries. Embark on a wine-tasting journey, sampling locally-produced Pinot Noirs, Chardonnays, and the ever-popular ice wines.
The City Opera House
The City Opera House is a historic landmark testament to Traverse City's rich cultural past. With its stunning Victorian architecture and ornate interiors, it hosts numerous performances, concerts, and events throughout the year. The perfect place to enjoy an evening of arts and music.
Activities Galore From Relaxation to Recreation
Spa Retreats and Wellness Centers
Need a break from your bustling routine? Traverse City offers an array of spa and wellness centers, ensuring rejuvenation for both body and soul. Indulge in massages, aromatherapy, and holistic treatments, embracing tranquility amidst the city's serene backdrop.
The Grand Traverse Balloon Tours
Take to the skies and witness Traverse City from a bird's eye view. The hot air balloon tours provide breathtaking panoramas of shimmering lakes, rolling vineyards, and dense forests. It is an unforgettable adventure, especially during sunrise or sunset.
Horseback Riding on Forested Trails
Experience the serene beauty of Traverse City's landscapes on horseback. Several stables in the area offer guided trail rides, catering to both beginners and seasoned riders. Gallop through leafy paths, meadows, and beside tranquil waters, creating memories for a lifetime.
Water Sports on West Bay
From jet-skiing to paddleboarding, the West Bay is a hub for water enthusiasts. Rent equipment or take lessons; the bay is perfect for both adrenaline-pumping activities and more laid-back water pursuits. Dive, swim, or float; the pristine waters promise unparalleled joy.
Where to Eat
Apache Trout Grill: Known for its seafood dishes and mesmerizing waterfront views. Perfect for a romantic dinner or a family gathering.
Patisserie Amie: Craving French cuisine? This restaurant offers a delightful menu, from sweet crepes to savory quiches.
How to Make the Most of Your Budget
While Traverse City offers luxurious experiences, thoughtful planning can make your trip pocket-friendly. Opt for combo tour packages, use local transport, and, most importantly, watch for seasonal promotions, especially around Black Friday.
Speaking of which, have you seen the latest deals at barcelo.com/en-us/offers/black-friday/? They often feature fantastic travel deals, including your dream stay in Traverse City!
Travel Tips to Enhance Your Traverse City Experience
Always check the weather; Michigan is known for its unpredictable climate.
Book activities in advance, especially during peak seasons.
Explore local farmer markets for fresh produce and authentic Michigan products.
Best Time to Visit
While Traverse City shines in all seasons, summer and fall are the most popular. The warm weather from June to August is perfect for beach outings, while the autumnal months offer breathtaking fall foliage. Traverse City is more than just a city; it's an experience. With its natural beauty, thriving culture, and endless activities, it promises memories that will linger long after your trip ends. So, pack your bags and embark on an unforgettable journey!