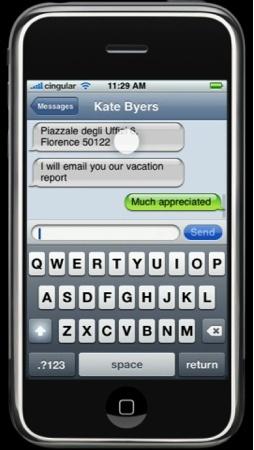 (Courtesy: Gear Diary)
If there's a potential disaster awaiting Apple's iPhone, it's that the smart cellphone lacks a mechanical keyboard.
It forces users to use a touch-screen keyboard, something that may throw of millions of young people accustomed to texting quickly on basic phones and, for that matter, also older professionals used to typing slowly on a full keyboard offered by a Palm or Blackberry.
There's a story about this "billion-dollar gamble" in the NYT today.
Also, check out the experience of the Taiwanese company HTC, which recently released a new model, the HTC Touch. Its "TouchFLO" technology, which enables the owners to swipe up, down, and diagonally across the screen to navigate, has been billed by some as a direct challenge to the iPhone's new approach (however, we caution here because this piece is written by the same author who wrote yesterday's Times story about Facebook, which was inaccurate). Indeed, there are less hyped reports that reveal the HTC just isn't working.
Source: VentureBeat via Blogforward