Jays Bluestreamer.
Swedish company Jays (former Jens of Sweden) has unveiled a new product called Bluestreamer. It's a small Bluetooth stereo adapter that can stop your music and let you answer incoming calls from Skype or your cell phone.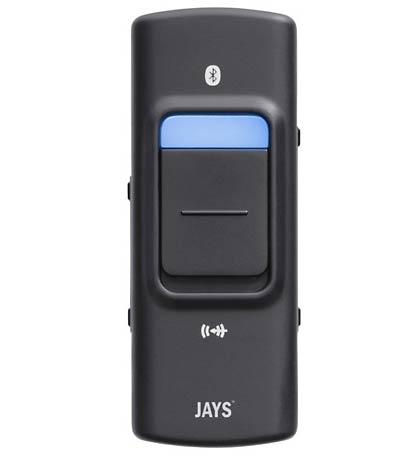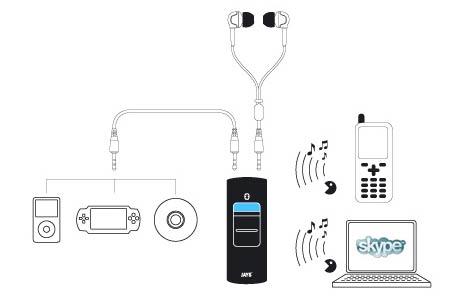 Full press release from Jays.
Swedish JAYS launches the world?s first Bluetooth 2.0+edr stereo adapter with headset functionality, the JAYS BlueStreamer. It is being sold together with j-JAYS in-ear earphones for only 695 SEK incl. VAT. With the BlueStreamer you can listen to your favorite music in the earphones of your choice – from an mp3-player via a cord or wirelessly from a mobile phone – and still answer incoming phone calls in the headset. It can also be used for Skype through a Bluetooth-equipped computer. The BlueStreamer uses a common AAA-battery that can easily be changed by the user – external loading devices are not needed. The BlueStreamer will be available with resellers and at www.jays.se in January.
There is a definite wireless trend, but people seek better characteristics with regards to sound, battery, and price. The potential for low-cost headsets where one can be reached by phone and simultaneously enjoy one's iPod with any earphones is enormous. In noisy environments, most people appreciate a stereo headset with sound isolating earphones. Many will prefer the BlueStreamer over other solutions,? said Jens Nylander, CEO, and co-founder of JAYS.
BlueStreamer is made of rugged black rubber that can be attached to your clothes or around your neck, depending on which of the two accompanying attachments is used (clips or a strap). It contains one Bluetooth-receiver, a microphone, a detachable AAA-battery and two 3,5 mm connections (one for earphones and one for mp3-players that do not support Bluetooth).
This all sums up in a BlueStreamer, a music adapter that can receive stereo music wirelessly from the mobile or an mp3-player via a cord, and simultaneously interrupt the music to answer a phone call. Any earphones with 3,5 mm connection and any mobile phones supporting A2DP, AVRCP, headset and a handsfree-profile can be used. The front has an answer button and on the sides are controls for the volume and song selection.
The BlueStreamer is sold with j-JAYS new in-ear earphones together with a 60 cm cord for only 695 SEK incl. VAT. This is considerably less than the few stereo Bluetooth headsets available today, even though they use the old Bluetooth 1.2-technology. The BlueStreamer is the world?s first music stereo adapter to employ Bluetooth 2.0+edr (enhanced data rate). The new technology allows a prolonged battery time, signal stability, multi-unit connectivity and a better compatibility with the mobile phones of today and tomorrow than the earlier Bluetooth 1.2-standard.
The BlueStreamer is also the first Bluetooth stereo adapter with a detachable AAA-battery. The user can use rechargeable batteries, or just buy a new battery which makes a separate battery charger unnecessary. The battery time is eight hours while listening to music and ten hours while talking. The BlueStreamer has the dimensions 62 X 26 X 24 mm and weighs only 20 g excluding the battery.
Jays Bluestreamer, via Fosfor gadgets.