Mouse Skype Phone Combo
This is probably one of the better looking Skype mouse combos we've seen so far. It's also equipped with a 2.5mm earphone jack for "extra privacy".
This Skype Phone doubles as an 800 DPI optical mouse making this an excellent idea for managing the area around your desk. It also has a built speaker for handsfree skype communication or listening to music.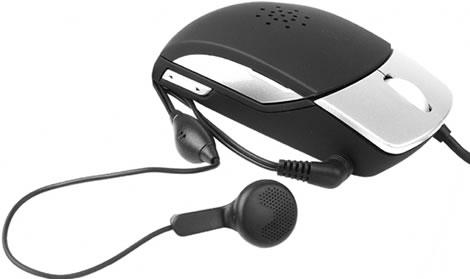 Features:
128×64 pixel LCD screen with backlight
Hi-Fi Speaker
Connect with USB to your computer
800 DPI optical sensor
Crystal clear audio with 16bit 48 KHz sampling rate
Also compatible with Internet calls, SparVoip, NetAppel, poivY
VoipDiscount, VoipCheap and WebCallDirect, VoipStunt, VoipBuster
Multi-Language Support
Supplied Earphones for privacy
The Mouse Skype Phone with 2.5mm Earphone Jack retails for $22.26 (Sample 1+) from the Chinavasion website.