Learn How to Sell Your Book on Google Books
As a self-published author, selling your book across free e-commerce platforms is now easier than ever.
Amazon KDP, Smashwords, and Google Books are all leading ebook service providers for self-publishing and distribution.
They're all free and provide self-published authors the opportunity to sell more ebooks.
Self-published authors may experience more indirect benefits than direct ebook sales — particularly with higher search visibility for your book and name as an author.
What is Google Books?
It is a huge database of digital books that have been uploaded by publishers, authors or through the Partner Program.
The database is created using the full text of books and magazines that Google scans and converts into an ebook.
You can add, search, and shop for ebooks for your phone or laptop.
Results from search show up in the regular Google Search bar and in the dedicated Google Books website.
What Does It Look Like?
If you Google a book title that's been added to the database, the option for "books" will appear under the search bar:

When you click on the "books" option, the various results for the title appear as such: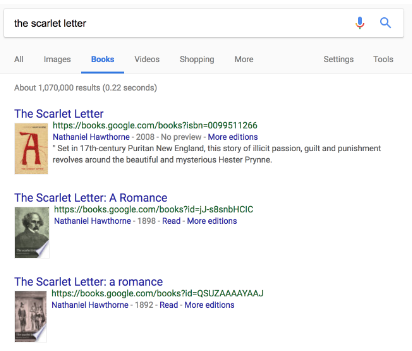 When you click on one of the options, you're taken to the profile page of that book within the Google Books archive: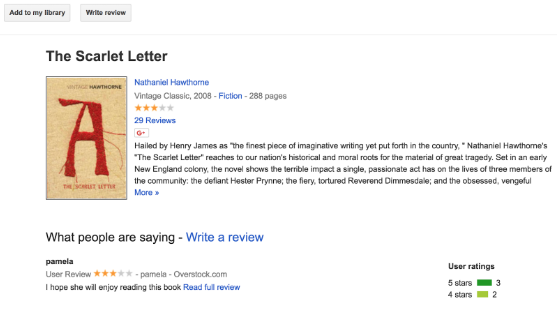 From here, you have the option to buy the ebook, read reviews, click through other books by the same author, or add the book to your personal Google Books library.
Benefits for Self-Directed Authors
Unlike Amazon KDP or Smashwords, uploading your book doesn't always translate to a dramatic uptick in direct ebook sales.
However, service provides other benefits for self-published authors.
Once your ebook is available, you'll see improved Google Search indexing for your book title and author name.
And that doesn't just include book listings on Google Play Books.
You may see increased search visibility for your YouTube book trailers, your Goodreads book listing, and your other book retailers (some of which you may not even realize carry your book!)
This increased search visibility can help potential book buyers find you and your books more easily, which can mean more ebook sales out the door.
How Do I Add My Book?
Google offers step-by-step guidance to add single books or add multiple books for authors.
You also have the option to make your book available for free . This could be a good option if you're about to launch the second book of your series and want to help build hype by offering the first book to readers for free.
Once you're ready for your book to jump off the screen and onto the shelf, Steuben Press is on-hand as your premier book printer.
Whether you're looking for a small batch or a large order, we offer quality and prices to suit any budget. Get your book printing project started today.