Fresh Trends to Court this Season – Anarkali Suits
Your ethnic wear wardrobe is incomplete without the Anarkali suits. This garment has been in Vogue for years together and is still a hot favorite among women residing in India, Pakistan and other South Asian countries. There is an inherent Indian quality to this sartorial wear.
The style has undergone some major transformations in recent years and each trend has heightened the popularity of the Anarkali suit even more.
There are some great styles of the suits such as the cape style, jacket style, layered, floor-length, gown style, the list goes on. Top designers of our country have been instrumental in popularising the garment, they have upgraded the silhouette turning it into much sought-after designer wear.
It is all about classic meets contemporary in a harmonious amalgamation. No wonder it has been a hot pick among celebrities. They have donned it to every ethnic party they have attended, championing the style with a lot of chutzpah.
Anarkali Suits – Different Fabrics
The Anarkali suits are made up of different stunning fabrics, such as organza, net, silk, and jacquard. These beautiful and luxurious fabrics are embellished by zardozi, Kundan, zari and more. The intricate designs give the dress an unmissable alluring quality.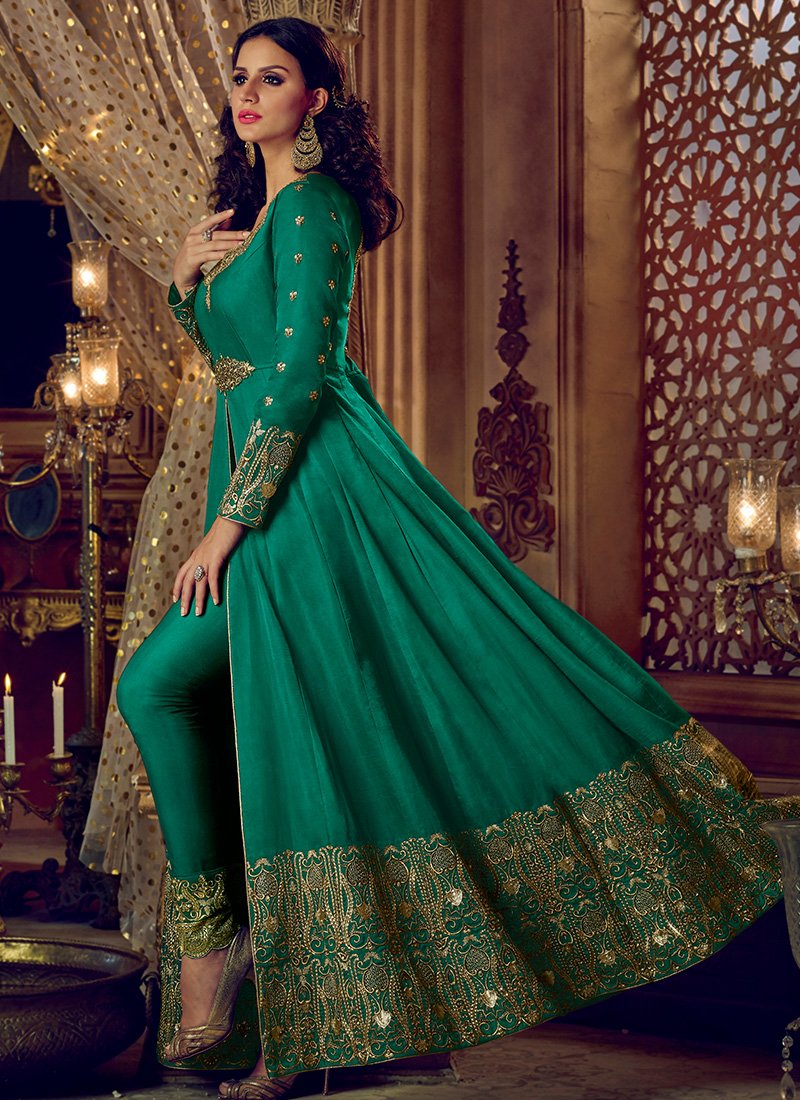 Women nowadays don't follow the age-old norm when it comes to colors, while the gold the red, the magenta the fuschia are perennial favorites, the pastel shades are now joining the bold shades emanating a quiet glory.
So if you are someone who prefers stylish floor length kurtas or if you are someone who prefers the traditional salwar kameez, if there was any outfit which can give regal vibes, then it has to be an Anarkali suit. Classy and elegant, it is what most fashionistas love to wear on any given occasion, be it a party or any festive occasion.
Latest designer Anarkali suits are a beautiful amalgamation of traditional weaves and contemporary twists. This is what appeals to both the young and old alike. The form-flattering silhouette takes the icing on the cake.
The fitted and flared design hides a multitude of sins and suits most women, whatever shape or size they may be in! No wonder they fly off the shelves of most shops, like no tomorrow.
Top Trending Latest Designer Anarkali Designs
The suits are total scene-stealers; they can be your go-to outfit, right from invigorating coffee confabulations with friends or a glamorous party.  This is the best way to enhance your beauty and make you look ultra-feminine!
Cape style party wear Anarkali suits – The cape style party wearing the suit are taking the Indian fashion fraternity with the storm and this is the style flaunted by most fashionistas and actresses. They are made of sheer diaphanous fabric, which lends a glamorous look to the whole scheme of things.
This kind of salwar suits come in myriad colors, ranging from feminine flirty pastel shades to bold and daring colors like red, black, not to forget certain metallic shades like gold silver and bronze. Pick one which suits your personality best, team it with shoulder dusters, high sky-high stilettos and stun the world with your glamorous avatar.
Jacket Style latest Anarkali suits – Another trending design, the jacket style are ruling the roost and how! Long jackets, short ones, this adds the right degree of structure and form to your figure. Popularized by a number of celebrities, it is the hot new trend that is taking the fashion fraternity by storm.
The styling of these jacket style is very important, wear it with cigarette pants or palazzos, the right pants can, in fact, make or break the outfit. Long or flowy structured or short, let your jacket style do the talking this season.
Tail-cut Anarkali designs online – The asymmetrical or tail cut suits are in Vogue now and most women love this new trend. They look deceptively expensive yet wonderfully stylish too. Asymmetry seems to be the name of the game.
With asymmetrical hemlines doing the rounds, plain hemlines seem so boring and passé now! Pair it with stilettoes and flaunt your ultra-glamorous avatar in party wear it!
Party wears Anarkali suits – Party wears net should be your best bet to look uber stylish in any hip and happening party. Rich in design and ornate in work, your party wardrobe cannot be complete without these!
The fabric of these suits should call the shots, net, chiffon, Lycra, velvet these are the fabrics that add the right bling to your outfits. Give your wardrobe a luxe touch with the help of beautiful dresses and make the most of this perennial classic!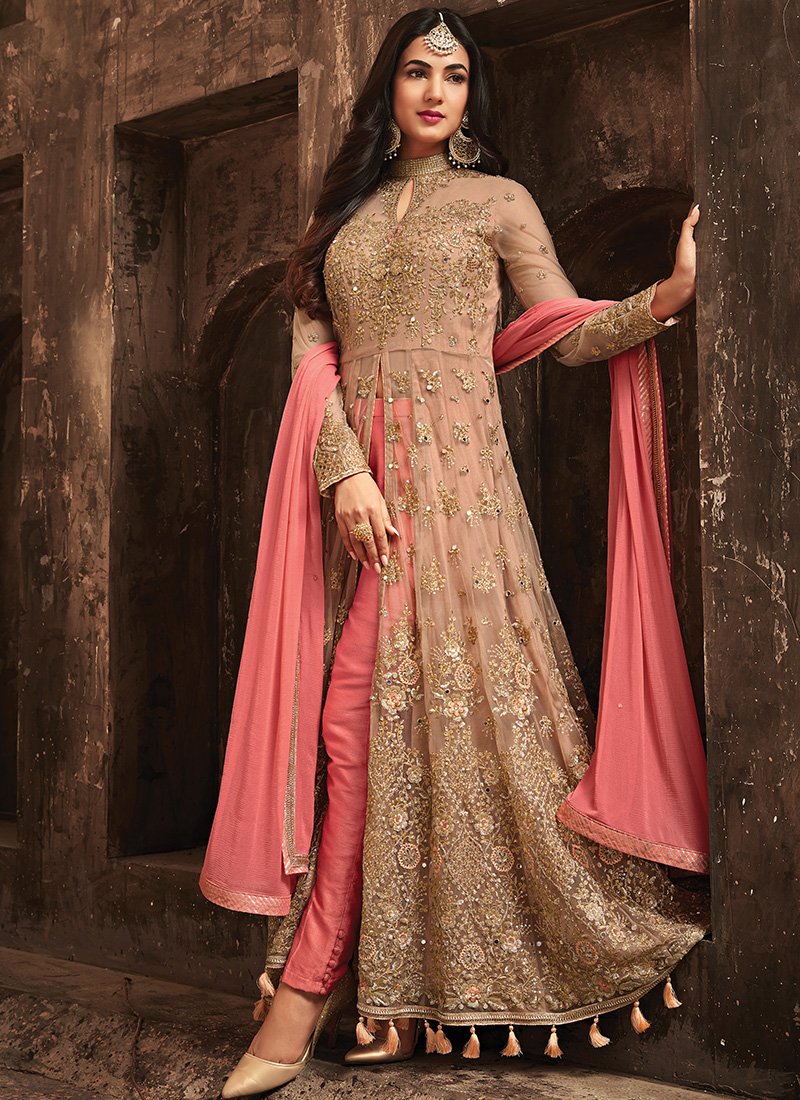 Floor length Anarkalis – This floor-skimming kurta is a perfect option to nail your party wear look. It adds length to your frame and makes you look tall and graceful. Team this look with churidars or pants.
Pakistani Anarkali Suits – When the innate traditionalism of Pakistani fashion flair merges with Anarkali suits, you are bound to look your ethereal best in this kind of suits. The cuts and the designs make you stand out with its unique design.
Designer Anarkalis – The designers are ornately designed and they look expensive. It is usually embellished with heavy embroidery or work. For special occasions, those are the perfect option. They look royal and classy befitting any occasion you attend.
Cotton Anarkali suits – Cotton suits are a perfect sartorial option for the hot and sultry weather. Choose whites or pastels if you are dressing up for a day event. Amp up your outfit with striking stilettos, classy jewelry and a bold lip color (the berry shades are just love). This look ought to be on your daywear inspiration board.
So if you are someone who prefers stylish floor length Anarkali suits or if you are someone who prefers the traditional salwar kameez, choose from a stunning array of salwar kameez designs online, and effortlessly either champion the girl-next-door vibe or a glamorous-diva vibe.
Master each look with panache.