The Breaking New Grocery Store 'Amazon Go' Technology 
Behind
There were days when every tourist that was visiting Seattle had to see some significant local tourist attractions. Let's say, Space Needle, for instance, or ride a well known Monorail, but not anymore!
Since Seattle has become a 2nd best tech city in the US, we start seen more tech landmarks, a new kind of local landmarks, for instance – Amazon Spheres.
I have been living in the area for about 1,5 years, and I was lucky to see the opening of the new Seattle City Tech Landmark – Amazon Go back then. Even more, I do enjoy doing my Amazon grocery shopping at that store. It is convenient and funny.
Amazon Go has already three stores in Seattle and as we know 3,000 Amazon Go stores may be on the way. Buy the way, the first Amazon Go store in New York City will open near the World Trade Center. The new cashierless Amazon Go store was open Monday in Chicago and it is the first to open outside of Seattle
So, I would definitely say that Amazon Go is a perfect spot to grab something when exploring the Seattle city. Hey, for today is an unforgettable once in a lifetime experience, because Amazon Go stores to be found only in Seattle and now Chicago. All you need is to find the most convenient Amazon Store Locations in Seattle.
Amazon Go / 2131 7th Ave
Amazon Go / 300 Boren Ave N
Amazon Go / 920 5th Ave
Amazon Go – a newly released kind of a grocery store featuring the world's most advanced shopping technology, that is just another wonder. First, you won't have to stay in long queues. With the Amazon Go App, you enter the store, pick the products of your choice and go your way. Simply no lines, no check out. Fantastic!
So let's see how Amazon grocery shop works and discover the Amazon Go technology behind

Before making use of the store, a customer will have to download the Amazon Go App from Playstore of Appstore. A customer should then link it to an Amazon account as well as credit or debit card.
The App then generates a unique code that can grant entry when scanned at the store's subway entry point.  This fantastic shopping experience is backed up by the same technology used by computer visions, self-driving cars, sensor fusion, among others.
So the technology automatically detects and keep track of the substances you take out from or return to the shelves. When done, you walk out, and immediately amazon sends you a bill, and your Amazon account is charged. Super-fast.
Unlike other physical shops, Amazon Go doesn't have any registers. You simply pop in, select and pick out what you want, then head out. No wonder Amazon calls this a "Just Walk Out" shopping experience.
Below are some questions you might have concerning the Amazon Go store, located in the corner of an Amazon office building at Seventh Avenue and Blanchard Street.
How 'Amazon Go' Works.: How do I shop at Amazon Go?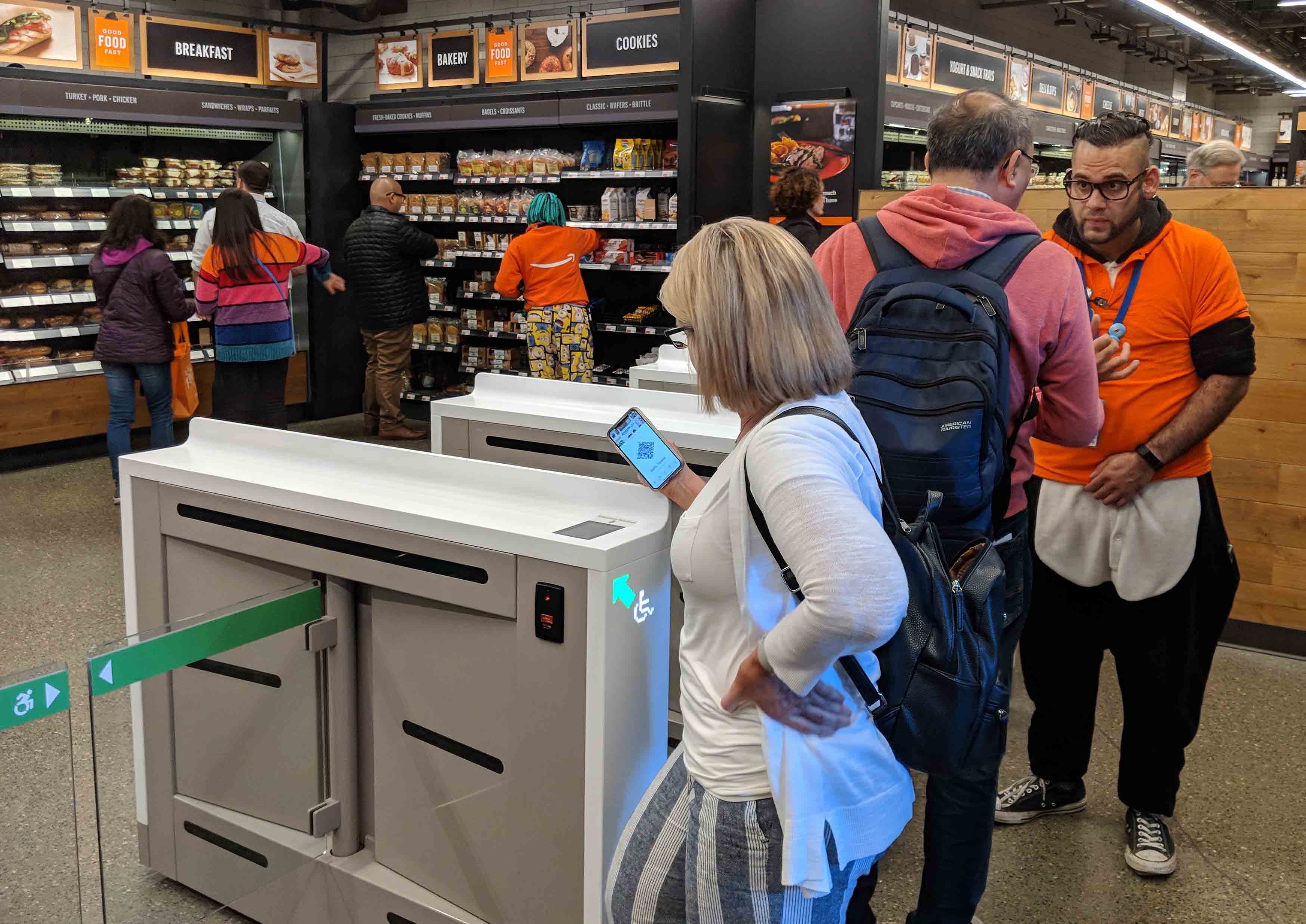 You will be required to have an Amazon account, and Amazon Go App installed on your smartphone. The Amazon Go App is available for download in the Apple App Store, Google Play, and Amazon Appstore.
On arriving at the store, you will use the App to access the store but keep it away once inside since you don't need it to make purchases. Then look at different commodities available, select those items you need and leave – without checking out.
Will I be charged for picking an item, looking at it and I don't take it out?
The answer is NO. You can comfortably pick an item from the shelves, look at it and then return it. You won't be charged for looking at substances or as they call it "window shopping."
This technology is designed to detect the items you pick from the shelf and charge you accordingly. Again, if you return it, the system takes it off your bill real fast.
I understand I require a smartphone to install the App, what if the battery fails?
Of course, Amazon demands that you install the Amazon Go app on your smartphone. If your battery runs out before entering the store, you will get assistance from store workers. They usually carry chargers for such eventualities. Again, the store is fitted with power outlets around the seating areas.
When already inside, you will not need your phone to be powered to do shopping.
Are there people working in the store?
Of course yes. Inside Amazon Go store, you will encounter many associates, some working in the kitchen to prepare ready to eat foods, others restocking and monitoring shelves, and others are assisting customers with picking products.
What is available to buy?
Amazon Go store offers various ready-made delicacies for breakfast, lunch, and dinner. They have engaged professional chefs and bakeries to make a variety of snacks.
Their customers also get to benefit from a wide selection of groceries such as bread, milk, chocolates cheese among others. They have the most experienced chefs who can serve dinner to a starving customer in less than 30 minutes.
Can I tag other people in?
Yes. All you need to do is to swipe your smartphone for your friends first, then finally yourself. You should note that anything they take out will be charged to your Amazon account.
What if I'm overcharged?
On realizing an overcharge, or getting a bill for items not picked, you will need to swipe the item on your digital receipt and launch a refund request.
What is my personal choice at Amazon Go Store?
I love shopping at this store when I am in Seattle. I usually go for something light like water, snacks, cheese and something sweet. They do have a very good choice of locally produced desserts like muffins, tarts, and other yummies.
If you are looking something for lunch they offer a great choice of sandwiches and salads. You will find a microwave oven for your convenience.

Is my privacy guaranteed?
In Amazon Go store, they make use of computer vision algorithms to monitor customers' movements through its store.
The Amazon policy on privacy in Amazon Go app appears to be similar to that of Amazon's general privacy notice. This policy, however, goes into details about browsing but doesn't give mention to specific Amazon Go privacy terms.
What if a customer is physically challenged?
The place is wheelchair friendly. They have a ramp at the entrance and two wide turnstiles on your way into the store. The Amazon Go staff also assist the customers with physical challenges walk through the store and support them pick up the items they want.
This Amazon Go shopping experience came about as a result of Amazon enthusiastic spirit. They focused on creating a store whereby no lines and customers could take their items and leave.
This resulted in the Amazon Go-the Just Walk Out Shopping experience and know How 'Amazon Go' Works.