An Amazing, Gifted And An Outspoken Believer In 'Black Girl Magic' Miss Universe 2019
"I grew up in a world where a woman who looks like me, with my kind of skin and my kind of hair, was never considered to be beautiful. I think that it is time that that stops today."
This was the message from the newly-crowned Miss Universe, Zozibini Tunzi from South Africa.
This year the Miss Universe 2019 pageant had over 90 women contestants from all over the world. This competition was held in Atlanta in the US. Zozibini Tunzi bit Puerto Rico's Madison Anderson and Mexico's Sofia Aragon to become the 2019 Miss Universe.
After being crowned the winner, she took the time to give her side of the story. On Sunday night, majorly focused on celebrating the "Black Girl Magic" and the importance of shifting antiquated beauty standards. The first pageant's first black winner was Leila Lope back in 2011, and then 8 years later, Zozibini Tunzi scoped the crown as the second African winner in 2019.
Tunzi was in short natural hair during the competition, which she said was "a symbol of my firm belief in fair representation." She was in the national costume outfit which also reflected her beliefs.
To celebrate gender equality in South Africa, Tunzi had sought the help of African men to demonstrate their solidarity through campaign #HeforShe. She wrote letters on colorful ribbons and wove them to her outfit that clearly honored and celebrated South African women.
Tunzi's win also seeks to increasingly shift the paradigm in the world of pageantry, which has been criticized upholding Eurocentric beliefs. She revealed how she'd spent a week prior to the pageant singing "Brown Skin Girl" by Beyoncé. Her coronation at Tyler Perry Studios in Atlanta filled the social media with jubilation especially when people learned that Miss America, Miss Teen USA, Miss USA and now Miss Universe are all black women. Undoubtedly, Zozibini Tunzi`s win can only be branded "global validation for black women".
When it was her turn during the top 5 questions and answer segment, the Miss Universe 2019 stated from individuals to government, from leaders to corporations, we have a corporate responsibility to save the planet against hazards. Tunzi also said that the most important thing young girls need to be taught today is leadership.
"I think we are the most powerful beings in the world and that we should be given every opportunity. And that is what we should be teaching these young girls — to take up space." The jubilated winner said.  She even received an invitation to visit the Oprah Winfrey Leadership Academy for Girls.
When asked why South African women keep on smiling despite facing challenges, the winner cited the harsh conditions the women go through yet the still can smiles. She advised that perpetrators of gender-based exploitations to start treating women the way they deserve.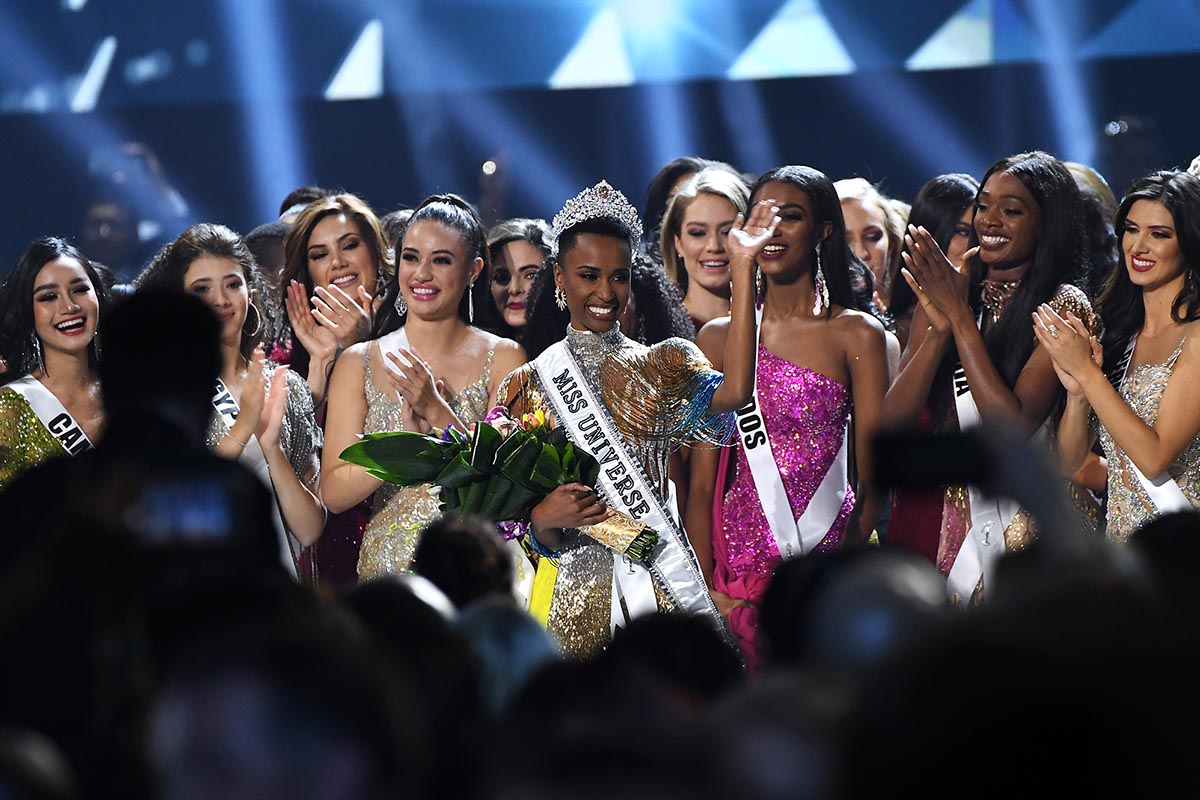 "We have absolutely no reason to keep smiling because South African women are dying every day and most people are doing nothing about it," Tunzi replied. "I think it's time that we stop asking women what to do and start asking perpetrators to do better, to be better, to start treating women the way that they deserve to be treated."
The Angolan former winner congratulated her on Instagram: "Congrats girl you did us very proud." She then responded:
"Tonight a door was opened and I could not be more grateful to have been the one to have walked through it. May every little girl who witnessed this moment forever believe in the power of her dreams and may they see their faces reflected in mine," she added. "I proudly state my name Zozibini Tunzi, Miss Universe 2019!… I think it's time that we stop asking women what to do and start asking perpetrators to do better, to be better, and to start treating women the way that they deserve to be treated."
The win kept the social media awash with congratulatory messages spread through the hashtag #MissUniverse2019.