Bays, Beaches and Islands: Why You Should Try Sailing in Turkey
Turkey is surrounded on three sides by the seas — Black, Mediterranean, Aegean, Marmara.
The entire Turkish coast is dotted with hundreds of beautiful bays, picturesque lagoons, turkey beaches.
All this and a lot of turkey destinations amaze tourists and perfectly fits on yacht sailing holidays (we recommend to rent boats on Sailica.com).
Bays of Turkey Sailing Destinations
Turkish beautiful places, bays are one of the natural resources of this country.
The Turks believe that all the bays are equally beautiful, but the most picturesque are:
Benjik or Benchik (Bencik)

. Located in the eastern part of the oblong cape of Datca, near the port of Marmaris. The water here is always calm, it resembles a picturesque Norwegian fjord. Yachts with tourists often come to Benchik: locals sell fish, sweets and other local delicacies right on board.

Bays in the port of Birdby (Bird's Nest)

— Küçük Chats (Küçük Çatı) and Biyuk Chats (Büyük Çatı), separated by a peninsula. They are quite small, but the water here is very clean. Besides, amazing views of the Gyokova Bay open from every bay.

Cove in the Seven Islands (Yedi Adalar)

. The Turkey islands are located in a chain in the southeastern part of Gokova Bay. This bay is a popular place for excursions and diving.

Bademli (Bademli)

— a small picturesque bay near the village of the same name. Located 10 km from the town of Dikili (Izmir), it attracts tourists with excellent beaches and gorgeous views of the neighboring islands of Kalemli and Garip.

Gideros (Gideros)

— one of the most picturesque bays on the Black Sea coast of Turkey. Located in the province of Kastamonu, 11 km from the city of Jide. From afar, it resembles a lake painted in emerald green. Once upon a time, pirates and smugglers were hiding in the bay. Now it is very calm here, amazing views of the sea open from the shores of the bay, oak, beech and pine forests can be seen on the slopes along the coast.
Most of the picturesque Turkish bays are located in the Aegean Sea.
There are many small islands. They are diluted with bizarre curves of land with enchanting bays.
Almost each of them has yacht charter or bareboat, regattas, and excursions. There are also wild Turkish bays — real islands of tranquility, where you can enjoy natural beauties and swim in the sea for a long time, try a turkey sailing trip. 
We can talk about the bays of Turkey for a very long time.
But move on to the beaches.
The best beaches in Turkey
Sandy beaches and turquoise sea, blue lagoons and majestic waterfalls. For those who know where to go, Turkey can offer a vacation class not lower than in the Maldives.
And much cheaper. Here are the best beaches in Turkey:
Lagoon Oludeniz, Fethiye

. This is the pearl of Fethiye and one of the most beautiful places in Turkey. It combines white sand, green hills, and turquoise water, which you will not find anywhere else. In addition to a beach holiday, you can paraglide or rent a yacht and go on a turkey cruise on the islands of the Aegean Sea.

Butterfly Valley, Fethiye. A narrow strip of white sand, clear blue water, yachts sway on the roads. This idyll is not in Thailand or the Caribbean — it is only a few hours flight, in a friendly and hospitable Turkey, near the resort town of Fethiye. Tip: do not be too lazy to climb a mountain trail to the village of Faralya. The view from the summit is stunning, and thousands of colorful butterflies flutter on the slopes of the gorge.
Turtle Coast Iztuzu, Dalyan

. Long before the people, this 4-kilometer strip of golden sand was chosen by turtles. Iztuzu owes them not only their name but also the title of the cleanest beach in Turkey. In the 80s, turtles were threatened, and since 1988 the beach has been declared a reserve. Now some parts of it are closed for tourists from May to October, but there is still enough space for everyone to sunbathe on the huge beach. Tip: if you are here, do not miss one of the best Turkish spa resorts — Dalyan mud baths.

Kaputash, Kas

. Another idyllic beach with fine golden sand and clear azure water. It is not easy to find, but the search is definitely worth the effort. It can be crowded here in the summer on weekends – locals come from all over Turkey. But on weekdays no one will stop you from sunbathing and enjoying the sun. The easiest way to get here is on dolmush (minibus) from the nearest resort towns of Kas or Kalkan. Tip: the beach is far from civilization, so bring water and something to eat.

Cleopatra Beach, Sedir Island

. This beach near Marmaris is one of the few in the world that can truly be said to be "unique". The sand here is of a special structure, and experts are still struggling to guess where it came from. But local guides know the answer. They say that Mark Anthony gave this island to his beloved Cleopatra, and when the queen complained of bad sand, he ordered ships to bring the best sand from Egypt to the beach. Be that as it may, the current Turkish authorities are shaking literally over every grain of sand on the beach, so it's not just that you cannot come in shoes or bring a towel, but it's forbidden even to lie on the sand. Tip: You can get to Sedir Island by boat from the village of Chamly (вamlı) 15 km from Marmaris.

Olympos, Cirali

. Olympos Beach in Cıralı is at the epicenter of Turkey's beach turkey tourism — halfway between Kas and Antalya, but is unknown to most tourists. There are no chain hotels in ираıralı, only small private hotels, but this makes the town and the beach even more comfortable. The beach is declared a conservation area (turtles also live here), therefore it is always clean and calm here, silence is broken only by the splash of turquoise waves on a picturesque rock. The only drawback is pebbles instead of sand. Tip: there is a unique attraction of Turkey nearby — Mount Chimera with the eternal flame of natural origin, which has been burning here for at least 2000 years.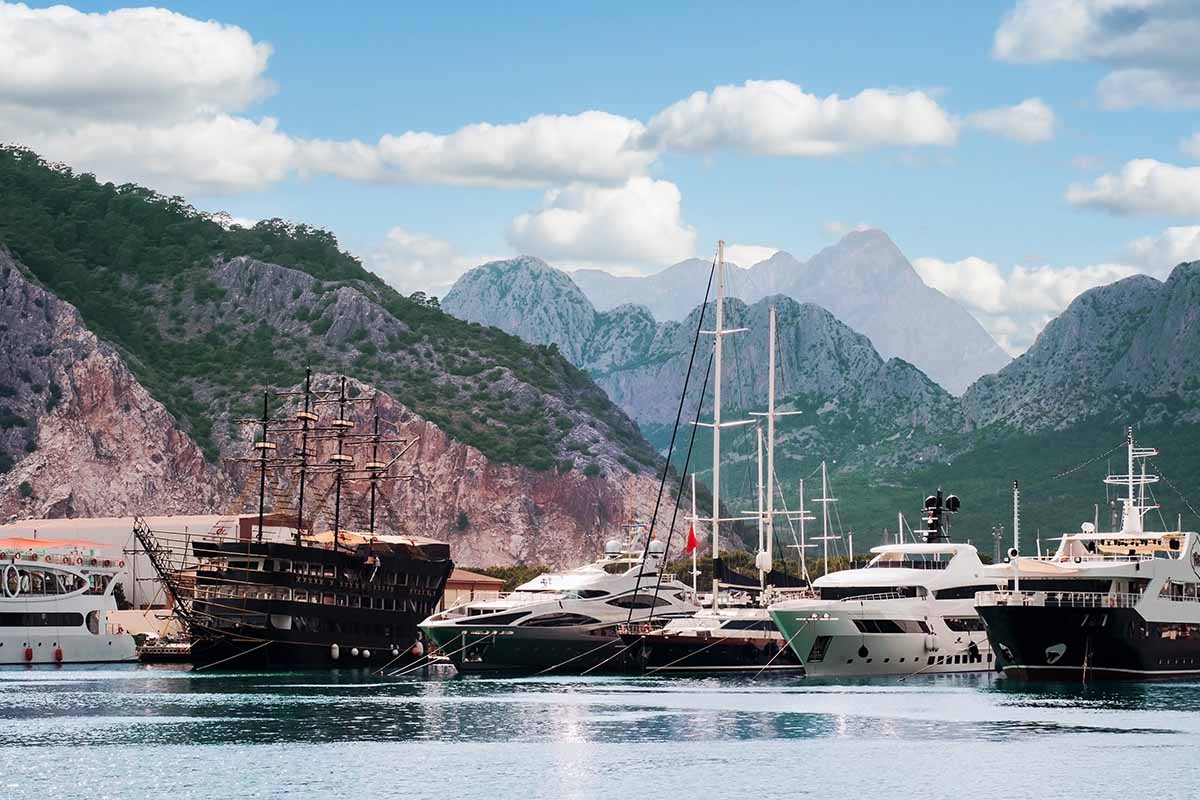 Hisaryon, Marmaris.

Hisaryonu (not to be confused with the giant Hisarönü Hotel in Fethiye) is Turkey, which was 15 years ago, before the tourist boom. Here are simple hotels, inexpensive restaurants, Turkish riviera and not a lot of entertainment — an ideal place for those who want to escape from the hustle and bustle in silence. Two excellent city beaches overlook a narrow strait, where it is always windy and therefore there are many windsurfers. Tip: if you want complete privacy, go to the beaches in Selimiye (Selimiye) and Orhaniye (Orhaniye). From Hisaryon, these coastal towns can be reached on "dolmusha" in 15-20 minutes.
There are a lot of things to do in Turkey and many places to visit here. Turkey's vacation is amazing!
Welcome to Turkey sailing!