Tips on How to Save Money Grocery Shopping
Do you feel like you spend too much on groceries? There's a good chance that you probably are overspending. The average American spends between $314 and $516 per month on groceries. And, that's not even including eating out. Luckily, there are things you can do to make your grocery bill smaller. Check out this guide to discover how to save money grocery shopping.
Search for Ads and Coupons
The great thing about grocery stores is that they always have deals that you can take advantage of. While you can go about the old-school way by clipping coupons from the newspaper, you can also find several coupons and discount ads online here https://www.raise.com/coupons/target.
There are many apps out there that are solely dedicated to finding grocery coupons and ads for you. You can also go directly to the grocery store's website, as many grocery stores offer digital ads right on their site. For short trips to the corner store, try to find places that have convenience store loyalty programs to maximize your savings. For example, you can click here to check out Krogers weekly ad for this week.
How to Save money grocery shopping: Make a Shopping List
How many times have you gone to the grocery store intending to only buy a few things, to come home with a car full of groceries? Don't worry; it happens to the best of us. Luckily, you can prevent impulse purchases by making a shopping list before you hit the aisles. A shopping list will force you to stick to a budget, and it'll prevent you from buying junk food that you really don't need.
Do Your Grocery Shopping Online
There are a few ways you can do online grocery shopping:
You can have the store shop for your items and pack them, and then you come to pick them up;
You can pay for a third party to shop for your items and deliver them to you;
You can use a full-service online grocery store, like Amazon Fresh, that allows you to order the groceries from your home and then sends a delivery driver to bring them to your doorstep.
Now, we know what you're thinking- won't you end up spending more money on shopping and delivering fees? While it is true that online grocery shopping does come with extra fees that in-person grocery shopping doesn't, it can still help you save money.
Just make sure to read up on reviews for the services, like Gorillas Grocery Delivery, who have had some negative experiences thus far. This is especially true if you're an impulsive shopper. If you've tried creating shopping lists but are still having trouble resisting the temptation to sneak extra items into your cart, online shopping can be a good alternative. Many people find that they're not tempted to add extra items to their cart when they're shopping for groceries online.
This may have to do with the fact that when you're shopping online, there isn't any sticker shock. With each item you add to your cart, you see the price total go up. Plus, online grocery shopping can save you time and gas money.
Don't Buy Name-Brand
When grocery shopping, many of us automatically reach for name-brand items. But, if you're looking to save some money, we recommend purchasing the store-brand items instead. Oftentimes, store brand items are $1 to $2 cheaper than name brand ones. While this may not seem like a lot, when you add it all up, it can result in huge savings. Plus, you'll often find that store-brand items contain the exact same ingredients as name-brand items. The only real difference is the packaging.
Don't Grocery Shop When You're Hungry
This is perhaps one of the biggest mistakes you can make when grocery shopping. When you grocery shop hungry, you're more likely to throw random items into your cart. Instead of shopping for practical items that you need to get you through the week, you're more likely to give in to food items that you're craving right now.
So, do yourself a favor and never go grocery shopping on an empty stomach.
Bring Cash to the Grocery Store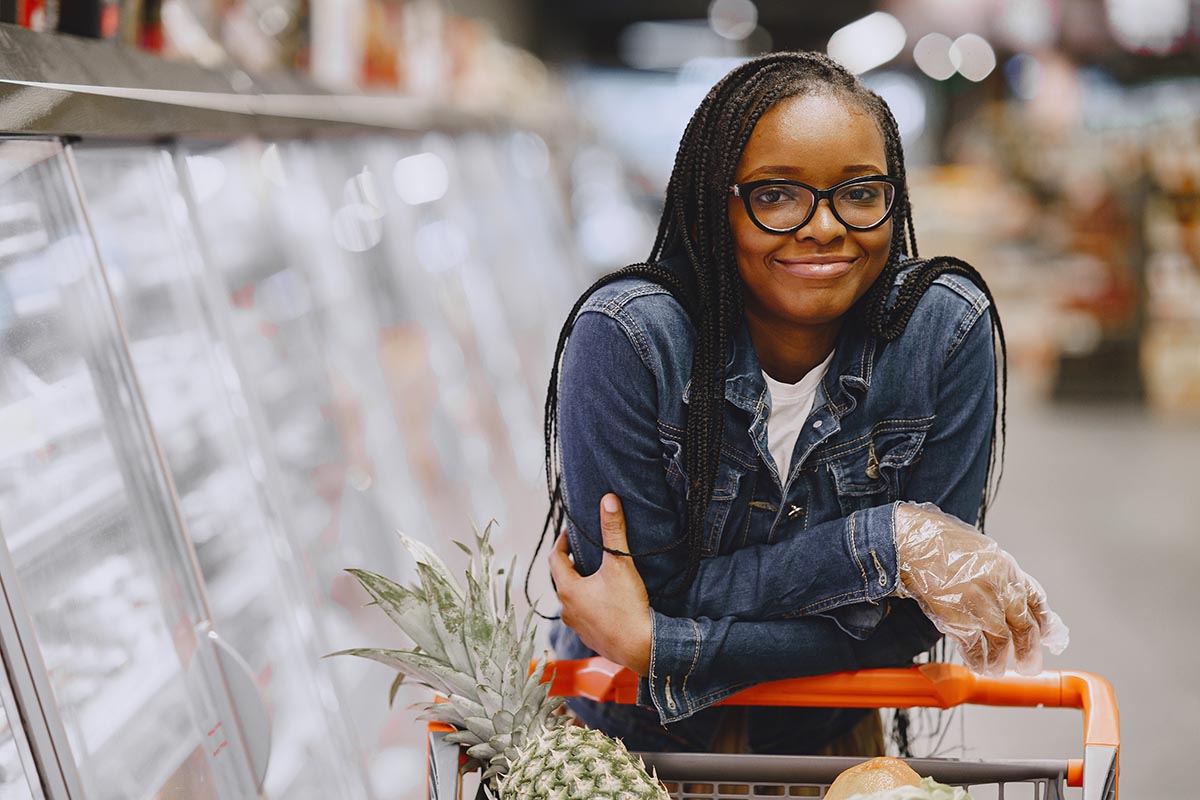 Bringing cash to the grocery store is another way to make sure that you don't go over budget.
After you create your grocery list for the week, look up the price of each item and then add it all up. Then, bring this amount in cash to the store with you. If you only have a set amount of money to spend, suddenly, that $10 sushi won't seem so tempting.
Buy Freezer-Friendly Items
Did you know that Americans waste nearly a pound of food each day? If you're looking to cut down on your food waste and save some money, buying freezer-friendly items can help. Oftentimes, people have the intention of cooking at home and eating really healthy during the week, so they buy a bunch of fruits and veggies at the store. But, when life gets busy, they end up ordering takeout, and these fruits and veggies end up in the trash.
By buying frozen foods, such as Mahogany Smoked Meats, you don't have to worry about things going to waste when you opt to order food instead of cook. Plus, studies show that frozen fruits and vegetables are more nutrient-dense than fresh ones!
This is because when fruits and vegetables are frozen, they don't lose sensitive vitamins and nutrients during transportation! Additionally, frozen fruits and vegetables tend to be cheaper than fresh ones. Lastly, let's not forget that frozen fruits and veggies don't need to be washed, chopped, or peeled, so buying frozen can save you a lot of time in the kitchen!
How to Save Money Grocery Shopping: Are You Ready to Save?
Now that you know how to save money grocery shopping, it's time to put these tips into action. Pretty soon, your monthly grocery bill will be cut in half! For more money-saving tips, be sure to check back in with our blog.