Florida Gators 2020 College Football Season By The Numbers
It hasn't been easy, but college football is getting through the 2020 season. There have been game cancellations, scheduling hurdles, and, of course, many cases of COVID-19, so this isn't a celebration lap. Overall, though, the NCAA is getting done what it set out to do: finish the season as safely and completely as possible.
Still, the rampant uncertainty plaguing live sports as a whole has created a power vacuum in college football. What already wasn't a given is now even more up for grabs. Signs of the competitive landscape's relative wide-openness are everywhere. The AP rankings have shifted more than usual, and the heightened unpredictability has led to an elevated interest level from both casual and religious fans. Even more sports bettors seem to be finding reasons to favor college football over the NFL when making investments. It's that much of a competitive rush.
As usual, the Florida Gators are in the thick of it all. With only one loss on their ledger, they find themselves in sixth place on the AP's national poll, putting them in prime position to make a legitimate run at one of the coveted spots in the college football playoff.
Whether they have the juice to get there is a matter of course. There's still a good chunk of the season left to play. At the same time, an overview of their campaign by the numbers clarifies that they're a program to be taken seriously.
The Offense
Florida's offense currently ranks eighth in the country in points scored per game. This marks an appreciable improvement over last year's 29th-place finish, and the improvement under center from quarterback Kyle Trask has a lot to do with it.
In his second season as the full-time starter, the junior is racking up most of the Gators' 377.6 passing yards per game and doing so with a gaudy 70.7 percent completion rate. His 31 touchdowns through the team's first seven games are more than he had in all 12 of his appearances last season (25).
Go ahead and say it: That's absurd. And it is. If he continues to protect the ball while putting up these numbers—his passer rating is approaching 200!—the Gators will have a genuine crack at finishing the season with a top-four ranking.
The Defense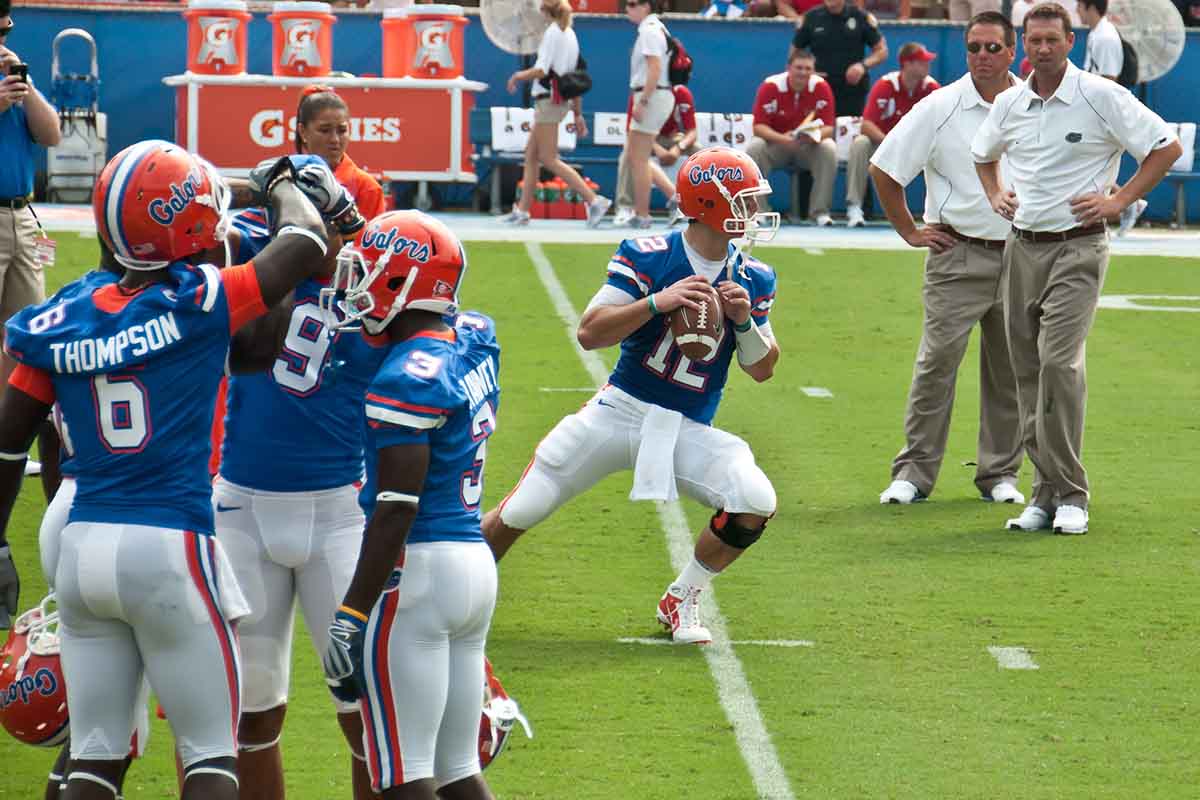 Defense continues to be Florida's Achilles heel. They're allowing 28.7 points per game, good enough for a 58th-place ranking relative to the rest of the country, which is noticeably down from their seventh-place finish last year.
Florida's run prevention really needs some work. The 141.7 yards they let up on the ground per game are almost as much as they tally on the other side of the ball (144.7). What's more, they've given up 10 touchdowns on the ground, which is significantly more than one per game on average.
Roster turnover from last year can explain away some of the regression, as can injuries and absences. But they'll need to tighten things up, both on the ground and through the air, if they're going to tussle with the likes of Alabama, Notre Dame, Clemson, Ohio State, and Texas A&M—all of the teams currently in front of them on the AP's poll.
Florida Gators 2020 College Football Season: Will Florida Make the Playoffs?
This is a tough question to answer. Florida is a shoo-in for a premier bowl game, but snagging one of the playoff spots is much less certain. The Gators' loss earlier in the season to Texas A&M hurts them. It guarantees the Aggies will finish in front of them, barring a collapse on their end.
Florida did beat the Georgia Bulldogs when they were ranked fifth in the country, which is a big deal. They still might need another resume boost. But that, unfortunately, won't come in the form of beating a top-25 school. The Gators' three remaining games come against Kentucky, LSU, and Tennessee, none of whom are currently on the AP poll.
Of course, snagging wins against Tennessee and LSU would still be considered an impressive feat. If Florida takes care of both those games, their chances of making the playoff should be right around 50 percent, with their relatively easy strength of schedule (95th so far) looming as the primary roadblock, in addition to their loss against Texas A&M.