5 Questions To Ask When Choosing A Software Development Company
Even if you've worked in the software industry before, understanding the vast array of possibilities might be difficult. In this article, we'll look at questions that might help you assess a developer's knowledge, work, software development for startups, and the software development process. Let's look at five crucial questions before submitting a project for implementation.
What are the guarantees that you will not go out of budget?
If the developer offers a fixed price, it either has enough profit to compensate for any delays, or you overpay for their services. Either they will exhaust the budget at some stage of the development process and jeopardize the quality of the development process, or they will not implement it at all.
The worst-case scenario is that you will get into a heated legal dispute halfway through the project, forcing you to pay extra for things that "go beyond," creating a bad business relationship.
A "fixed price" may seem like the safest choice for you.  Most custom software development requires multiple developers to create numerous features in months. No program is ever the same, so it is impossible to know precisely how long it will take or how much it will cost.
At this juncture, it's usually worth considering whether you can buy software off the rack instead of getting it custom-made. It'll save you a lot of time and money. When looking at build vs buy software it's important to weigh up all of the options, because with custom software you'll be able to get exactly what you want and won't need to compromise
A software development company can hardly tell you the exact cost at the first meeting. Still, an expert software development company should provide you with a realistic range of development costs after carefully considering your requirements.
How do you know the product is of good quality? 
Some developers may have programmers solely on staff and may not prioritize quality testing during the development process. They provide post-development testing, but you should look for a company that views testing as an essential part of the development process. Engineers must first understand the project's goals to help construct relevant test scenarios and the continuous execution of tests during development.
Choosing a software development company:
what happens once the program starts?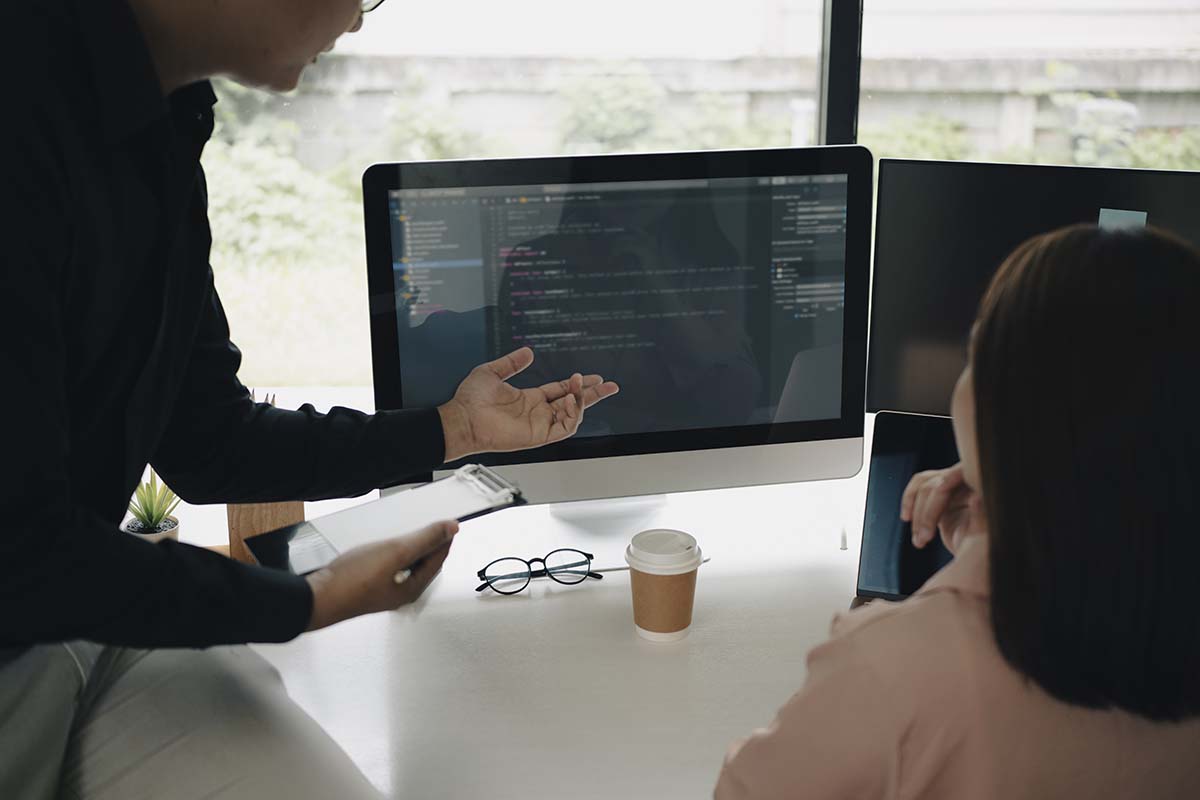 The project does not end with the premiere of the show. Many things can go wrong when software is deployed. As a result, it's vital to comprehend the scope of any software provider's post-launch services. Most software vendors offer a warranty period and after-sales maintenance and support services to help their clients maintain and manage their products.
When will I be able to get my hands on the source code, and will I be the only owner of the intellectual property rights? 
When you have a great idea and decide to construct a digital product, the hardest part is recognizing you don't have the source code. Check to verify whether the developer has a transparent system for transferring intellectual property rights to you and if it owns the source code. 
Some companies may offer you a discount in exchange for a portion of the source code, but you should consider whether you want to give someone you don't know control of your source code. In some instances, this may be a viable solution for your project, but you should look at other choices.
Choosing a software development company: have they already worked on similar projects? 
To begin, this is a thoughtful question. When contacting a software company with your project and explaining your goals, ask about their prior experience working on projects with similar specs; even if a software vendor claims to have a lot of experience and can persuade you of their track record, words alone aren't enough. Case studies and portfolios of previous projects should be requested from the organization so that you may have a deeper grasp of their previous work. 
It is better and safer to collaborate with a company https://digitalsuits.co/services/real-estate-software-development-company/ that has already worked with clients in your sector.
You're investing in the product that your software partner develops for you. As a result, you must ensure that the development team you choose satisfies specific criteria. A software business will almost certainly supply applications that meet both your needs and quality standards, allowing you to maximize your time and money.