Why Avatar Makers Are Essential
Use of an avatar can do so much for people on the Internet. It can make them noticeable in a positive way. It can make all of their online interactions a lot more meaningful and valuable. It can even make it much harder for others to forget them. If you want to get your hands on an avatar that's original, fresh, and contemporary, then it can help you greatly to recruit the assistance of a reputable avatar maker.
Top Five Avatar Makers
If you're trying your best to create an avatar that can reflect who you are in a genuine manner, then you should take advantage of these five trusted avatar makers right away. These makers can lead to quality profile pictures of all kinds. They're simple to use for anyone, too.
Ava Maker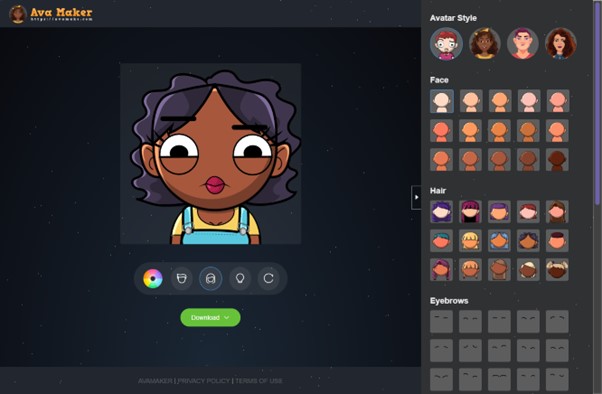 Do you want to create an avatar that's modern and cool? Ava Maker is a profile picture creator that can help you show off your imaginative streak. It presents users with all sorts of styles, hair, face, eye, eyebrow, mouth, beard, and apparel options. If you want to create an avatar that closely resembles you, Ava Maker can get you on the right track.
Image to Cartoon

Image to Cartoon is an interesting concept. It's a device that enables users to literally cartoonize their favorite images of themselves. If you're a fan of avatars that are a bit more realistic in feel, then this maker may be right up your alley. Using Image to Cartoon is speedy and simple. It takes five short seconds to cartoonize yourself using this AI tool. Image to Cartoon does not store user face images, either.
Cartoonize App
Cartoonize is the name of an app that transforms face images into appealing cartoons rapidly and easily. The app gives users access to a minimum of 40 distinctive and unforgettable cartoon effects as well. If you want to get your hands on this user-friendly app, all you have to do is download it from either Google Play or the App Store.
Cartoonize relies on AI technology and is completely free for any and all users. It opens people up to 40 exciting style pathways. People can pick between all kinds of backdrops, accessories, physiques and clothing items.
Editing is an option that's accessible through Cartoonize, too. If you want to tweak the image you uploaded originally, you can confidently and efficiently do so.
Avatar Maker
Avatar Maker is a trusted avatar maker that's totally free. It gives people the ability to make avatars using four thrilling and cool styles. Getting started with Avatar Maker is a piece of cake as well. If you want to kick off your avatar creation journey, all you have to do is pick your desired gender.
After you do so, you can move forward by picking your desired avatar editing section. You can choose between options such as backs, clothing, hair, eyes and, last but certainly not least, faces. Avatar Maker makes redoing and undoing actions straightforward and stress-free for all users.
Profile Picture Maker
Profile Picture Maker, in a nutshell, is an avatar maker that's free for users. It empowers people who want to be able to put together profile pictures that are striking and appealing. This tool allows individuals to create avatars using images of all sorts.
People have a lot of image freedom here. If you want to begin making an avatar with Profile Picture Maker, then you have to upload your image before anything else. This device will then speedily do away with the background that's part of your image. Users get the opportunity to preview various templates prior to proceeding with Profile Picture Maker use. This maker depends on the cooperation of AI technology.
Profile Picture Maker shows users many designs quickly. It allows individuals to adjust settings such as shadows and colors.
The Bottom Line
Are you searching for apps and tools that can help you make avatars that are modern, welcoming, otherwise intriguing, and cool? All you have to do is pick between these five widely known avatar makers. These makers open individuals up to all sorts of top-notch styles.