Flight Simulator Hidden Within Google Earth
Unbelievable but true: as spotted by Marco, Google has hidden a mini flight simulator within Google Earth. To access it for the first time, hit CTRL+Alt+A in Windows or Command+Option+A on the Mac.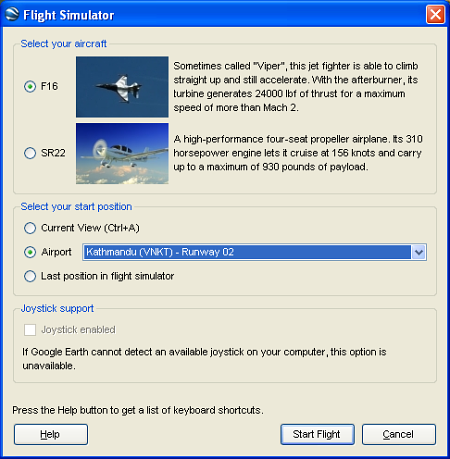 You need the latest version of Google Earth, and I needed to be over the US to get the window to pop up. What you should see in that window is a choice of two planes – the F16 and the SR22. Once you've accessed it for the first time, you can return to the simulator by hitting Tools, then Enter Flight Simulator. The controls are keyboard and mouse, and while it's limited in scope, it's still a lot of fun.
Pete Cashmore thinks this one may qualify as the "Best Easter Egg Ever!".