Business Travel Services and Tools that will Come in Handy
Traveling is an essential part of American business. American long-distance business trips total 405 million trips a year, according to the Bureau of Transportation Statistics.
Over half of business travelers have professional, managerial, or technical job positions, and just over a quarter work in sales or services.
If you're starting to travel for your business, you need the best tips, tricks, and tools to make your trip productive and fun. It can be overwhelming at first, but once you find the right process for you, traveling will be a breeze.
Here are a few handy tools and services to get you started:
SIM Cards
It would help if you stay connected to the internet while you're traveling, but this can be one of your most significant productivity challenges.
Roaming wireless packages are available, but they can get expensive, especially if you're traveling internationally.
One of the most cost-efficient ways to stay connected on the road is to use a SIM card, which is a portable memory chip that is inserted into your smartphone to let you switch from your regular wireless provider to another carrier that is in the area where you're traveling.
Smartphones like the LG G5 come with a SIM starter kit to make it easy for you to take advantage of SIM card savings.
Portable Power
Another priority you should have is knowing how to keep your devices charged. Today's best smartphones can run up to 20 hours without recharging under optimal conditions; however, in real-life use, this amounts to about 8.5 hours or less for most phones, according to Tom's Guide.
To get more life out of your mobile devices, your best bet is to bring a portable power source, like a battery pack.
Wirecutter provides a rundown of today's best portable battery brands, including the AmazonBasics Portable Power Bank. Some other options include portable chargers and chargeable battery cases.
Don't forget about the best portable steamers.
Automated Itinerary Booking
If you travel frequently, you spend a lot of time booking flights and hotels. Virtual travel agents take the time and tedium out of planning by using artificial intelligence to streamline the booking process.
For instance, the Pana app lets you use voice input to discuss your mobile device's travel plans. Your input then gets fed to a team of travel agents that provide you with a customized travel plan customized to your needs.
Pana also helps you adjust your plans if you have a delay or cancellation. Another AI travel planning tool, WayBlazer, uses IBM Watson technology to analyze your preferences and generate customized booking recommendations.
Business Travel Services: Portable Projectors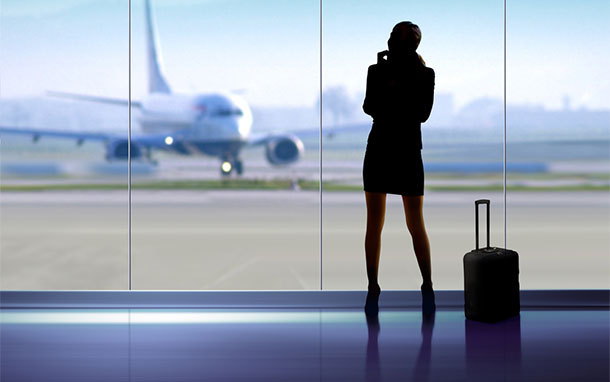 If you have to give a business presentation while you're on your trip, you may be worried that your audiovisual aids won't work correctly.
One way to make sure your presentation has enough A/V support is to bring a portable projector. Some of today's portable projectors are as small as cell phones and fit easily in a bag, backpack, or suitcase.
PCMag provides a review of today's best portable projector models.