A girl creates chic and realistic "underwater" paintings, inspired by her memories of the sea
Charming girl Reisha Perlmutter from Naples state Florida in the US is an oil painting artist, she adores painting and she is pretty much sure that this is her biggest inspiration in life. The "underwater' paintings that Reisha creates are striking by their phenomenal realism.
Looking at those paintings of beautiful women soaring in the water you awkwardly catch yourself thinking that you see the amazing underwater photographs in front of you, but no – these are all painted portraits. Don't you think so?
Reisha loves to play with light and shadows and her fantastic talent united with incredible skills finds life the wonderful underwater art.
Her hyper-realistic oil on canvas paintings are devoted to the underwater world, not without a reason. She has deep, beautiful love and sensual memories of water. The sensations associated with water and her love to create the beauty with a help of her brush and oils give us an incredible ability to enjoy the beauty of underwater art.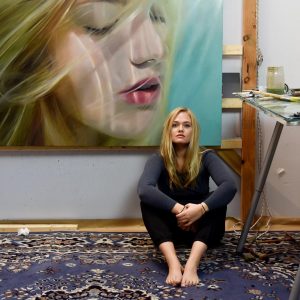 A young artist lives and works in the NYC and of course, she is quite active on social media. Reisha Perlmutter Instagram account is quite popular and she loves sharing with her followers the process of the creation of her beautiful artworks.
It is quite interesting to follow her during a day watching her Instagram "Stories" as well. I am sure to become an owner of one of her artworks would be a blast, I even think about this, how about you?
The collection of realistic "underwater" oil on canvas paintings by Reisha Perlmutter.