Drive newcomers to your website with SendPulse
So you have got a great website, and you know that despite the rise of other marketing channels, email is still a powerful tool in driving newcomers to your site as well as keeping current clients engaged. But currently, your newsletters, informational messages, promotional emails are being sent by the combination of your current email client, your website, your CRM, web automation, and your mass mailing service provider.
Having separate and incompatible systems working at the same task is a nuisance to manage and a challenge to unify the recipient data. Not very efficient. The solution is an email marketing tool. A freely integrated marketing tool that will allow you to create, manage, perfect, and send successful emails with staggering results.
Let me introduce you to SendPulse.
Sendpulse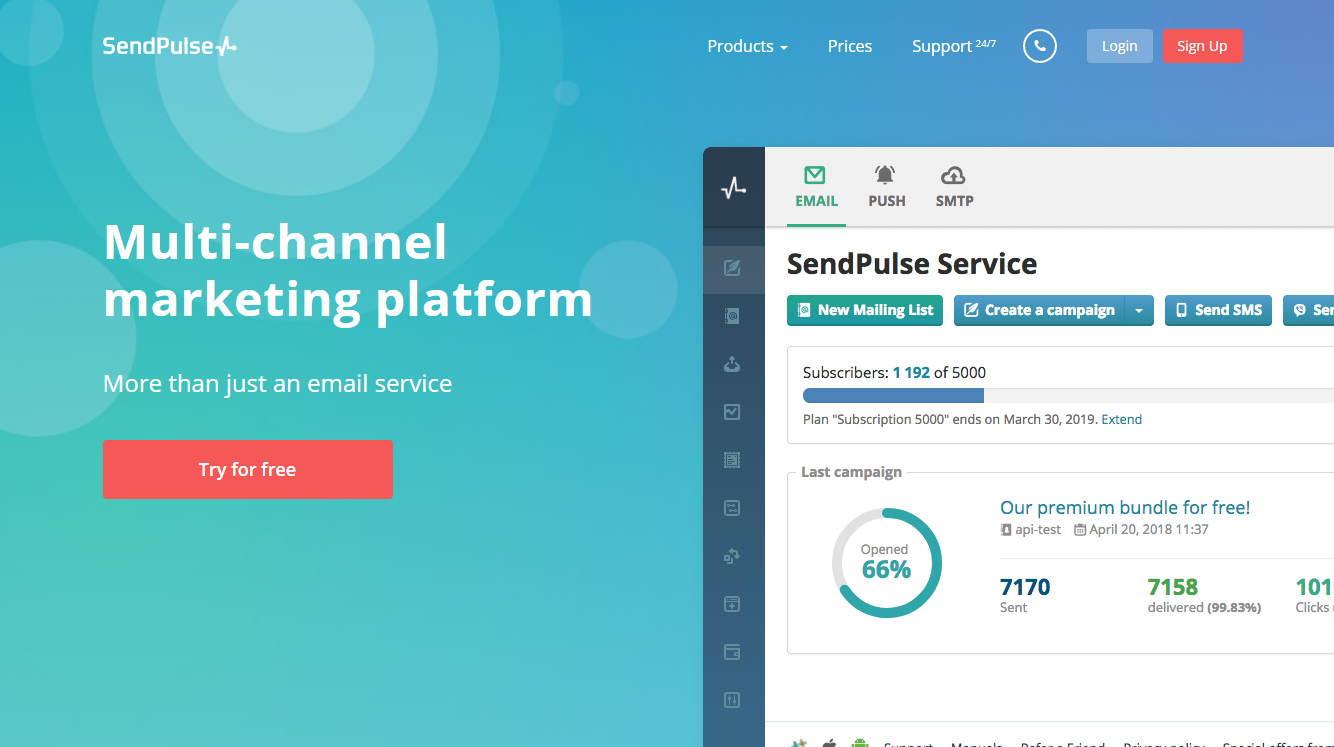 It's 100% fee free to join an email marketing platform, which gives you access to some of the most advanced marketing tools on the internet for free. How to drive people to your website – you get access to features such as automated triggered emails, web push notifications, advanced analytics, and Artificial intelligence.
Furthermore, every free user gets the ability to send 12,000 emails per month to almost 2500 subscribers per month. Obviously, if you need more power, more control over customizations, and want to grow your mailing list beyond just 2500 subscribers, you can upgrade any of the premium plans, which starts at just $9.85 per month. Below I have discussed some of the most important features of this all-in-one marketing platform.
Multiple channels of communication
SendPulse is genuinely a multichannel marketing platform that offers their customers/clients with various mediums to communicate directly with their customers. For example, SendPulse offers you one of the best email marketing solutions using which you can interact with your customers through emails and newsletters.
Then you can use web push notifications to notify your subscribed customers every time a new product or new content is published on your website. Then you have SMS or Viber messaging. Furthermore, you can combine all of these channels into an autoresponder and let the SendPulse make customer acquisition for you.
Artificial intelligence
SendPulse implements artificial intelligence to determine the best possible timing for mail delivery automatically and that for each and every single subscriber you have in your mailing list. With the help of artificial intelligence, the SendPulse platform can dramatically improve your open email rate, which means a direct increment in your conversion rate and profit.
Automation 360
SendPulse allows you to create chains of trigger emails, push notifications, and various other channels of communication. With the help of the email automation platform, you can automatically send new emails to your customers whenever they abandon any cart, purchase any product on your website, or register on your site.
Furthermore, you get complete freedom to create any custom event, and then you also get the power to configure the flow of the message and when a specific set of the message will be triggered. So for example, if a new customer purchases any product from your website, you can send them a thank you message along with a coupon code for their next purchase.
Similarly, you can create a custom event in which the customers will receive email notifications whenever they add a product/products to their shopping cart and forget to check it out. This event will ensure that your potential customer actually purchases a product and makes you a profit.
One of the most significant advantages of Automation 360 is that it supports multiple different channels like SMS, notifications, Viber messaging, and not just emails. Furthermore, thanks to SendPulse advanced analytics, you get complete control over the automation.
You can use various variables, conditions, and events to automate the triggering of the set of messages. Moreover, you get detailed visual statistics related to your custom events and their performance and understand how to drive people to your website.
Integration
You can easily integrate SendPulse advanced marketing platform technology to almost any type of CRM, CMS, or other marketing platforms. There are already 36 ready-made modules that allow you to integrate SendPulse technology into your website, online business, or web application.
A few of the most popular modules are WooCommerce, WordPress, Bitrix 24, Typeform, Zapier, Drupal, etc. If you are a developer or if you are creating a new application, then you can read the official API documentation on how to integrate Sendpulse's technology in your application.
Reliable SMTP server
SendPulse offers one of the most reliable and efficient SMTP servers to its clients. You can easily integrate the SendPulse SMTP server to any CMS, CRM, and other types of customer acquisition applications. and learn how to drive people to your website.
If you're building a whole new application, then you can use the official API documentation to understand SendPulse core infrastructure and how to implement its technology into your application. A few of the essential features of SendPulse SMTP server are: listed below.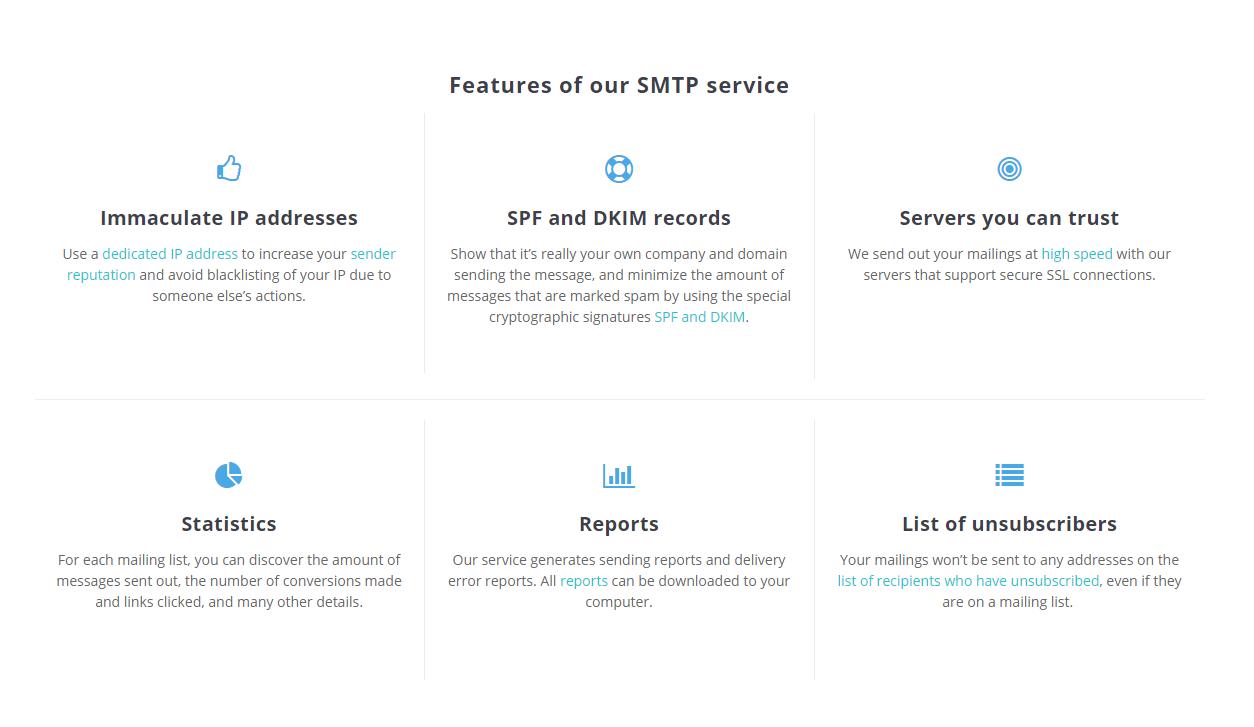 I
mmaculate IP addresses:
Every single customer of SendPulse receives a dedicated IP address to their email server. This ensures that every single email which you send to your customers and readers reaches them in their inbox instead of their spam folder.
Secure SSL connections
When you are a customer of SendPulse, each of your emails will be sent to your customers from a high-speed server that supports SSL. It's a premium feature for which other email marketing platforms charge anywhere from $10 to $50. You can learn more about the high-speed server and its sending speed and limits over here.
Support for DKIM and SPF records.
SendPulse utilizes Domain Keys Identified Mail technology to give unique identification to each of its customers using cryptographic signatures to ensure that their emails reach their customer's inbox without being marked as spam.
Detailed statistics
SendPulse offers you one of the best email analytics in the market. You can check from click rates to open rates, from subscribers to unsubscribe as conversion rates to drop prices, purchase rates to cart abandon rates, and dozens of other types of statistics. And the best part is you don't have to integrate any sort of code in your system or application. Everything is automated, and you receive almost all live statistics.
Pricing Plans
SendPulse has individual pricing models for email service and SMTP service.
Email service pricing plans
Free plan: every customer of SendPulse gets the ability to send 15,000 emails per month to less than 2500 subscribers. If you have more than 2500 subscribers in your mailing list, then you will have to subscribe to paid plans.
Monthly subscription: the subscription starts at just $9.85 and allows you to manage up to 3000 subscribers. The plans go as high as $7000, which will enable you to have up to 5 million subscribers on your mailing list.
Pay-as-you-go model: if you are one of those marketers or businesses who don't send lots of emails to their subscribers, then this pricing model is best suited for you. All you have to do is purchase a predefined volume of email package, and you are set. The package starts with 10,000 messages (costs $32) and goes as high as 500,000 messages (costs $812).
VIP plan: if your mailing list has more than 1 million subscribers and at the same time you want to send notifications and emails to your customers and clients regularly, then you can directly contact SendPulse, and they will help to craft a customized plan for your marketing campaigns.
SMTP service pricing plans:
How to drive people to your website: SendPulse offers 12,000 free emails to each and every single customer, no matter to which plan they are subscribed to. But if you are planning to send more than 12,000 messages, then you will have to upgrade to either a monthly subscription or pay-as-you-go model.
Monthly subscription plan: The plan starts at just $8.85 and allows you to send up to 25,000 messages per month. If you need more, you can apparently upgrade to the higher plans.
If you are a really active email marketer, then you can subscribe to a 500,000 messages plan, which will cost you close to $275 per month.
Pay-as-you-go: the plan starts at just $15 and gives you the ability to send 10,000 messages. Remember that your purchase will be valid for almost a year.
If you have a huge subscriber list, then you can purchase a 1 million messages plan, which will cost you $780.