Small Office Decor Ideas
An office is a room or an area where an organization's employees perform administrative work.
It is a place where these employees support and realize the objects and goals of the organization.
Be it a small office or a large one, employees spend their maximum time of the day there.
So, it very important that the surrounding environment is neat and clean.
If the surrounding is not pleasant, then employees will not feel like working, and they will lose their interest.
This will make the employees happy, and they will work with full dedication and enthusiasm.
There are many ways in which offices can be decorated but getting started can be difficult.
You might also like to check out https://www.moderndigsfurniture.com/modernfurnitureblog.html?article=Best-Office-Desk for more small office decor ideas.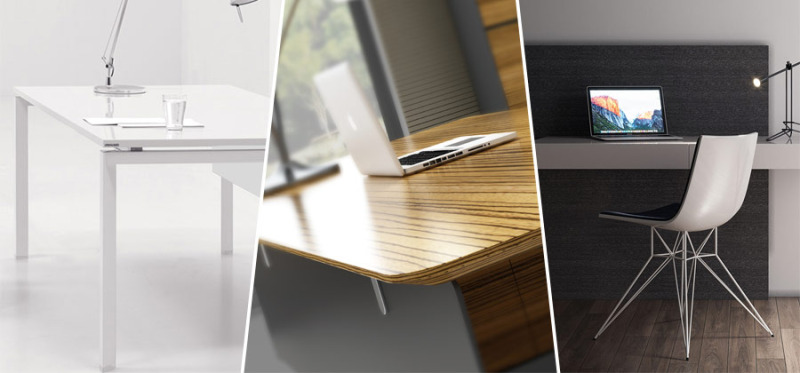 Given below are some of such ideas that will help to decorate a small office and liven things up:
Paint the walls in a bold color
To break the monotony of white, beige and grey bold colors like orange, red, green, purple should be used. Coordinating furniture and accessories with these colors will give a perfect look.
Each area of the office should be colored according to the work to be done there. For example, orange backsplash in the kitchen to point team members in a healthy snack direction.
Then warm tones of red, yellow etc. will create productivity. Cool tones will create a more relaxing environment in the breakroom.
To add some pzazz to a plain wall, you could add a custom neon sign. The company logo, slogan or a motivating quote not only add a stunning design feature, but they also add additional lighting and branding opportunities.
Get a floor covering
A fluffy red rug will encourage warmth and hospitality in the reception or lounge area. A large woven carpet can deaden the echo bouncing around your polished floors.
A stylish mat inside the entrance helps ease the transition from outside to inside and mops up water and dirt dragged in.
We don't often look down to see what's under us and chances are you can do something in your small or home office to lift the appearance.
Hang up some artwork
Artwork can be of any type like abstract as it can make the workspace look exciting and thoughtful.
One can pick up colorful large canvas prints from for little money at framing shops, general arts shops, etc.
Even if any employees have time, then they can make a painting. For that, one needs to buy a large white canvas from an art supply store and a few colors, then they can paint it.
All these artwork will be eye-catching works that would brighten the day of any employee every time they walk past them.
Feature wallpaper and add unique furniture
Sometimes colorful walls are not enough. To think out of the box try using wallpaper or mural. It will transport the office somewhere in a different world. Adding unique furniture will make the office look different.
In small offices as there is always a space issue so there should be furniture which will take less space and will be easy to handle.
Furniture like folding chairs, small couches, small tables, and a file hanging area can be used.
Be smart about furniture placement
When you walk in and out of your workspace, do you have to climb over or walk around anything?
Perhaps there is furniture you can get rid of that isn't serving any useful purpose?
Or maybe your desk just needs to be moved around to open up space more?
A couple of common opportunities include:
Visitor's chairs. Unless your job is to consult others face to face, the chances are you don't need extra chairs next to your desk all the time. Find a place nearby and pull them out when required.
Modify furniture from their original state. That side return on your L-shaped desk might not be serving any purpose. Can you unscrew it and free up space?
Or perhaps you have 4 drawers down the side of your desk but you really only need 2. Can you remove the bottom two and in their place put your wastepaper basket, computer box, or other essential equipment?
Add plants
Introducing a live plant on the desk or anywhere else in the office is useful. They improve air quality. Potted plants can be helpful in naturally separating spaces.
Studies have shown that staying around plants can enhance concentration, memory, and well-being.
Get a whiteboard
Adding a whiteboard in the office gives a creative look. Encourage the staff to post up ideas, product samples, photos, or just doddle around.
Install Shelves
Think vertically for shelves. Go as high as you can reach and maximize the number of shelves available.
Also consider keeping shelving 'open', rather than closed. With closed or boxed shelving you will lose some inches in the frame, as well as lose a lot of flexibility into what sized objects you can place up there.
Get a fish tank
A quick trip to your local aquarium or pet shop and you can bring back a stylish fish tank. Low maintenance and dynamic.
Just make sure you get a pump and saltwater filter and have somebody responsible for feeding. Everyone loves an office pet.
Clear the clutter out
We all want more office space, but can't always get it. Most offices are littered with clutter that can be removed, such as:
Filing cabinets hiding old, useless files
Eating or reception areas with old magazines and brochures
Equipment that isn't being used, or broken
Chances are this kind of 'stuff' that is never going to be used again. Get rid of it and breathe some life into the office!
Using these ideas, one can save trees as they will be using a whiteboard, makes the office look lively, saves money and attracts the employees to be regular.