Putting Together the Ultimate Toolbox for Your Partner
When you're purchasing a gift for your partner, you want to get something that's thoughtful. This means thinking about what their interests are, as well as their needs.
Doing this will help you choose a sentimental gift that they're likely to use on a daily basis. If you have a partner who is into performing DIY projects, getting him a set of tools could be a great idea.
Note that you don't have to wait for a special occasion to give a gift, and you can do so for no reason at all. Here is how you can put together the ultimate toolbox for your partner. Also, check some portable tech gadgets you may like.
Screwdrivers
The perfect toolbox needs to contain a set of screwdrivers. You'll typically need a range of different sizes, so look for an assortment pack to save money. Klein and Phillips both sell sets with heavy-duty as well as classic designs. The more eclectic the screwdrivers, the better, as you never know when you'll need which.
Fixings
A toolbox wouldn't be complete without fixings. The appropriate fixings and fasteners can be used for a number of DIY projects. You want to select nails that can be used both indoors and outdoors.
Also, you want nails that are durable and will stand the test of time whether they're being used for decking, cladding, roofing or fencing.
Tape Measure
In order to effectively measure things that you may want to cut or construct, tape measures are necessary.
One of the best tape measures that you can get is the QuickDraw DIY Self Marking Measure Tape, which is known to help prevent errors in carpentry, construction, and craft projects. If you want something cheaper, the Stanley PowerLock 25-Foot Tape Measure is a good choice.
Handsaw
A handsaw is another item that you could include in the box. These are typically used for cutting materials such as wood, plastic, and non-ferrous metal. Seeing as there are so many options, you may be wondering which handsaw is the best to buy.
The Crown FLINN1 Dovetail Saw and the Shark Corp 10-2312 Carpentry Saw are two good choices.
Utility Knife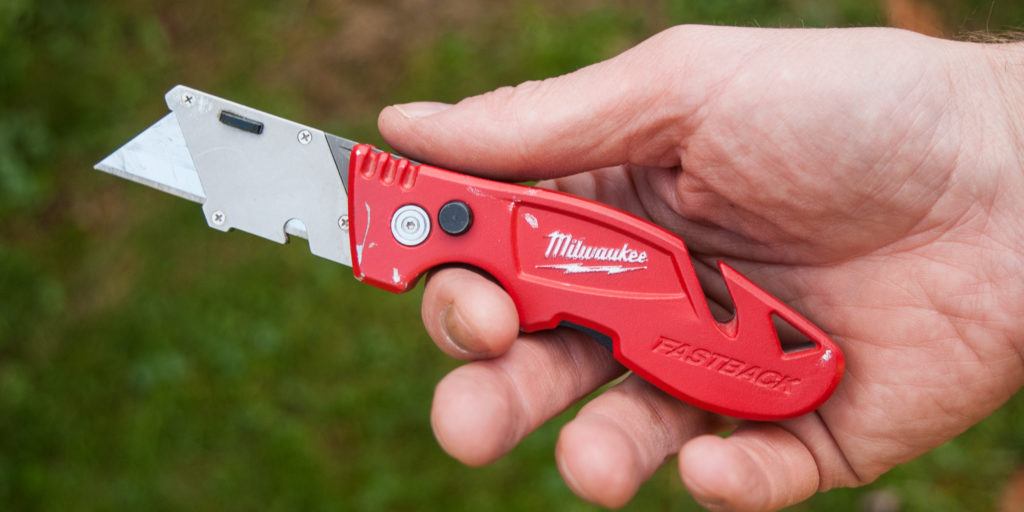 In addition to a handsaw, utility knives can be used for cutting too. A good utility knife to add to the toolbox is the Milwaukee Fastback Flip Utility Knife.
An attractive feature about this model is that it can be quickly opened and closed using one hand and it has a spot where you can store four extra blades if need be. The Irwin 2088600 Retracting Safety Knife, which retracts automatically whenever you're not holding it open, is another good option.
Work Lamp
Having a lamp on standby is always a good idea. You never know when your partner will be working in the dark and need a little extra lighting. Consider getting an LED work light which can be used anywhere.
The Hallomall 15W Work Light is said to be one of the best overall lamps. If you're on a budget, the Torchstar Portable LED Light is an option that you could look into as well.