2021 Design Trends: Color, Materials + Finish
As much as the year 2021 is futuristic, it is just around the corner, barely months from today.
For us to correctly predict the future of design, we need to step back and then into the present.
As we look into 2020 design trends: color, material, and finishes, three themes stand out– engineered environment, organic emotion, and colorful collaboration.
Throughout all these trends, the desire to preserve nature is eminent.
Let me highlight 3 trends designers won't want to miss in 2020.
Engineered Environment
In this trend, we see nature being created or enhanced in a lab and then placed on earth.
This means science and design have become mutual. Designers are using science to create solutions that enhance sustainability.
We have seen much recycling take place, as 100% of plastic recycled children seats Ecobirdy.
Additionally, Terrazzo usage continues to be used for color and pattern experimentation.
Interesting resins are likely to crop up with qualities of Himalayan salt or peppercorns.
Wood s is also being transformed, like The Yael Reboh Primavera armchair, the 2018 Lexus Design Award finalist.
"I was fascinated by the aesthetic that the layered combination created, the versatile expressions achieved from each material, like soft versus hard, cracking versus incomplete, flexible versus stable," Yael says.
Organic Emotion
In this trend we find nature being firm and rooted, with a profound aspect of empathy. Health and wellness continue to find their way to design. Also, water conservation is much witnessed.
With Pratik Ghosh using live plants and fauna to filtrate water, we find that clean water filtration becomes approachable for alluring vessels.
According to Megan McClendon, the commercial design leader at Formica Corporation, "Digital dominance is challenged by embracing sound, sight, touch, and taste, "he says. "Immersive building environments focus on our primal needs by mimicking our circadian rhythms, improving the air we breathe, and cocooning us in sensorial comfort.
There are a dreamy quality, softness, and introspective feel that allows us to put aside busy thoughts and access our emotions."
Also, Jayson Simeon, Global design leader, considers the wellness and biophilia as influencers of revitalization utilizing crafted rather than molded organic elements.
Today, bath spaces are changing into microcosmic spots at home – a space of reflection, solace, and rejuvenation unlike the "hallmark catalyst of your daily routine," Simeon says.
Our baths today are way warmer thanks to volcanic limestone, yet using less hot water to heat and maintain bath temperatures.
Next will likely come with commercial offices with softer furnishes mostly featuring soft materials in both open and private office plans.
Metamerism will be used as authentic design quality. Finishes will look more cloudlike, interestingly layered, marked with metallic threads against the toned wood grain.
We will also see much of refined white, khaki, and jute brown, and permeated with bright gold, grayed blue-violet, and jade green.
Colorful Collaboration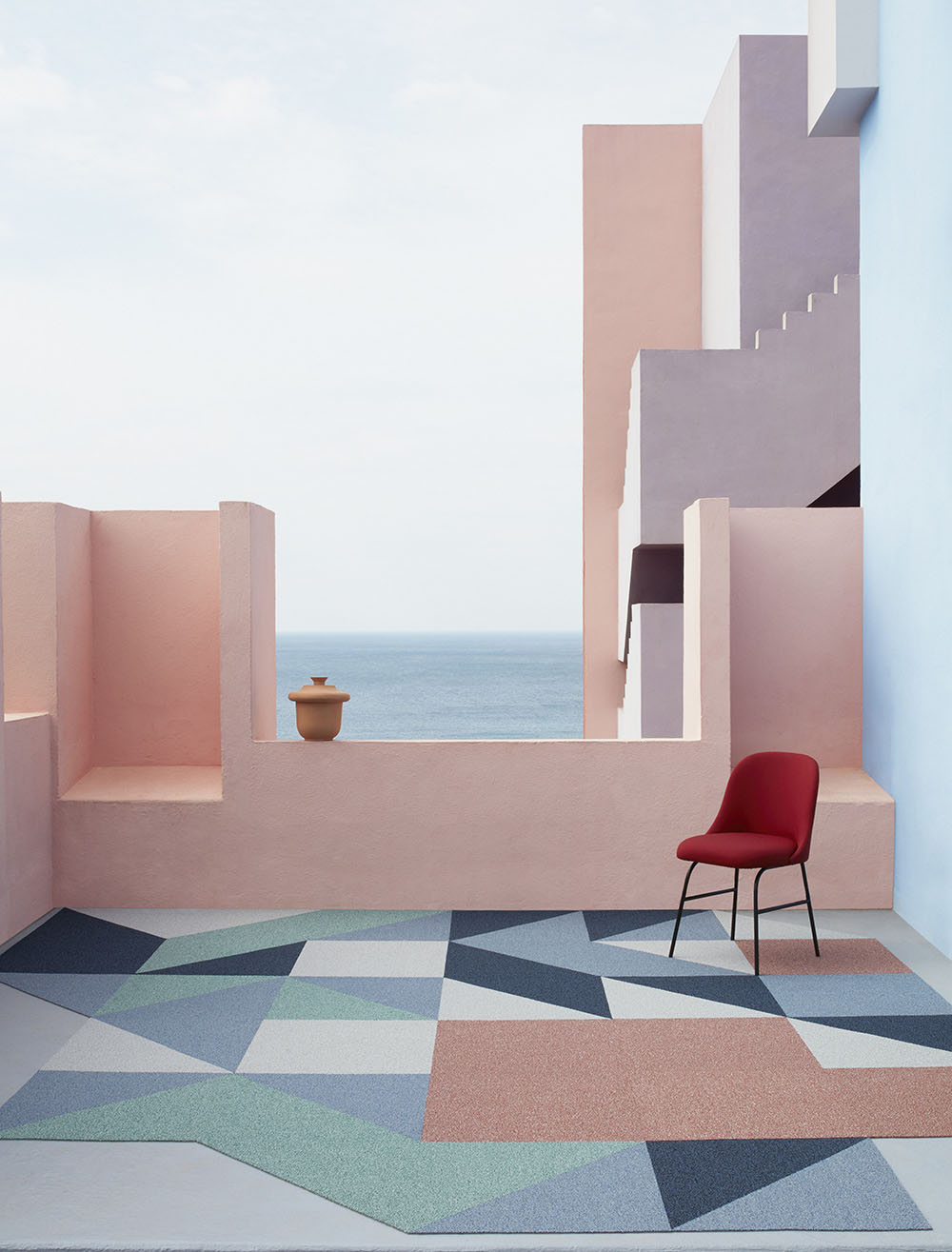 Geometry and synchronicity are not left behind either. You will see carpets breaking from square shapes.
According to Reesie Duncan, vice president of global design at Shaw Contract: "…we were constantly asking, 'How might we do things differently?' It was a challenge we were all inspired to pursue together, and having a design partner who did not come from a flooring background was especially exciting as it brought a new perspective to the table."
2020 Design Trends: Upcoming Color Palettes. According to Emily Kantz, interior designer at Sherwin-Williams predicts the usage of ageless, and playful colors such as Seawashed Glass SW 9034, Orange SW 6633, and Bora Bora Shore SW 9045.
These colors are said to pair greatly with the lighter blond wood tones as well as matte black.
These colors majorly dominate interior accessories, statement walls, fabrics, and furniture
In 2019-2020, designers will have a platform to enable them to shift through a multi-pronged approach of sustainable, resilient, as well as projects.
We are eagerly waiting to see these advanced color and finish trends evolve and unfold.