How to Increase YouTube Views by Yourself
If you have a YouTube channel and you feel bad that you have little views, then you're in the right place.  You should never purchase views because even if you get the numbers, your engagement amounts won't line up. So, in this article, we're going to give you some tips on how to organically get free YouTube subscribers and views.
Maximize on YouberUp
YouTube is ideally a viral and famous platform. Enterprises and even individuals promote brands and share stories there. Therefore we extensively know why getting views and subscribers are crucial for promoting your brands and stories. For these reasons, we determined that it would be best to develop a great tool that could help YouTubers gain more views and subscribers for their channels.
YouberUp is an app that allows YouTubers to achieve great views and real immense subscribers and likes. It also helps improve video rankings, boost the growth of YouTube channels, and widen audiences immensely. All this is free. The App doesn't go against any YouTube rules, and it is extremely secure to use. Besides, you will earn some free coins when you login and do simple tasks. The subscribers and views you get are all real too. Since professionals in the R&D services designed it, you are highly assured of a clean app. There's no harm and damage to your phone and device that will occur. The App can be found on Android and ios gadgets.
Here's why YouberUp is a trend now:
Reasonable and speedy delivery
Top-notch subscribers
Organic and unlimited increase
Free package
Everyday customer support
The app developers are real.
Besides, using YouberUp daily will organically help you gain thousands of subscribers and free YouTube subscribers and views every day.
How it Works

As earlier mentioned, the App is free and clean. You can gather massive and active subscribers by subscribing to other users too. Via subscribing and viewing other videos, you earn free coins. In turn, you can utilize these coins to publishing tasks of making views too. To sign up, these are the easy YouberUp steps to do.
Create an account
Earn coins
Get views and subscribers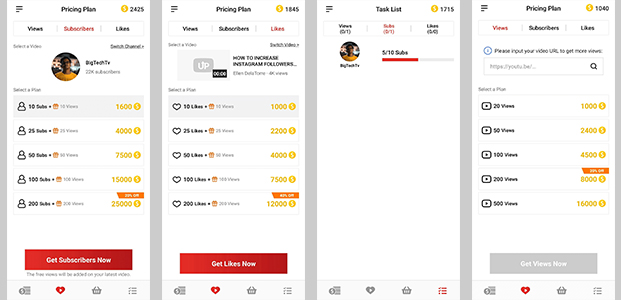 It's that simple. Via using the App, you needn't worry about YouTube algorithms and going against the regulations.
How to Increase YouTube Views by Yourself: Utilize Appropriate Thumbnails
Be sure to use thumbnails that are appropriate rather than ones that overhype or sensationalize your content. A thumbnail gives people a heads up on what your video is all about, so an apt and appealing thumbnail is among the very crucial ideas on how to increase YouTube views by yourself. 
Utilize the Facebook App
It's funny how underrated it is, but it is essential to link your channel to your Facebook page or even account to get enhanced video discussions and further engagement. By doing this, your family members, friends, and colleagues connected to you on Facebook can easily get to your YouTube channel. On top of that, the Facebook app is crucial if you want to reach out effectively to subscribers when they aren't on YouTube, and you can easily post your videos in an embedded form to achieve more views.
It Would Be Best if You Were Consistent
Consistency of posting is incredibly important when looking to get good viewership numbers.  We suggest posting three times a week. Some creators post daily. Whatever you do, consistency and sticking to a schedule are key—that way, your viewers know what to expect.
Make End Screens
If you're a YouTuber, you'll understand how crucial end screens are to your life. These are the last five to twenty seconds of a video where you can drop in extra information to promote your website, content, channel, or anything you like at all highly.
How to Increase YouTube Views by Yourself: Create Video Transcripts
Closed captions can help you achieve more views since they cater to disabled and international audiences.
Twitter Possesses Tremendous Power
Twitter is a great place to keep conversations in motion. Twitter heavily depends on hashtags, so be sure you use relevant hashtags to connect with your current and prospective audience.
SEO all Your Videos
It would be best if you incorporate SEO keywords in your videos' descriptions and titles. Should you be making how-to videos, for example, you would want to use phrases such as "how to make" or "how to do" in your titles. Ensure that the descriptions you use are concise and detailed while also including your accounts on your other social media platforms.
Include CTA
Interestingly some viewers will automatically subscribe and like your videos without asking them to do so. However, if people liked your videos and forgot to subscribe and like, you can call to action to subscribe, comment, like, and even share. You can additionally CTA for them to watch your other videos. Be sure to explain how they will benefit from your channel.
Be on the Trend
Be on the lookout for what's viral. Look out for modern apps like YouberUp from Google play, which guarantees you free YouTube subscribers and views.
However, while it can be good to follow trends, don't copy content. Create viral content that will be linked perfectly to your channel or even brand.
Make a Supportive Linking Channel Blog
Since you're always making your YouTube video content, it is highly suggested that you possess a blog that will creatively drive views and support your content. You can also embed your videos in those blogs driving extra views. It's noteworthy that YouTube constantly alters its policies, so it's crucial to possess the place you control.
Create an Appealing Playlist
Making playlists for all your content is crucial because viewers will have the opportunity to watch your videos consecutively. Playlists are also easy to share and can be embedded on different sites (such as your blog!). The playlist can be embedded, and then you can post them or even have viewers share those playlists.
How to Increase YouTube Views by Yourself: Conclusion
Trying these tips will definitely and, in the long run, help you get more views on your videos and save you from having to purchase them. Good luck with your YouTube journey.