How to Enable HTTPS on a Website?
Are you wondering how to enable HTTPS on your Website? Don't know which one to pick? Buying an SSL certificate can be overwhelming, especially for those who do not understand the technicalities behind this digital certificate. One wrong move in picking and installing an SSL could land your business in serious trouble and even result in closure.
After all, only one out of every six small businesses survives a security breach. The other five sinks either because of loss of reputation or the fines and penalties slapped on companies that fail to protect user data.
If you are someone who hasn't heard of an SSL, doesn't know which SSL type to choose, or is wondering how to enable HTTPS on the Website, then read on, and we will tell you everything there is to know about it.
What is SSL?
An SSL certificate is a misnomer for a TLS certificate, a digital certificate that adds an extra layer of protection to the data exchanged between the server and the client. It gets its name from the SSL protocol, which was earlier used but has long since been replaced with the TLS protocol.
This digital certificate enables the HTTPS protocol, which ensures that the data is exchanged in an encrypted manner and is disseminated to the intended recipient.
Before this, websites operated using the HTTP protocol, which involved exchanging data between the server and the client in plain text format. Even today, websites without a valid TLS/SSL Certificate run on the HTTP protocol by default.
As the internet is a public network, it can be accessed by unauthorized interceptors. That explains how dangerous it can be to exchange sensitive data such as usernames, passwords, and credit card details over the internet.
Types of SSL
There are five types of SSL certificates available.
Domain Validation SSL Certificate
This SSL type is the most basic SSL certificate and is also referred to as the standard SSL certificate. It can only encrypt a single domain or a subdomain.
Wildcard SSL
A wildcard SSL certificate gets its name from the wildcard character, or the asterisk used to denote first-level subdomains. So, this type is ideal for websites that use multiple first-level subdomains. However, the asterisk must be used appropriately while applying for and installing this SSL type.
Multi-domain or SAN SSL
As the name implies, the multi-domain or Subject Alternate Name (SAN) SSL certificate lets the user encrypt multiple domains or subdomains at different levels, communication servers, etc…
However, this SSL type comes with a predefined limit on how many domains, servers, or alternate subject names can be encrypted with it.
OV SSL
This is yet another SSL type that offers validation that confirms the organization's existence and adds credibility to the business but is not as comprehensive as the EV SSL certificate.
EV SSL
The Extended Validation (EV) SSL certificate comes with the highest level of validation. This involves the certificate authority confirming the applicant's business, its legal existence, and current operational status before issuing one.
This type of SSL is great for large companies that operate in several countries because they use multiple domain extensions, and each one is regarded as a separate website. Also, it is ideal for businesses that operate with numerous websites like e-commerce and affiliate marketing businesses.
Why do You need to Enable SSL/HTTPS on the Website?
As a business, you need to enable the SSL/HTTPS on your Website for the following reasons why do you need to enable SSL/HTTPS on your Website:
Better Security
An SSL certificate can prevent security concerns like packet sniffing, phishing, and MiTM attacks by confirming the organization's identity and encrypting client-server communication using the critical public infrastructure.
Compliance
HTTPS is a mandatory requirement laid down by several regulators and authorities to ensure better security. Therefore, Businesses must enable HTTPS on websites to remain compliant with the GDPR, PCI DSS, and several other laws and regulations.
SEO
The world's biggest search engine, Google declared HTTPS to be a ranking signal, and the decision was followed by other search engines as well. The tech Titan decided to do this to deliver a superior user experience by ranking secure websites higher than the rest.
How to Get an SSL Certificate?
Once you have decided the type of SSL you wish to purchase, it's time to reach out to the proper Certificate Authority (CA) and apply for the same. Depending on the type you choose, the CA would perform the necessary configuration and validation process, and upon successful completion, the CA issued the certificate.
The easiest one to get is the DV SSL, for which the CA solely verifies the domain ownership. However, for the OV and EV SSL, the CA performs more stringent verification, such as confirming the applicant's legal existence and continuity of the business.
How to Enable SSL/HTTPS on a Website? (SSL enabling steps with
screenshot)
Method 1 – For WordPress Users
If you use WordPress CMS, go to Plugins, and click on 'Add New.'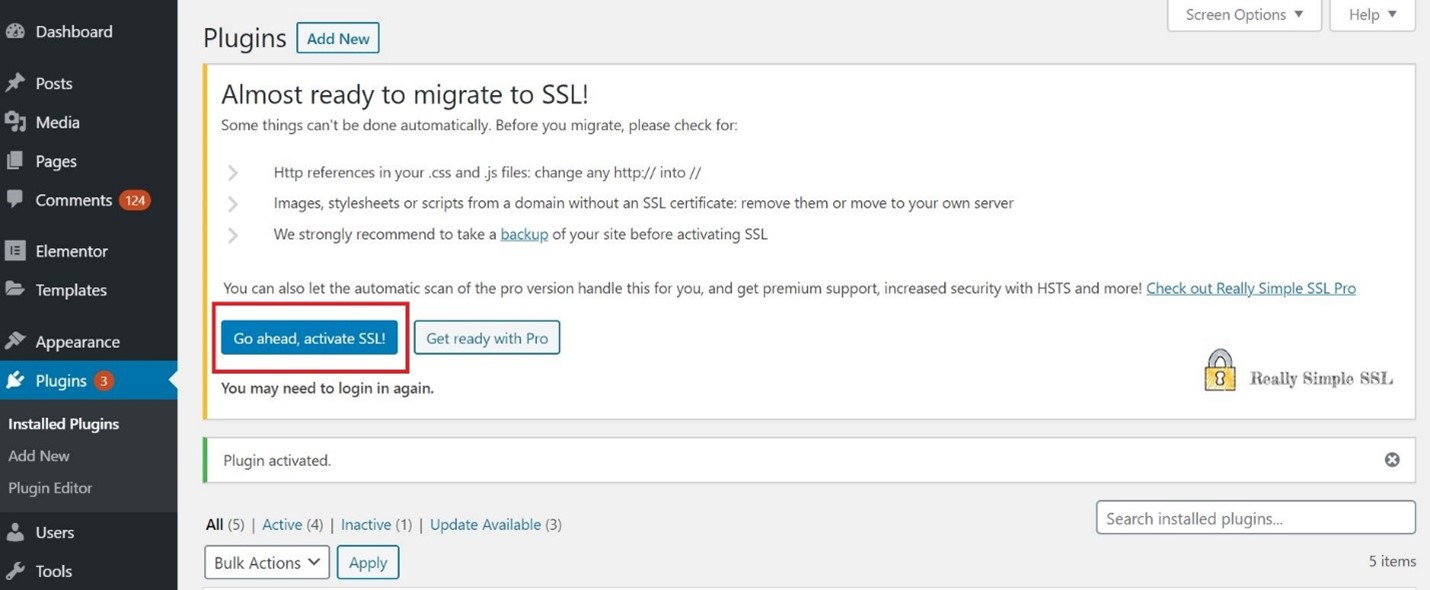 Now, look for the 'Simple SSL' plugin or any other highly rated SSL installer plugin, install it, then activate it. The plugin automatically detects and enables HTTPS on the Website.

Method 2 – Using cPanel
Go to SSL/TLS Manager under the Security section in the cPanel and select the SSL/TLS option.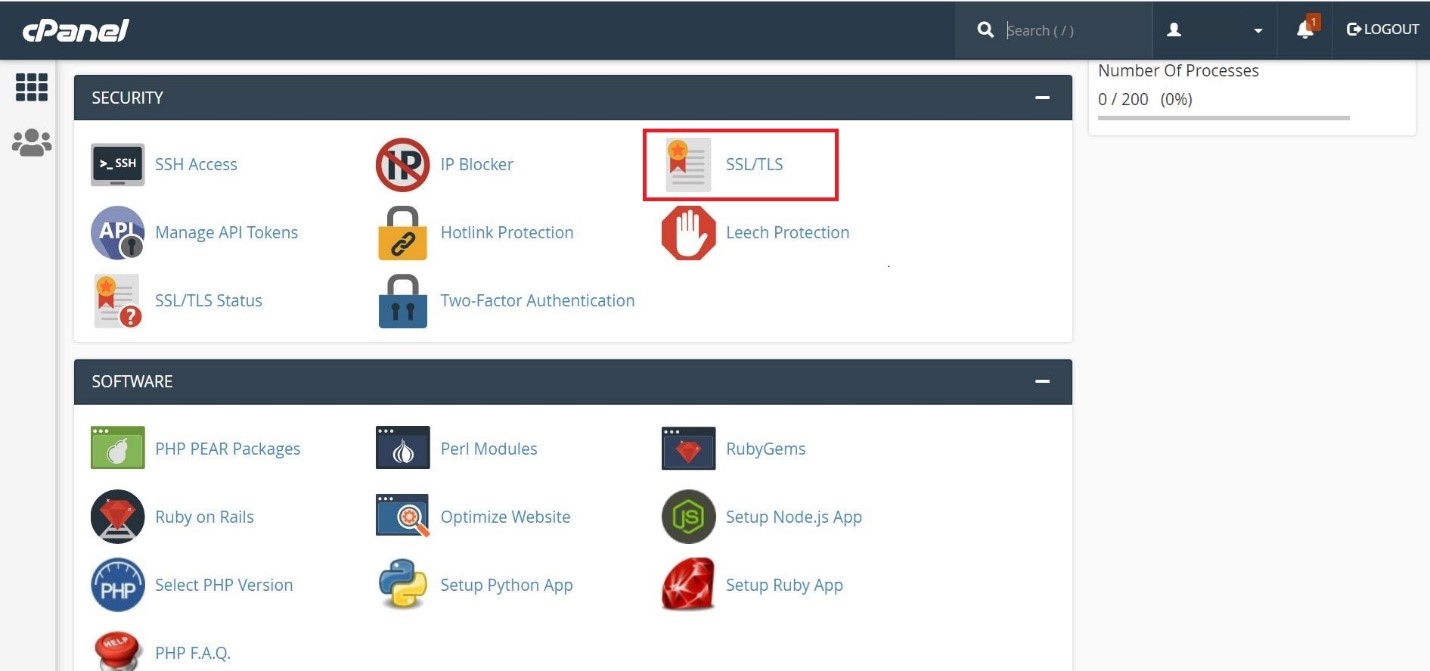 Select "Manage SSL sites."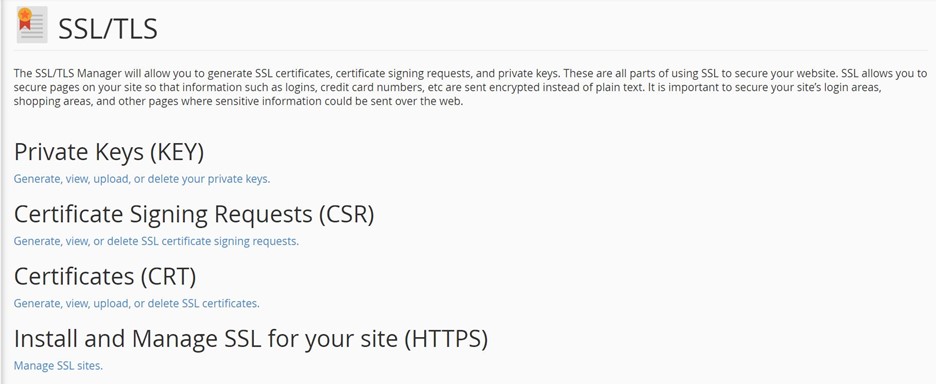 Choose the domain from the dropdown.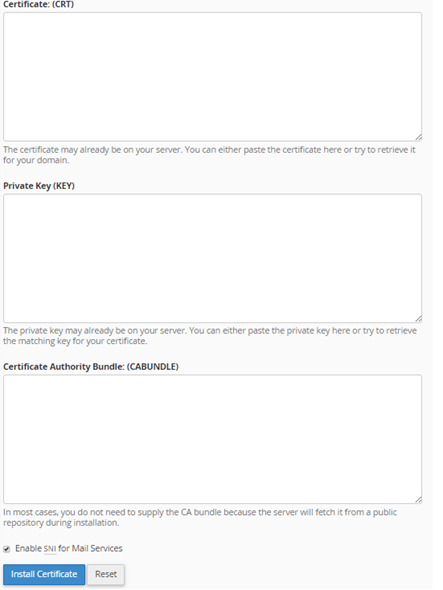 Copy and paste the certificate data (certificate file, private key, and CA Bundle file) in an appropriate place. After uploading certificate files, click on the 'Install Certificate' button.
Once that is done, press the Cntrl+F5 and try reloading your site with HTTPS.
Conclusion
As we have already discussed, every Website needs an active SSL certificate that complements its web architecture and business goals. By installing the proper TLS/SSL, businesses can significantly minimize their risks and build a robust IT ecosystem. The first step in doing so is to pick the right SSL and then enable HTTPS on the website to encrypt all the communication between the client and the server.