Restaurant Booth Buying Tips and Guide
When customers dine out, they expect to be seated in comfortable booths and free of discomfort throughout their dining experience. Choosing the best restaurant booth for your business can be tricky at first. This is simply because this part of your restaurant requires more thought than others.
Other than color and design in terms of what you need for dinnerware or typical kitchen appliances, there aren't many changing options accessible aside from selecting the correct restaurant booth size. This article will walk you through selecting quality restaurant booths for your premium dining establishment.
As booths become a more popular choice for restaurant seating among customers, you may want to consider adding, expanding, or rearranging the seating plan to accommodate more booths. Adding the correct modern booth seating to your venue's comfort is critical for converting guests to loyal customers and keeping them that way.
Furthermore, restaurant booths provide more seating capacity than chairs, and many customers like the seclusion and comfort. Their static nature promotes a smooth traffic flow, making it easier for wait personnel to deliver food.
Although you may want to ensure customer happiness, other factors to consider when selecting the most OK booth for your restaurant or bar. Not only is having a budget important, but many perks come with pub booth seats. You may feel overwhelmed by the number of options available to you. A seating configuration plan should also be created. This guide streamlines everything for you, saving you time and frustration.
Restaurant Booth Buying:
Types Of Restaurant Booths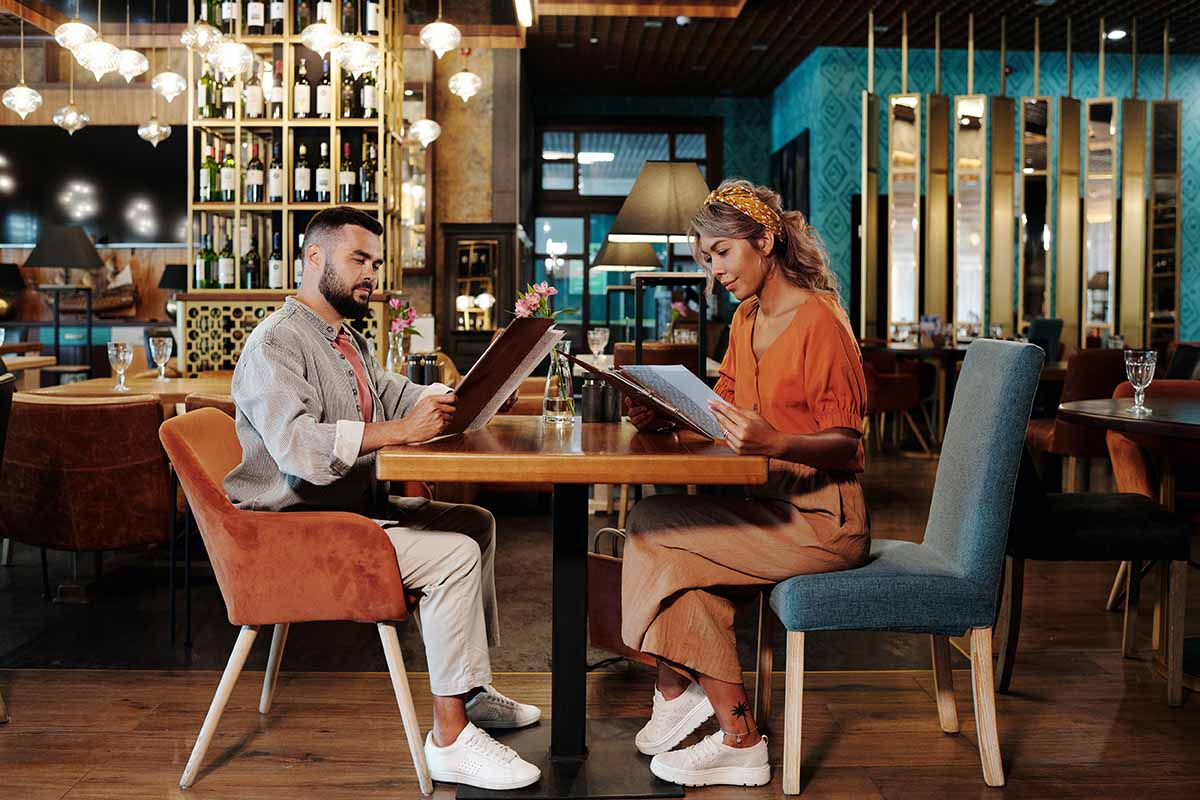 Size is an important consideration that should be factored into your restaurant booth design. You must determine which size is appropriate for the type and size of your institution. Let us now examine single and double booths. A single booth consists of one bench with a flat back that is either against a wall or at the end of an aisle. A double booth is made up of two seats that are joined together as one unit.
Learning the distinctions between these booths can help you save a lot of money because double booths can be positioned along a wall for back-to-back sitting. A single booth facing outward on a wall opposite a few chairs at a table will provide you with a better view of the restaurant.
Although single and double booths are common, deuce booths, often known as single-person booths, are also available. These booths are ideal for locations with limited space that can only accommodate a two-person table.
Style Options For Booths
There are numerous stylistic alternatives to choose from, especially if you want to construct your booth. Whether you choose a modern or vintage design for your restaurant booth, you may discover which style provides a distinctive touch to your restaurant booth. It is never a good idea to mix and match styles. Finally, you want the booth to compliment your interior design.
Booths are often available in five conventional configurations: single, double, wall bench, half-circle, and three-quarter circle. As previously stated, single booths offer the option of being placed against a wall or in an aisle. Double booths are constructed between two tables to provide additional sitting. Both styles of restaurant booths complement square or rectangular tables.
Half circle and three quarter circle booths fit in corners and optimize space, making them ideal for prominent social events locations. As a result, half and three quarter circle tables are suggested for these booths. They have a cut-off corner to provide servers with easier access to the tables.
On the other hand, round tables take up a lot of room and make it difficult for wait staff to serve customers. A wall bench can be used with a couple of chairs to provide a mix of two seating options. Wall benches typically meet ADA criteria since patrons in wheelchairs can efficiently utilize the chair side as long as the tables are positioned at the proper height.
Restaurant Booth Buying: Choosing Restaurant Booth Materials
Now that you have a better concept of what you want your booth to look like, you may choose between several sorts of trim and add-ons, padding, and the material used to cover it. Cushions are available with either a solid foam or a spring foam piece. Many proprietors choose spring foam because it allows consumers to slide in and out of booths effortlessly. In terms of material, leather is the best choice for booths because it is easy to clean.
Fabric is also an option, but there is a risk of stains and odors trapped in the fibers. If you insist on utilizing a cloth, pair it with an upholstered backboard and a leather seat. The term "trimmings" refers to the materials used for backboards. They may be made of wood, fabric, or leather. The decorations should be in keeping with the overall theme of your business. 
Picking restaurant booths piece by piece is expensive and time-consuming unless money is not an issue. You should look for a reputable commercial quality furniture supplier, especially if they offer savings on bulk orders. Compare the prices of the manufacturers you find online. When you include orders for their other items, contact them to negotiate. If the distributor detects your sincerity in doing business with them, they may be more willing to make you a better deal on the things you wish to buy.