5 Effective Tips to Curb the House Renovation Stress
Home remodeling is a strenuous but necessary task. Renovating your home can improve its functionality, enhance property value, and increase space. It can also help incorporate a change of styles and new upgrades. Depending on the extent of your renovation, home remodeling can often reduce utility costs and make your house more energy-efficient.
However, as exciting as the outcome is, home renovations can be stressful. High renovation costs, ballooning expectations, material delays, and a phalanx of strangers coming in and out every day can wreak havoc on nearly anyone. But it is crucial to remain composed and maintain calm for a successful result.
For this purpose, we'll discuss a few tips on managing stress while your house undergoes a makeover.
Always have a backup
Home renovations can often restrict the availability of specific amenities such as kitchens, bathrooms, etc. Therefore, having a backup is always a good idea. It's best to set aside an alternative living space. Having an alternate space allows work to be carried out entirely outside the hustle and bustle of a household. It also helps avoid interrupting workers and contractors constantly. Otherwise, you'll probably be compelled to use the specific room under renovation.
Moreover, you do not need to set up a proper house-like space. You can only set up a few essential things considering it's only a temporary space. For instance, you can opt for a portable restroom rental till your bathroom undergoes a facelift. Similarly, you might consider moving your clothing and other essential items into a spare room until your room's remodel ends.
Curb the house renovation stress: budget
Financial issues can be the flagbearer of stress. Budgeting can help reduce unexpected monetary concerns by setting a limit beforehand. Budgeting is highly imperative, and we cannot stress this fact enough. The more precisely you budget for your remodel, the less stress you will endure.
Hence, before commencing your renovations, determine what you can afford and how much you are willing to pay and ensure that you do not deviate from your budget. Similarly, keep 5-10% aside for unplanned expenses and contingencies.
And most importantly, be transparent about your budget with everyone involved in the renovation process. It includes your significant other, family members, housemates, and the contractor. Transparency from the beginning helps avoid last-minute havoc, disagreements, and unnecessary arguments.
The most effective budgeting techniques include identifying the project, thinking ahead, and financing. Considering the value-addition to your lifestyle, prioritizing your remodeling needs, and planning your splurges are imperative. Similarly, keeping track of the process and distinguishing between investments and operational costs is also essential.
Remove clutter
Clutter and mess can cause quite a lot of stress and unease, especially if you are a clean freak. A study also confirms that most homeowners suffer from anxiety when they find their belonging heaped all over the place amid a remodel.
Hence, packing your possessions and valuable items into different boxes would be an excellent idea, especially if your house is undergoing major renovations. You can pretend like you are moving houses – carefully and thoroughly wrap and box your belongings: your precious and fragile items and keep them in storage.
If you do not have an extra storage space in your house, you can look into renting storage spaces. Self-storage units are usually safe and highly secure. They come in different sizes, and you may pick one according to your needs. Some storage facilities also give the option of temperature control to help prevent the belongings from depreciating. Moreover, self-storage units are usually open 24/7. Therefore, you can access them anytime.
Removing clutter and packing your stuff temporarily also helps speed up the renovation process. There will be fewer things causing delays, and workers will have a clear room to work, eventually increasing productivity.
Hire a contractor
The best way to reduce stress during a home remodel is to hire professionals for guidance and assistance. A DIY home renovation won't be a good idea, especially if you want to avoid stress. Contractors are professionals in the renovation field and can ensure quality outcomes while you can sit back and relax.
However, it is pivotal to hire a trustworthy and hardworking contractor who delivers what they promise. Consider getting leads from friends, family, and neighbors. Getting a contractor through a reference is the best strategy since you can confirm the contractor's work quality and reliability.
Most importantly, don't decide after meeting one contractor. Ensure to meet a couple, get their input on the work, ask about their costs, inquire about the expected timelines, and then decide. Also, check whether the contractor you hire has insurance and get all agreements and requirements in writing to avoid last-minute disagreements.
Be entirely transparent with your contractor, convey your expectations directly, sort out the payment schedule beforehand, and speak about every detail that might stress you out later.
Contractors can indeed be more expensive than doing renovations yourself. But the stress relief that comes from hiring professionals is worth the extra cost. Plus, most chances are professionals are likely to do a better job than a DIY project.
Set aside extra waiting time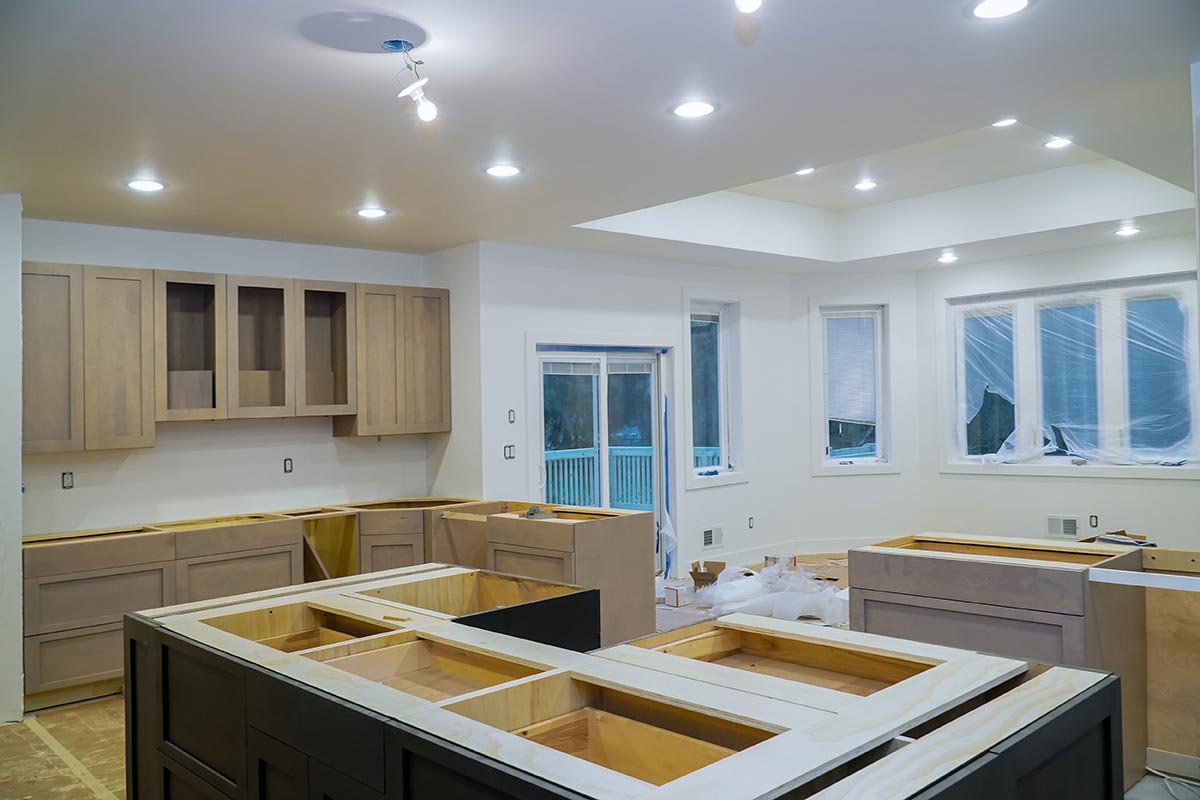 Rarely ever do major house renovations complete on time. No matter how much you plan and account for unanticipated instances, something or the other comes up and causes hindrances. It is not unusual, and therefore, you must always expect a waiting time while undergoing a home remodel.
Unexpected delays and unfinished work often trigger stress. The only way to cope with such an occurrence is to expect a delay. In fact, in your mind, always keep a deadline ahead of what the contractor tells you.
Nonetheless, you must also not give too much leverage to your contractor and workers. Keep reminding them of the delay and constantly follow up for an updated ETA. But be polite with your conversation. You do not want them to mess anything up in anger or retaliation.
Curb the house renovation stress: conclusion
While home remodeling projects are thrilling and exciting, most of them require considerable patience and alterations in your daily routines. The countless decisions, time, priorities, and everything else can quickly get stressful and irritating. Nevertheless, it's crucial to remain calm to avoid chaotic situations. Precautions like those mentioned above can hopefully help you avoid stress and anxiety during your remodeling process.