The Wind Powered Bike Light
Taiwan designer Hsieh Jung-Ya and his firm, Duck Image, won kudos from European design comps, like Red Dot, for his concept of a wind-powered bike light. A mini turbine is mounted on the handlebars and uses the bike's momentum to drive the blades. These, in turn, power a 1700 Lux LED light.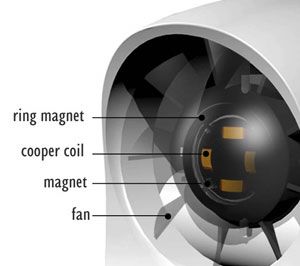 A bike moving at 21kph is said to produce the continuous power of 3.5 volts at 70mA, with the little generator whizzing around at 850 revs per minute). Unlike the problem with many hubs that stop working when the rider stops, this gizmo comes with a rechargeable lithium battery for constant light.
The Wind Powered Bike Light combined with gyroscopically powered LED pedals (with or without battery) could be a groovy combination. Until that is we receive complaints from the Moth Protection Society about furry, winged critters flying into the turbines path.