Consumer HDV Market: Canon HV10
Canon USA and Canon, Inc. announced the HV10, their first consumer-oriented high definition camcorder. With an estimated MSRP of $1299, the HV10 is an HDV camcorder set to compete directly with Sony`s HDR-HC3, undercutting its cost by $200. Among the key features: optical image stabilization, a 10x optical zoom, a 1/2.7-inch CMOS sensor, and Instant AF, a new focusing system borrowed from Canon`s prosumer line.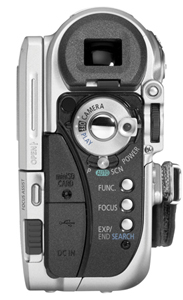 Canon`s entrance into the consumer HD field has been long in coming. Sony has already cycled through its first model, the HDR-HC1, and replaced it with the HDR-HC3. Canon has not been idle, however. Just last week the company expanded their prosumer HDV line three-fold with announcements for the XH A1 and XH G1. But with a base price of $3999 for the A1, the camcorders were unlikely to entice weekend shooters.
The HV10 features a 1/2.7 CMOS chip (2.96 gross MP, 2.07 useful MP). This is the first Canon camcorder to utilize a CMOS chip, though the company has manufactured them for some time for use in their still cameras. The camcorder shoots full 1080i HD video and offers noise reduction built into the chip.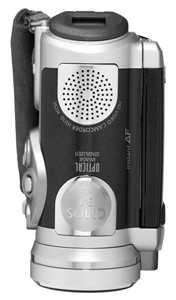 (historically, noise has been a problem with many CMOS camcorders). The CMOS sensor is designed with a Bayer pattern, which defines the arrangement in which color filters are laid out, boosting the number of green pixels to increase color production for the human eye. The HV10 will also feature a DIGIC DV II processor, the same processor found on Canon's prosumer HDV line, including the XL H1. The Canon HV10 also features Super Range optical image stabilization.
The CMOS chip will allow the HV10 to take more great stills than were possible with their previous CCD imagers, up to 3.1MP (2048 x 1536). Another benefit of the CMOS is the ability to capture stills up to 2MP while simultaneously shooting video. Do stills save to a MiniSD card, the same card media found in Canon`s DVD lineup? No card is included. A flash and a full array of manual controls round out the skill package.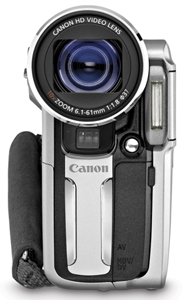 The HV10 aims squarely at Sony's existing market for their HC3. The HC3 was Sony's second generation HDV camcorder replacing the HC1 and is priced almost precisely at the same level as the new Canon HV10. The two camcorders will go head to head for sure on the floors of the nation's retailers, with one of their most significant differentiating factors being their style. The Canon HV10 adopts the upright, compact form of their top MiniDV camcorder, the Optura 600.
Sony is an organizer of the massive event in the world of photography – Sony World Photography 2017.