Google Analytics and Feedburner Reports plugin for WordPress.
WordPress by default doesn't come with any sort of web site reporting tools (and it really shouldn`t). So if you want to know how many people visited your site, which pages they viewed, or where they came from, you?ll need to either rely on your raw web logs or use an online tracking service provided by a third party. There are many different third party web tracking services out there, but the two free and popular third party solutions that We highly recommend are Google Analytics (for web traffic) and Feedburner (for syndicated traffic).
Joe Tan created a WordPress plugin to check web stats pretty regularly. This plugin allows you to easily view your Google Analytics and Feedburner reports in your WordPress administration area. It adds a top-level Reports tab and when you click on it, you`ll get a quick 7-day overview of what?s going on with your site (pageviews, visits, referrers, etc). You`ll have to log in to Google Analytics or Feedburner directly if you want more detailed stats.
As you might expect, you?ll need either a Google Analytics or Feedburner account before you can really use this plugin. At the moment, these are the only two services that are supported, but I may consider adding some other services if it?s feasible.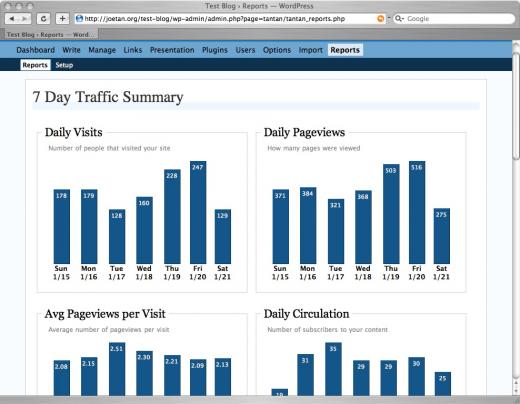 Author: Joe Tan (Thnks Joe!)
License: GPL
Features:
Provides you with a birds-eye view of what?s going on with your site
Retrieves data from Google Analytics and Feedburner
Reports are represented visually with graphs
Choose the reports you want to view
Ability to automatically install the Google Analytics tracking code for you, along with optional outbound link tracking.
Automatically check for updates to the plugin