You Can Listen to This Article Here
Google Maps: Street View and Mapplets
Ajaxian: When I first saw the new Street View functionality that has appeared in the Google Maps preview I was apparently impressed.
We have seen other companies taking photos of the content, but being able to walk around the Map was very cool. If I am visiting a new building, or area, I find myself checking out the area before I drive there, as it is a lot easier to locate the end point if you have seen it, and walked around the outside.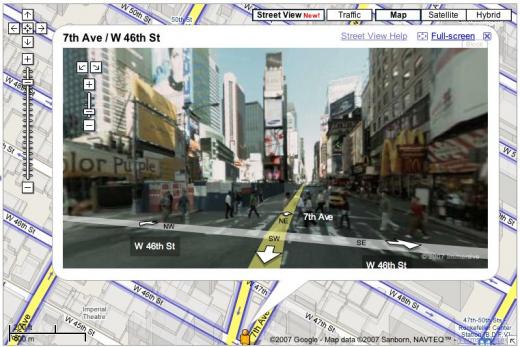 There was also a release of Mapplets, which are embeddable Google Maps mashups. You can overlay multiple mashups onto the one map, which means that you can combine the old favorites: HousingMaps.com and ChicagoCrime.org to make sure you get your new home in a suitable area!
What is exciting about these new features is that we have more tools to play with (writing Mapplets), and an excellent showcase of using Flash within an Ajax application (Maps).