6 Reasons to Choose Outsource Product Development
I am sure that we all have heard this question many times, but even now, there are so many business people out there who still keep thinking about this long-standing question:
Although many modern managers see the benefits of outsourcing product development, some stay away from this practice due to their unpleasant experiences. But the question remains – should you trust the product development to the outsourced it department?
Or, would it be better to attract the resources and start a product development in-house? The professional team from the company Maarca Brands, with a diverse portfolio and amazing product development experience, will help you make the right choice.
The complexity of software solutions usually consists of 3 different ways through which an organization can achieve the intended business goal:
Transferring the targeted product development to the software development company;
Acquisition of a ready-to-go on the market product solution that already has the majority of required business characteristics and options;
To hire a team of specialists and to create a product on its own.
A typical reason why most companies refuse point number 2 of this list is that it is usually tough to find a product that meets most business requirements. Even options that are very close to the desired solutions usually require many improvements, investments, and additional efforts so that their acquisition is often inappropriate for business. So, it remains a choice between the internal product development and outsourcing company.
Let's go through the main reasons why most organizations choose the outsourced IT department to implement their business goals.
Reducing Overhead Expenses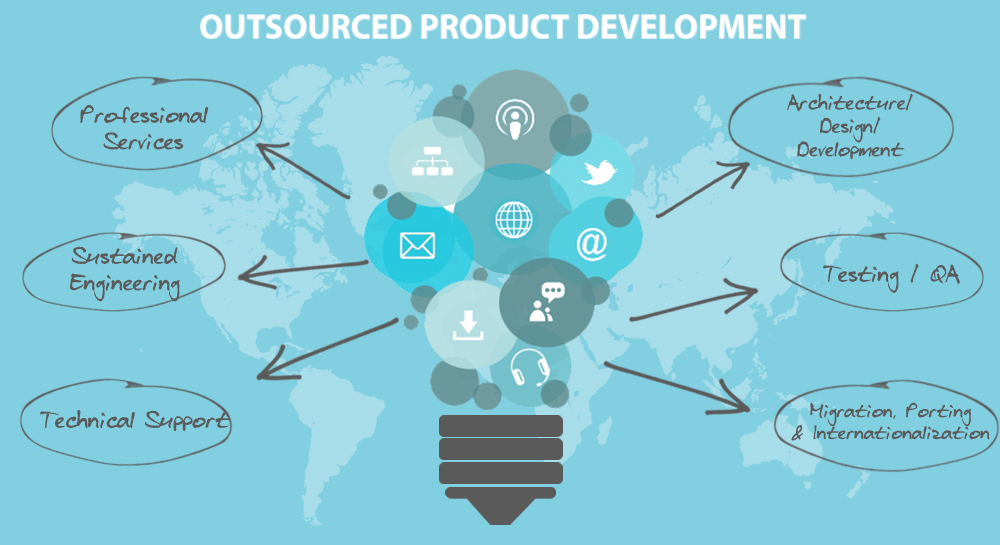 This is one of the main factors in favor of outsourcing, even despite a skeptical attitude. For customers from the US, the UK, or even Australia, their own development team's internal expenses can reach huge.
Reducing Labor Costs
In terms of operating costs, labor arbitrage is often seen as the most obvious advantage of outsourcing. Many executives believe that if you can get more productivity for your money when work to be done elsewhere. It makes no sense to pay more to your employees.
Saying "goodbye" to the long-term commitments

This is probably one of the most underrated advantages of outsourcing. Most companies choose to outsource product development through the ability to hire a professional team based on the "consuming" model. This releases the company from long-term obligations and the need to pay any related and additional expenses.
Increasing productivity due to a wide geographical presence
Although this may seem paradoxical at first glance, many executives actually believe outsourcing allows them to manage efficiency better.
Freedom from problems related to infrastructure and resource management
When your product is implemented, its maintenance, internal infrastructure, and resources often become a hefty load. But this can be easily avoided when the company attracts an external outsourcing team to support the project.
Outsource product development saves time, money, and resources
Although the company's management always has the best intentions, in some cases, self-implemented projects can lead to delays, wasted efforts, and additional money spent.
In this case, companies often start a panic and try everything to fix the project. But, usually, this only disimproving the situation.
But all these uncertainties can be easily avoided when you transfer the execution of the product development to the best professional product development team such as appoptics.com.
But all these uncertainties can be easily avoided when you transfer the execution of the product development to the best professional product development team.