The weather in your pocket – WeatherBug!
WeatherBug is free but with an advertising support, weather application providing you with the most accurate local weather forecast. You will have an access to the largest network of professional meteorological stations. Get weather, forecasts, maps, severe weather alerts and more to plan your day accordingly – this is very important as you know.
Now let's get into the details on this magnificent application – WeatherBug.
WeatherBug provides you with "Live Weather" in neighborhoods from more than 8,000 meteorological stations in the US and all other countries;
Current weather forecasts and NWS alerts for your current GPS location;
"Always" activated weather NWS alerts such as "Tornado" warnings, even if the
WeatherBug application is turned off;
7-day forecast and hourly forecast;
Detailed radar and maps;
Check the weather on Google Maps with a simple tap or in another area on the map within 2 seconds;
Daily National Weather Outlook broadcasts provided by WeatherBug meteorologists;
View snapshots and frame-by-frame animation from over 2000 weather cameras in the US and all countries;
Configure new locations by pulling spot information from your contact list;
Share your current weather information, forecasts, warnings and photos with your friends and family.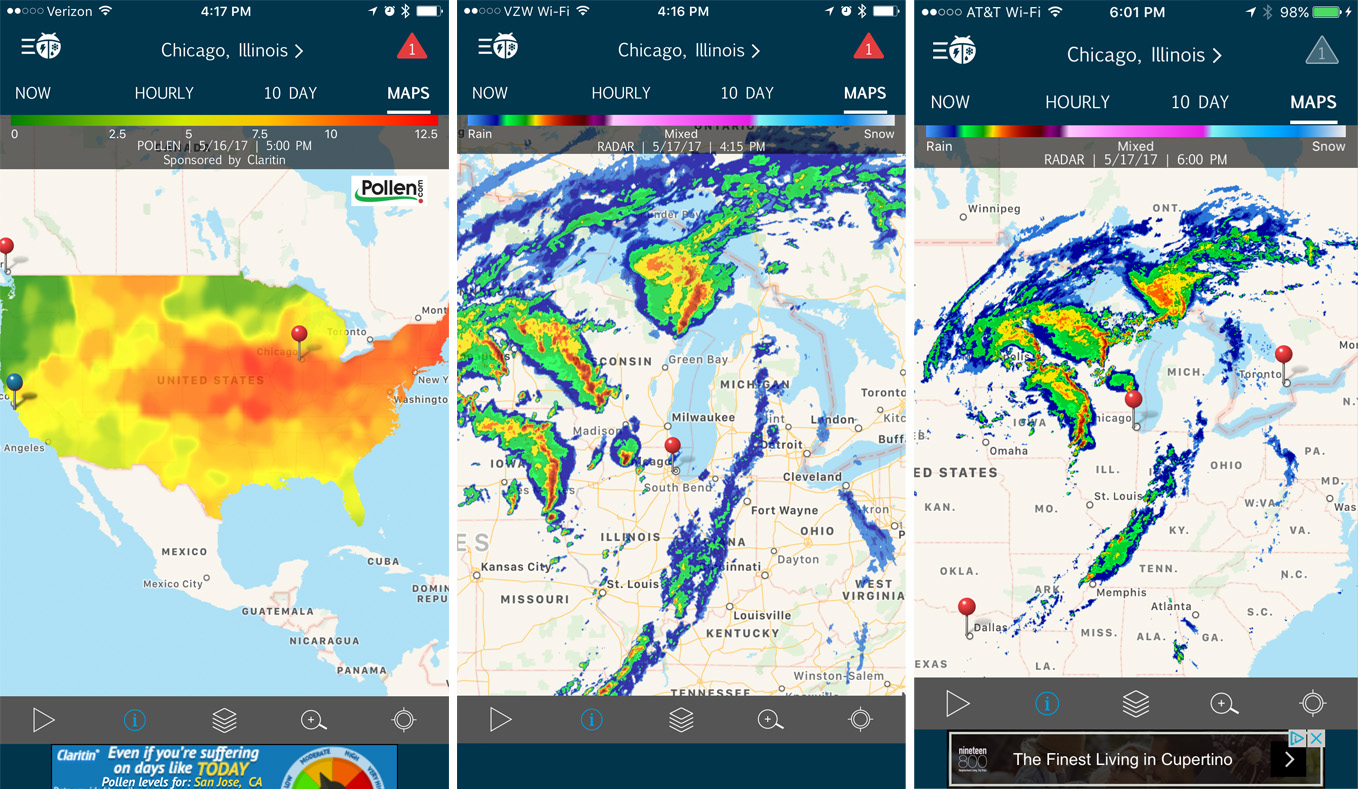 10 Reasons to Choose WeatherBug.
WEATHER FORECAST FOR MORE NUMBER OF DAYS. With the weather forecast for more days, you can better plan your time and business.
COMPLETELY COVERING THE WORLD. Weather application that can show you the weather forecast all over the world is especially useful for people who like hiking or mountaineering in hard-to-reach destinations.
SHOWS INFORMATION ABOUT THE dew POINT. The application shows information about the dew point. This is the temperature at which water vapor in the air begins to condense. It will affect how you will feel when you are leaving the pool, lake or ocean. If it is very low, you will feel cooler.
HAS A WARNING ABOUT SERIOUS CHANGES TO the WEATHER. The program will send you a notification if there is a serious change in the weather, for example, hurricanes, earthquakes, extreme temperatures, etc.
INDICATORS OF AVAILABILITY OF POLLUTION IN THE AIR. The weather app shows the potential level of pollen in the atmosphere. This function is very important for people who suffer from allergic reactions to pollen. It is usually measured as super-high, very high, high, medium and low.
PROVIDES DESCRIPTION OF WEATHER FORECAST. As well as the original data, the application offers descriptive text that provides weather information in a more natural and readable format.
REPORTS ABOUT THE PROBABILITY OF THROAT. The application provides information on the probability of a thunderstorm. This can be very useful for planning your day.
UV FORECAST. The application provides you with the UV forecast. It is also called – the index of ultraviolet radiation and shows how much UV radiation in your region at the moment. Index "1" indicates weak ultraviolet rays, while the index "11" means extremely powerful ultraviolet rays. This information is very important for health if you plan to sunbathe.
SUPPORTS MORE LANGUAGES. You can use a wide range of languages in the application. That allows you to use it in a language of your choice and makes it suitable for more users around the world.
INCLUDES MAPS. Includes localized maps to help you quickly see the information at a glance. As a rule, you can increase the required place on the maps and view it with a lot of details.