Russell Powell takes social media by storm with portrait painting on the palms of his hands
First, the artist draws a picture on his hand, and then makes an imprint on the paper -Portrait Painting on the Palm!
An American illustrator Russell Powell creates incredibly realistic portraits of people on his palm, which then he transfers to paper using his unique hand-stamping technique. This new and amazing way of portrait drawing is attracting more and more admirers to his unusual creations.
Every school teacher has a way to be respected and memorable.
Someone can understand the children without words, another one can install a love for learning to the hooligan, and the third will find his way to conquer children's hearts with his unusual talent. Russell Powell is familiar with all those ways!
Russell Powell – a portrait artist from an American city San Jose,  California. It has been fourteen years already since this wonderful man has been helping children take steps into the adult world.
Russell is a teacher in first grade, and the whole world already knows about his incredible talents. By the way, Russell in 2012 founded a Pangaean Studios where he creates his fantastic artworks. You can find more of his creatures on Instagram – @pangaeanstudios.
Russell creates unusual, but very realistic artworks, painting portraits on his palms! The speed of his work is also amazing: he creates the paintings so quickly that the paint simply does not have time to dry out.
Due to this, Russell manages to make a so-called Hand stamping. The artist presses his hand to a blank sheet of paper, thereby transferring a portrait to it. His style he jokingly calls "Handstamping."
The sophisticated technique of drawing, the speed of creation and extremely inconvenient working surface allowing the artist to make accurate and very live portraits.
The faces look very beautiful, realistic, and, most importantly, this technique is allowing the artist to create and feature the smallest details.
The lines on the palms and fingers stamped on the ordinary white paper spread a unique charm, subtle refinement and cosmic uniqueness.
The collection of painting portraits by the artist is wide and already contains John Lennon's "prints," Emilia Clarke, Johnny Depp, Bob Marley, Kurt Cobain, Robin Williams, David Bowie, Dalai Lama, Marilyn Monroe, and Many others.
Portrait painting on the palm on Russell Powell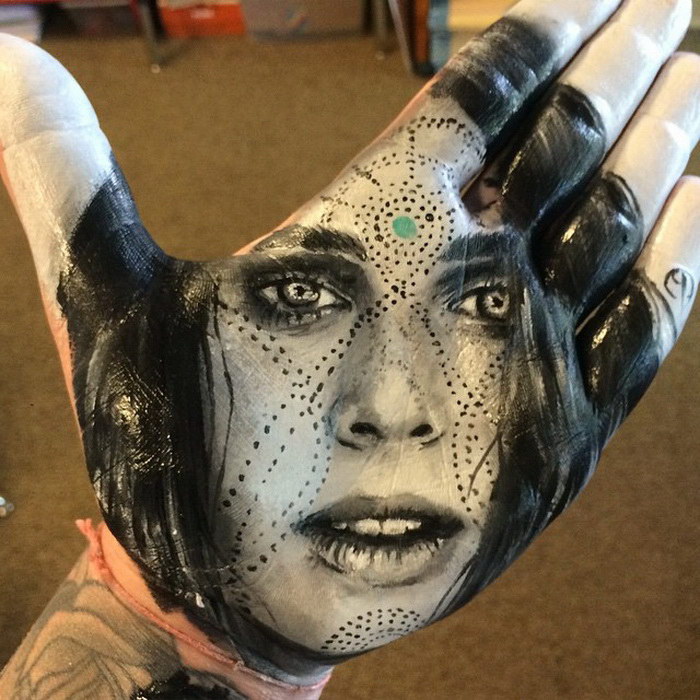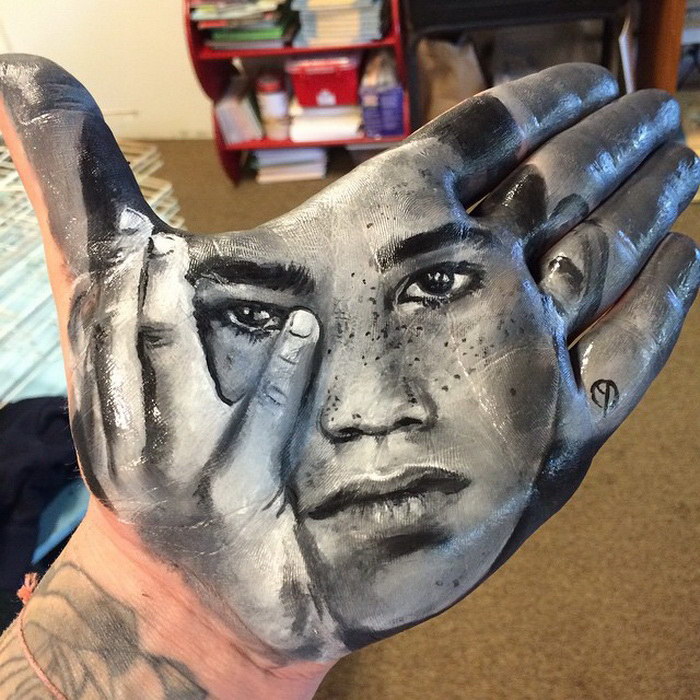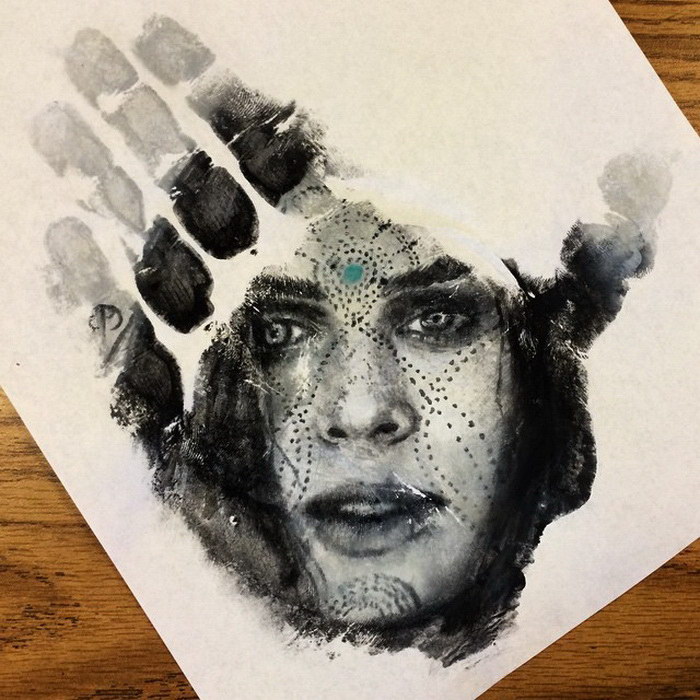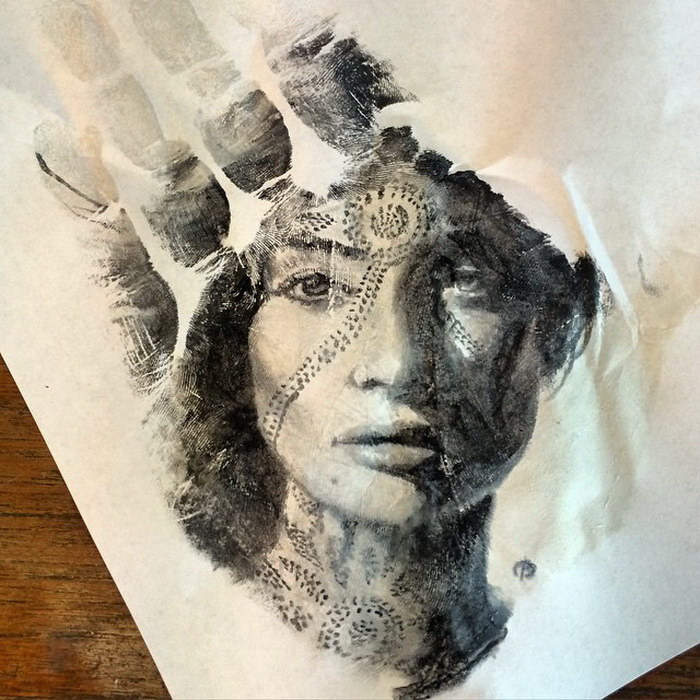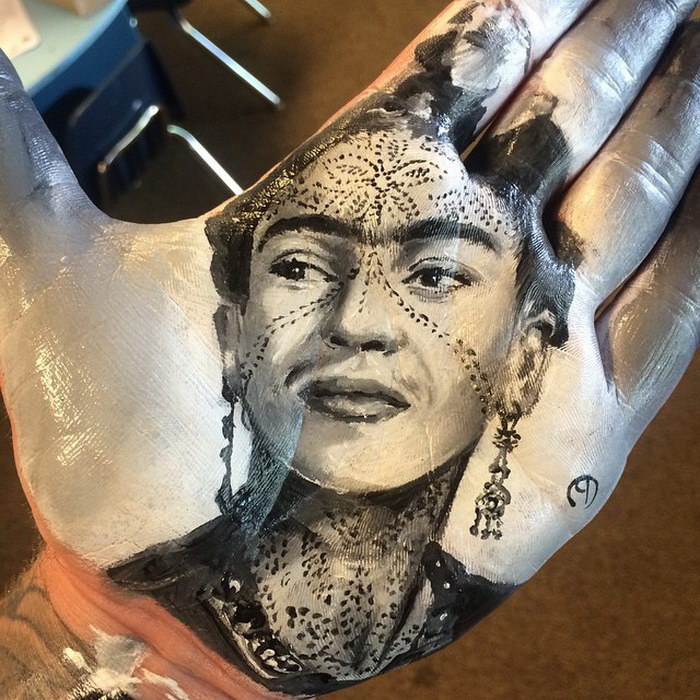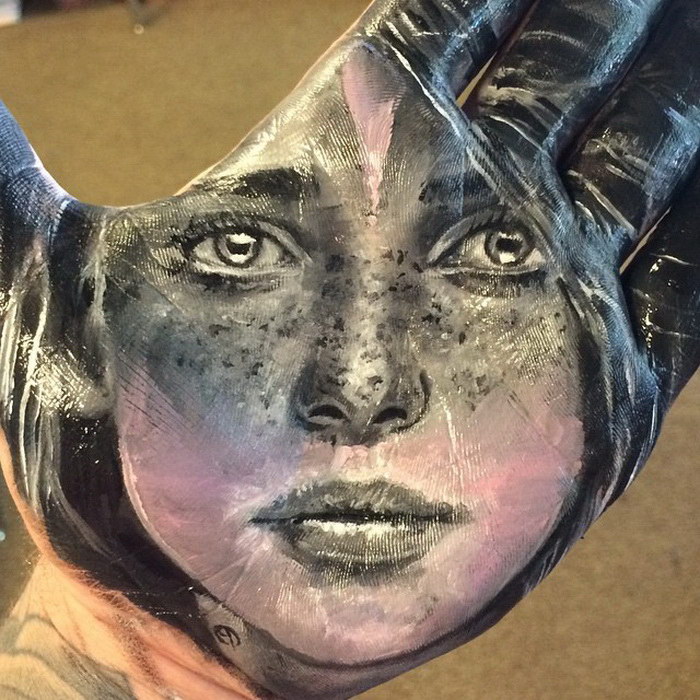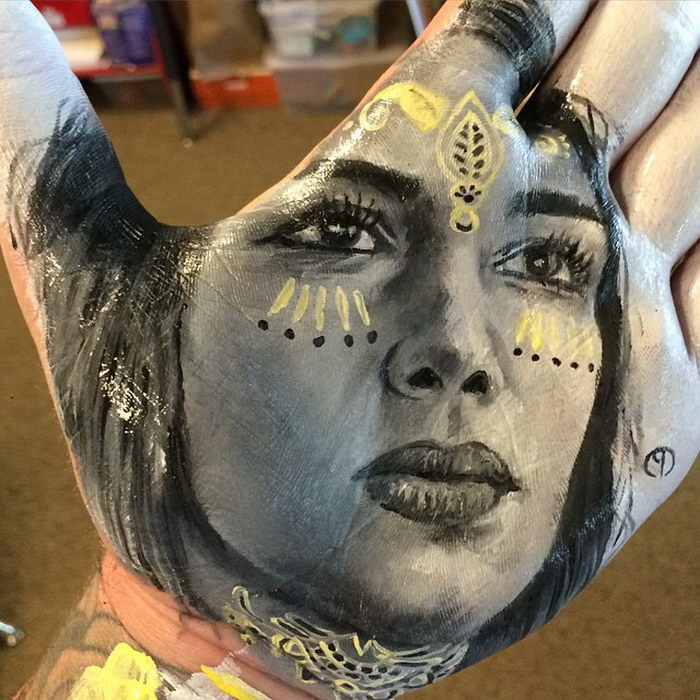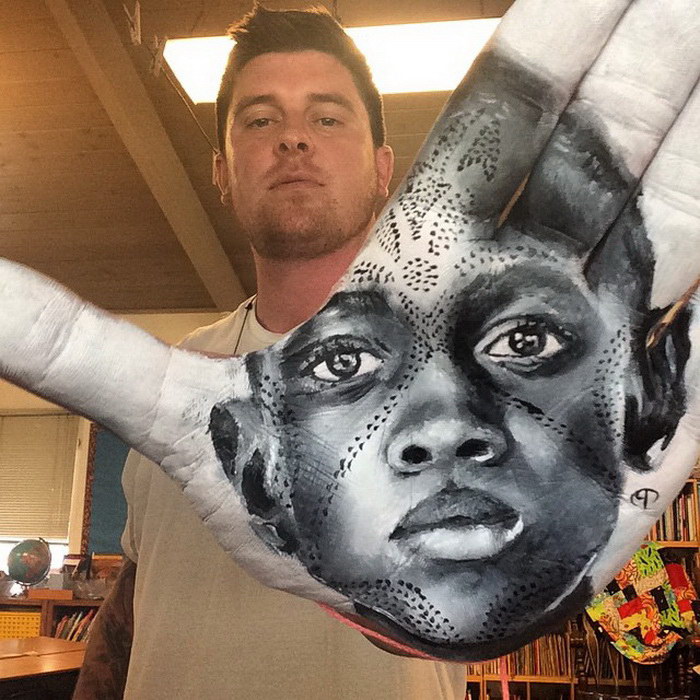 If you like his unique style why not to get yourself a wonderful t-shirt with one of those beautiful portraits!