Want an idyllic weekend escape without having to leave the country or stray too far from London?
There's probably nowhere that's as easy to navigate (and as delightfully charming) as the picturesque Cotswolds area.
Located just a couple of hours away from London by train, this quintessentially English region is packed with historic towns, scenic countryside and an assortment of lovely little villages.
There's also an impressive selection of castles and palaces if you're interested in taking in some magnificent architecture and learning a little more about British royal history.
If you're thinking 2 days isn't nearly enough to explore the whole Cotswolds area – you're probably right. But still, there's a fair amount of wandering and exploring you can pack into 48 hours. And we're quite certain it'll pretty much convince you to book another weekend trip soon after.
But, where do you get started when deciding what to see in the Cotswolds? Well, you could book yourself a guided Cotswolds tour, or plan your entire weekend itinerary yourself.
Luckily, you've landed in the right place. Want to know what the 'must-sees' of this region are? Read on for our recommended itinerary for a perfect weekend in the Cotswolds:
Cotswolds Tour Day 1:
You've heard of bar hopping. Well in the Cotswolds, you could (and should) spend your first-day 'village hopping'.
There are a plethora of charming villages to choose from in this region. Here are the three villages you can easily fit into your day, especially if you've rented a car to take you from one village to the next.
Start with Bourton-on-the-water
Do you know those fairytale villages that you imagine when you think of the Cotswolds? That's what Bourton-on-the-water is actually like. Start your weekend in the Cotswolds here. You'll feel transported to a previous time as you soak in the perfectly preserved ambiance of this historic little village.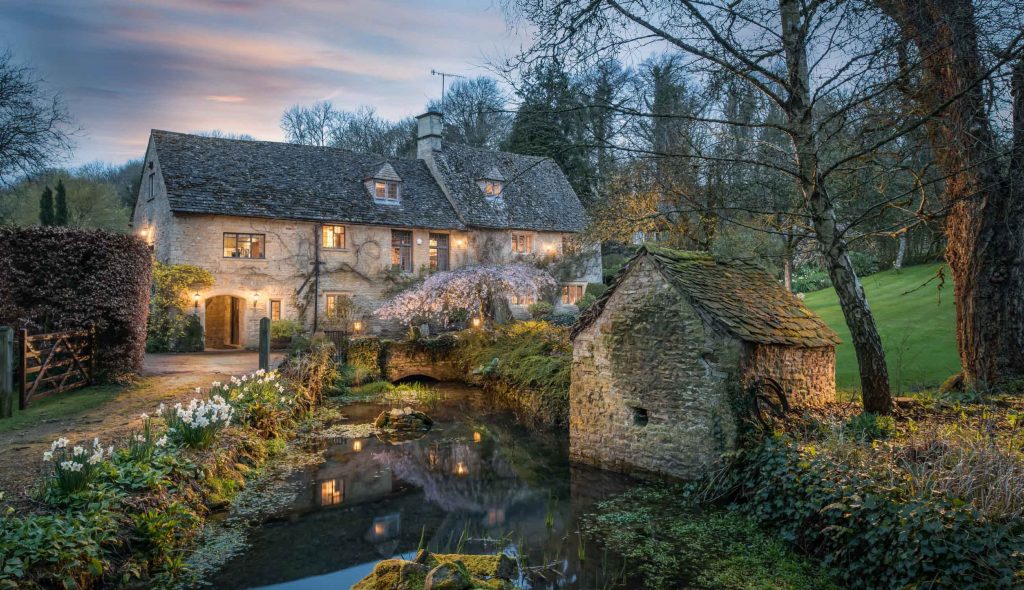 There is a river that runs through the village's center (hence its name and why it is also sometimes called the 'Venice' of the Cotswolds).
Spend your morning just strolling around and taking in the atmosphere. And make sure to check out The Model Village, which is a miniature model of the actual village, built in Cotswolds stone.
Depending on the weather, you could either picnic by the water or pop into one of the many river-side cafes for lunch/brunch.
Head to Lower Slaughter
The next village on the list is one of our favorites with Cotswolds Tour. With a picturesque center and clusters of pretty cottages and houses, the air in Lower Slaughter is filled with the scent of lavender.
If you have time, drive over to nearby Snowshill Lavender field after to bask in the glorious scents a little more. The little aromatic bags of lavender also makes a great gift for anyone back home (or for your own sock drawer).
Finish off at Chipping Campden
End your first day with a stop at one of the Cotswolds' most popular villages, Chipping Campden. This beautifully preserved village is also relatively bigger in size with plenty of restaurants to explore for dinner, which makes it a good choice for an evening visit.
Accommodation-wise, you'll find plenty of cute bed & breakfasts and hotels to rest your head in at Chipping Campden. We love the King's Hotel, a charming boutique hotel with just 14 beautifully designed rooms and a bustling restaurant serving classic British fare.
Day 2:
On the morning of your second day in the Cotswolds, head to a castle/palace to soak in some royal history (after a hearty English brekkie, of course). Depending on your location, check out one of the following two royal gems:
Blenheim Palace  
This 300-year-old national treasure has the ability to stun at first sight. Not only is the baroque architecture and interior State Rooms truly majestic, there's also the breath-taking views and gorgeously manicured lands surrounding it.
Blenheim Palace is a World Heritage Site and the ancestral home (and birthplace) of Sir Winston Churchill.
Studeley Castle
Located in the village of Winchcombe, Studeley Castle is most famous for its connections to Anne Boleyn and Katherine Parr, two of Henry VIII's wives.
Other than all the royal history to take in, there are also stunning gardens to explore.
Once you're all castled out, you're ready to hit a Cotswolds town for some dining, sightseeing and window shopping. Pick from one of the below:
Stratford-upon-Avon
Whether you're a fan of Shakespeare or not, Stratford-upon-Avon is a Cotswolds town worth exploring. Take a boat trip on the river so you can see as much as possible of its historic center.
Cheltenham
Want to squeeze in a serene Cotswolds spa experience? Cheltenham has plenty of choices.
Pre-massage, wander around the center of this 18th-century town to take in the many sights. Pop into the Wilson Museum and Art Gallery to learn a little more about the history, or check out the Holst Birthplace Museum to find out more about one of the town's most famous inhabitants, composer Gustav Holst.
If you fancy a spot of shopping in the Cotswolds, Cheltenham is probably your best bet. The high street is brimming with antique shops and independent boutiques.
Whether you want to unwind and relax or explore villages and nature, it's clear that there's plenty to see and do in the Cotswolds for everyone. Hopefully, the above 48 hour Cotswolds itinerary will help you narrow down your options.
And of course, there's always the option of booking a guided tour or a coach tour, Cotswolds Tour if you want your entire trip to be completely taken care of. Happy exploring!