Check Those Movie Streaming Sites that are Worth your Attention
Every day, people watch over a billion hours of videos via YouTube.
If you're like me, who's like 60% of Americans, then you're also an avid streamer. You also most likely subscribe to Netflix, because you know, you like to Netflix and chill.
For me, another reason is that I don't like paying over $100 for cable.
But we all know that Netflix doesn't have everything. It doesn't carry the most spectacular Sci-Fi films or the best chick flicks ever.
Which is why I decided to do some digging on other movie streaming sites. There are loads of them, but I listed the four best ones.
So, make some popcorn, order a pizza, and pop open a bottle of your favorite drink. Then, head over to these websites to do some binge-watching.
Popcornflix
If you like free movie streaming with fewer adds, Popcornflix has you covered. It boasts more than 1,500 movies, including comedy, horror, drama, and romance.
It also features family-oriented films, documentaries, and foreign titles.
They also regularly update their selection and even has a free streaming site made with kids in mind!
Plus, all shows and films play in a wide video player. If you have a specific title in mind, just key it in the search box so you don't have to sift through the large library.
Also, there's no need to sign up. You only need to click on that Play button before you sit back and relax.
SnagFilms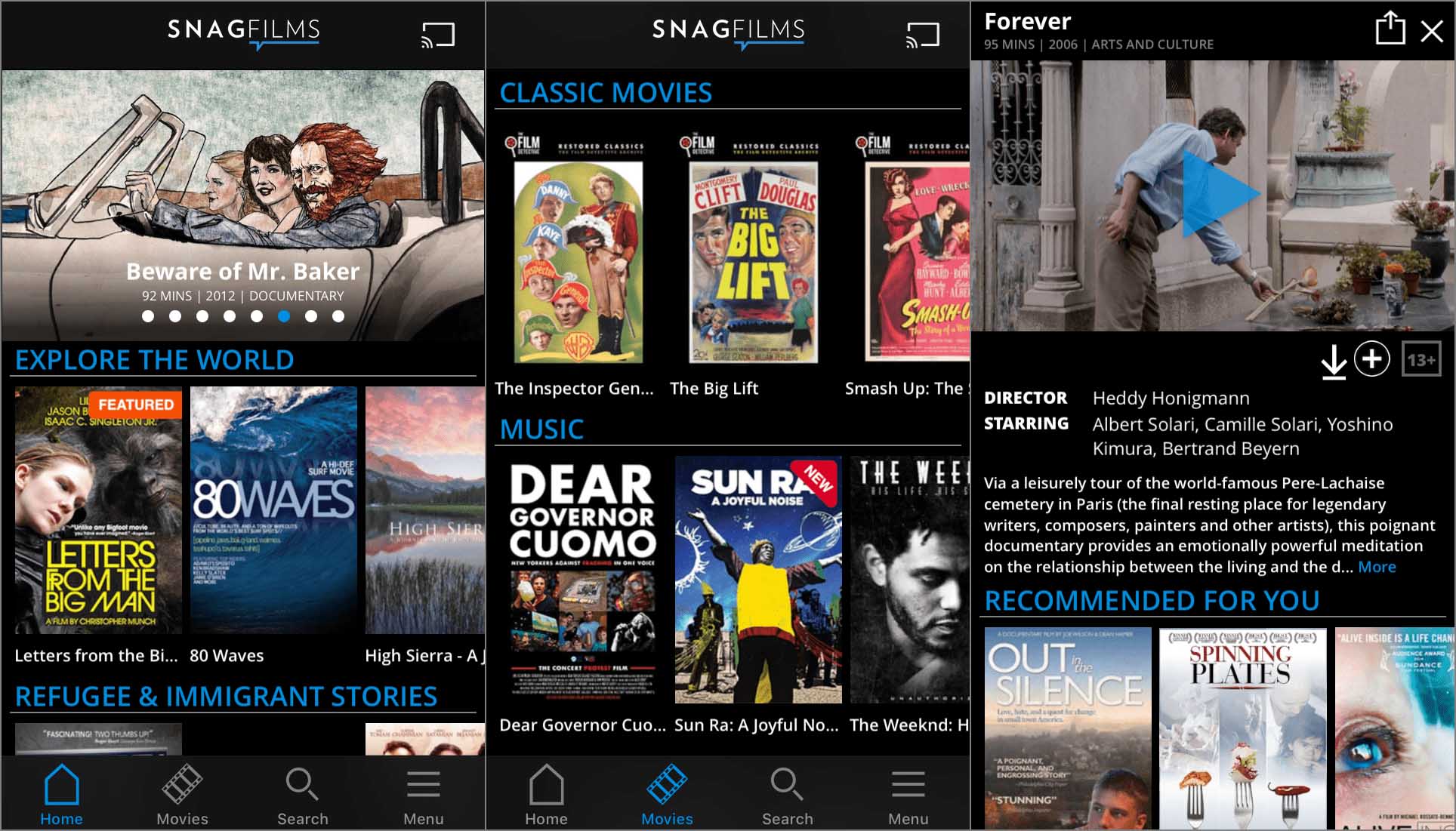 SnagFilms' library is gigantic — there are more than 10,000 titles for you to enjoy in 720 and 1080p.
That alone makes it one of the best free movie sites out there. But to make viewing even better, it lets you search by title, genre, most popular, and new additions.
It works well on mobile too, so you can binge-watch on your iPhone, iPad, or Android devices. There are minimal ads and they're pretty short, too.
You don't have to sign up, but I recommend you do, as it gives you access to more features. It's free, and once you log-in, you can organize your viewing queue.
Sony Crackle
Owned by Sony Pictures, Crackle is one of the best free streaming sites for popular titles. You'll have access to hundreds of films and even TV shows highly-rated by viewers.
And since it's Sony we're talking about, you can expect all titles in high-resolution.
The mobile app works great too, so expect top-quality viewing even on your smaller screen phone.
All movies come with a few ads though, and you'll notice more of them compared to other streaming sites.
But they're not that long and Crackle's other perks outweigh this minor drawback.
Viewster
Viewster has a well-organized library, packed with Sci-Fi, action, horror, comedy, drama… You name it, they have it. What separates this from the rest of the streaming movie sites in this list is their anime category.
No sign-up or sign-in required. Simply click the title of the film or show and hit play
Other Options
If you're going to lose connection, say during a flight, you may need to download your movies.
The website MoviesCounter lets you do exactly that.
It carries the latest Hollywood releases like Mission Impossible Fallout and Aquaman. If you have a thing for thrillers, you'll find recent titles like Babysitter's Nightmare, too.
The site also has Bollywood and Punjabi titles, as well as movies dubbed in Hindi.
Get Streaming Now with These Top Movie Streaming Sites
These movie streaming sites offer you a great alternative to cable, for free. They also provide you with a workaround to Netflix's regional restrictions.
So long as you have Internet service, you can watch on the go, wherever you may be.
Looking for a different kind of drama experience? I've got just the right guide for you.
Here's a list of the best courtroom dramas that'll get you all emotional.