Check These Horror Books That May Leave You Scared Silly
If you enjoy reading books, especially best horror books that keep you continuously scared, we have an assortment of tales of terror that will give you goosebumps.
The level of scariness varies, but the goal is to leave you scared silly.
Contrary to what you may think, feeling scared silly doesn't mean you were left laughing.
The definition of scared silly is when you are scared so much that you almost lose your mind.
Enjoy the list of the best horror books!
The Sighting by Christopher Coleman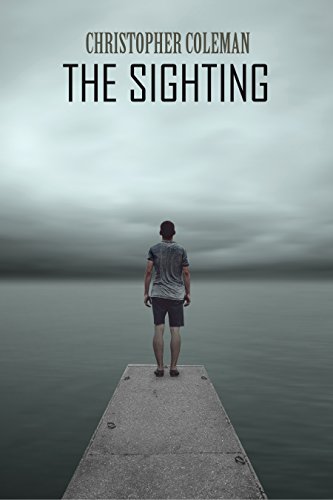 Best horror books – Everything seemed to fall into place for the sighting to occur.
Danny Lynch was the recipient of a large sum of money which allowed him to live his life exactly the way he wanted to.
He would start out running 3.7 miles along the beach to take a quick dip in the water, then run the 3.7 miles home.
It was during one of his usual morning jaunts when he saw the woman.
As he tried to get a clearer look at her, he heard a deep splash in the water.
Finding out who this woman was and what her connection to this area was to provide the twists and turns that make The Sighting the one to focus on.
Tales from the Gas Station: Volume One by Jack Townsend
We've all been there/done that at some point in our lives: found ourselves at a gas station late at night and quickly realized that this is when many of the oddest people roam the earth.
First one catches your eye, then another odd human is standing right next to you and the next thing you know, you are among a cast of characters the likes of which you've never seen.
This is when Jack, who is the only one who works at the 24/7 station, decided to create a journal to document his findings.
This series originated from The Creepypasta series featuring Gas Station Jack.
Doll House by John Hunt
In recent years we have been unlucky enough to learn of young women who become prisoners through no fault of their own and endure years of heinous treatment.
This book may give you some insight as to every detail of this ordeal as Olivia becomes captured by a couple of men in masks and is kept in a room that is small enough for a doll.
Excited about starting school, experiencing new adventures, and making new friends, this isn't anything like what she had envisioned for her future.
Never Be Alone by Page Dearth
Never Be Alone is not just the scary title describing the adventures of a little girl who finds herself on her own at a young age, it is the credo of the author who found herself in this position.
Paige Dearth endured a traumatic and abusive childhood which gave her the impetus for her first novel, Believe Like a Child.
Dearth doesn't capture these stories for the sake of drama, she believes that if enough people learn about the abuse of children and how they get lost in a system that doesn't always work, it just might save more girls from having to go through it too.
Don't Dare to Dream by Dan Friedman
When David was left with his hopes and dreams shattered, he was left with no business, no wife, and just enough drive to try to kill himself.
A stroke of luck put a motivational wannabe named Rick, and his attractive wife Angela as David's new neighbors.
With Rick's help, dreams did come true but after the successful business was sold, the twists and turns ensued.
Dreams were again lost but the new goal was to stay alive. You will lose yourself as you try to keep up with Friedman's fast-paced first novel.
Haunting Charlie: Witches of Palmetto Point Book 1 by Wendy Wang
Does Susan inherit a charming mansion in the South that is much in need of work when she meets Charlie, a seemingly normal handywoman who just happens to communicate with the dead?
Did we mention that besides repairs the mansion is haunted?
Ah, yes, a match made in spooky town.
Flipping the house is one thing but dealing in a supernatural environment puts an interesting spin on things.
Cantankerous ghosts, ongoing repairs, and a few life and death setbacks make for a page-turner you won't be able to put down.
Scary Mary by S.A. Hunter
This book is the first in the series of Scary Mary thrillers by S. A. Hunter. Another book in the supernatural vein, Mary not only can talk to ghosts, but she also comes from a spooky family who thinks other people are weird, not them.
Mary is able to take one friend, Rachel, under her wing and the two of them have to deal with a school full of students who are even more cruel to them than the average clique types.
Think of it as Mean Girls with ghosts and you'll get the idea.
The Worst in Us by Elias Witherow
This well-crafted book by Witherow uses the simple dynamics between two families to contrast good and evil. He takes one man, returning to his family after a five-year hiatus.
The main premise pits Cole against his brother, Joe, who has his issues with a family that brings out the worst elements of being in a close-knit group.
The best and worst parts of each family member come under scrutiny to build a highly-rated drama where no one really ever wins.
This book is very unique — you can confirm it here.
Penpal by Dathan Auerbach
This book began as a bunch of individual stories that made their way on a group environment that focused on horror stories.
Once Dathan Auerbach completed the short tales that he created to answer questions about his past, he put them all together and ended up with Penpal.
The novel brings up many situations that many of us may have had but hopefully not with scary results like these.
If you love the buildup of terror page by page, you will find a strange association with this man's past as your heart just keeps racing.
The Surgeon: The Luke Titan Chronicles #1 by David Beers'-one of the best horror books
If you are the type of person who has a favorite television series and has become attached to every event that occurs, every word that is uttered, this book is for you.
The Surgeon is the first in The Luke Titan Chronicles which is a series of six books.
This story is not for the faint of heart, as the setting is painted with horrific attention to detail.
It begins with a depiction of an elderly man who cannot speak and is paired with a bizarre companion in a nursing home.
Taking care of a mute, who was formerly a surgeon, is the ideal confidant for the growing serial killer.
About Erica Fleming
"I support the effective adoption of new technologies or ways of working within writing by communicating complex information in an informative and inspiring way. I'm fond of writing articles for students, reading best horror books and helping with essays."